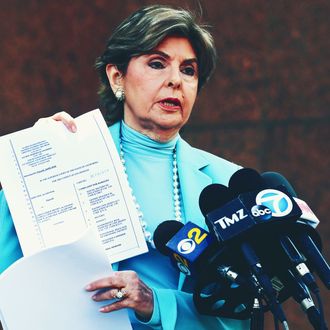 Attorney Gloria Allred.
Photo: MARK RALSTON/AFP/Getty Images
At a press conference in Los Angeles this past Wednesday, respected attorney Gloria Allred announced that she was representing a woman who was suing rappers Chris Brown and Young Lo because she claims she was raped by the latter at the former's house. Today, in conversation with TMZ, Young Lo (whose real name is Lowell Grissom Jr.) denied the allegations and accused Allred of exploiting the woman for her own personal gains.
The young woman, who is identified only as "Jane Doe," claimed that this past February, Grissom raped her twice during a concert after-party at Brown's L.A. home. Allred described the woman as "severely traumatized," and said this accusation was "one of the most horrific sexual-assault cases" she has ever seen.
But Grissom's attorney Anthony Willoughby said that the incident was already investigated, and that his Grissom's named was cleared. In a statement to TMZ, he said:
Lowell vehemently denies these false and defaming accusations originated last year, ending with no arrests, no proof, an inconclusive rape kit and after a police investigation — no charges filed … This civil lawsuit is a blatant attempt at a money grab and to harm the reputation of my client while encouraging PR noise for Gloria Allred while she exploits this young woman for her own financial gains and public persona.
While Brown has yet to respond to the lawsuit, his lawyer Mark Geragos told TMZ, "There's no case here. Chris is a target and for the last ten years anybody who comes at him should know they're going to meet the full force of my firm."