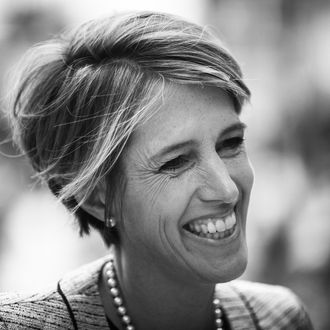 Zephyr Teachout.
Photo: Andrew Burton/Getty Images
Until last week, it was widely expected that Eric Schneiderman would be re-elected attorney general of New York in the fall. But after four women came forward to accuse him of physical violence, he abruptly resigned, leaving the race wide open for the taking. While former state solicitor general Barbara Underwood is filling in for now, there are dozens of potentially interested candidates for the position — including progressive favorite Zephyr Teachout.
Teachout — a Fordham Law professor who ran against incumbent Andrew Cuomo in the 2014 gubernatorial primaries — first indicated that she was "seriously considering" a run the day after Schneiderman's resignation. Since then, there's been vehement enthusiasm about that possibility, as well as concern about her not being admitted to the New York bar. Today, Teachout went a step further and formally announced that she's forming an exploratory committee to determine whether she should go forward with it.
"It is something I have thought about before," Teachout told the Cut when asked if she'd considered running for AG before this sudden opening. "I didn't expect it to come up now, but it's really one of the most important and impactful jobs in the country."
If she were to run for the position, her stated priorities include taking on corruption on both the federal and state levels; fighting real estate, Wall Street, and corporate monopolies; reviving old antitrust principles; and fighting against mass incarceration. As for the latter, Teachout cites the work Larry Krasner has been doing as Philadelphia district attorney, which includes refusing to pursue criminal charges for marijuana possession. "I think it's incredibly important for the next attorney general to be a leader on criminal-justice reform," she said.
Teachout also emphasized that this is a "genuine exploration" and that she would be taking the next few weeks to discuss the matter and think through whether she would enter the race. "My sense is that there are powerful interests who would do anything that they could to make sure that I won't run," she admitted, when asked how she thought the state's Democratic establishment would react to her run. "If you're going to be scared off by Albany insiders not wanting you to run, then you're the wrong person for the job."