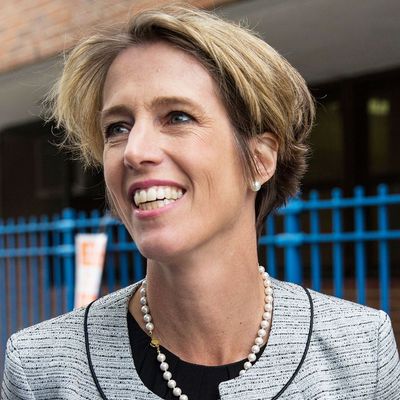 Zephyr Teachout.
Photo: Andrew Burton/Getty Images
Shortly after announcing that she's running for attorney general of New York, Zephyr Teachout has another bit of news to share: She also happens to be pregnant.
Teachout, 46, a constitutional law professor at Fordham, is due in October. She has a 22-year-old stepdaughter with husband Nick Juliusburger, but this will be her first time raising a baby. She told the Cut that she did consider her pregnancy when determining whether or not to run, but ultimately believes "parenthood and being in power shouldn't be in conflict with each other for women any more than they are for men."
She pointed to the examples of congressional candidate Liuba Grechen Shirley, who fought to use campaign funds for child care, and Tammy Duckworth, who recently became the first sitting senator to give birth. "As more women in their 30s and 40s run for office, we're going to see a lot more women running while pregnant," Teachout said. "It's inevitable and a cause for celebration."
Teachout, a progressive favorite who took on Andrew Cuomo in the 2014 gubernatorial primaries and ran for Congress in 2016, first indicated her interest in running for AG shortly after Eric Schneiderman resigned from office in early May. (Schneiderman, long considered a shoo-in for reelection, abruptly stepped down after four women came forward to allege violent physical abuse.) So far, all her competitors for the seat — New York public advocate Letitia James, and former Cuomo and Hillary Clinton aide Leecia Eve — are also women.
Teachout's top priorities include taking on the Trump administration, corruption on Wall Street and in real estate, and mass incarceration. She told the Cut that she also wants to fight the "old boys' network" that plagues the state. "For too long in New York we've had an old boys' network where all the decisions are made by a bunch of guys and the scandals are covered up," she said. "The corruption shuts out the voices of New Yorkers across the state and the sexual harassment and sexual assault shuts out and shuts down the voices of so many women in politics."
"I do think we're in a sea change moment and it's really exciting to be part of that moment," Teachout added. "We are changing what power looks like."