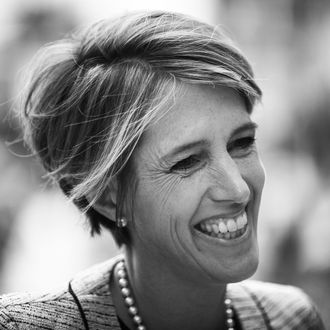 Zephyr Teachout.
Photo: Andrew Burton/Getty Images
The race for New York's next attorney general just got a little more crowded. A week after announcing that she was forming an exploratory committee on the matter, progressive favorite Zephyr Teachout confirmed to Albany's Times Union that she's running.
The position first opened up when Eric Schneiderman, who was expected to be a shoe-in for reelection in the fall, resigned after multiple women came forward to accuse him of physical violence. The New York legislature appointed acting AG Barbara Underwood to stay on in the interim; New York public advocate Letitia James and former Andrew Cuomo and Hillary Clinton aide Leecia Eve have also announced that they're running for the seat.
Teachout, a Fordham Law professor who first made headlines when she ran against Andrew Cuomo in 2014's gubernatorial primaries, recently told the Cut that her platform would include fighting against corruption (a topic on which she literally wrote the book), mass incarceration, and Wall Street and real-estate monopolies. She tweeted on Wednesday that her formal campaign launch will be coming soon.