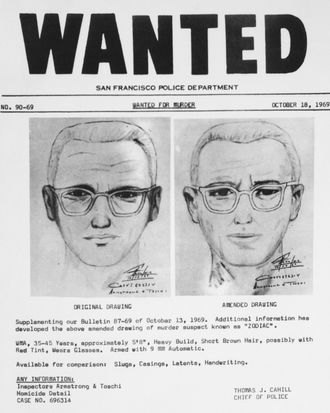 Sketches of the Zodiac Killer.
Photo: Bettmann Archive/Getty Images
Just a day after Sacramento police arrested the man they believe to be the Golden State Killer, a serial rapist and murderer who terrorized California in the 1970s and '80s, detectives revealed that genealogy websites had helped lead them to the suspect. According to the Sacramento Bee, detectives in the state are currently using the family-tree tracing technology in at attempt to find one other infamous serial murderer: the Zodiac Killer.
In the late 1960s, the Zodiac Killer killed at least five people in Northern California, and is perhaps best known for the tormenting letters and cryptograms he sent to the police and media. While his identity was never discovered, detectives are trying out new methods to find him.
According to the Sacramento Bee, a few months back, the Vallejo police submitted multiple envelopes containing letters from the Zodiac Killer to undisclosed genealogy websites, where they will undergo a new type of DNA analysis. Results could come back as soon as in the next few weeks, and "almost certainly by summer."
"If we get a good profile, then you start tracking back," Vallejo detective Terry Poyser said. "It really comes down to DNA. Without it, you have nothing. It's a 50-years-old case."
While Poyser believes the killer is a man named Arthur Leigh Allen, a former elementary-school teacher and convicted child molester who is now deceased, he seeks a clear answer before his plan to retire next year.
"They were confident they would be able to get something off it," Poyser said.
Ted Cruz has not yet commented on the report.