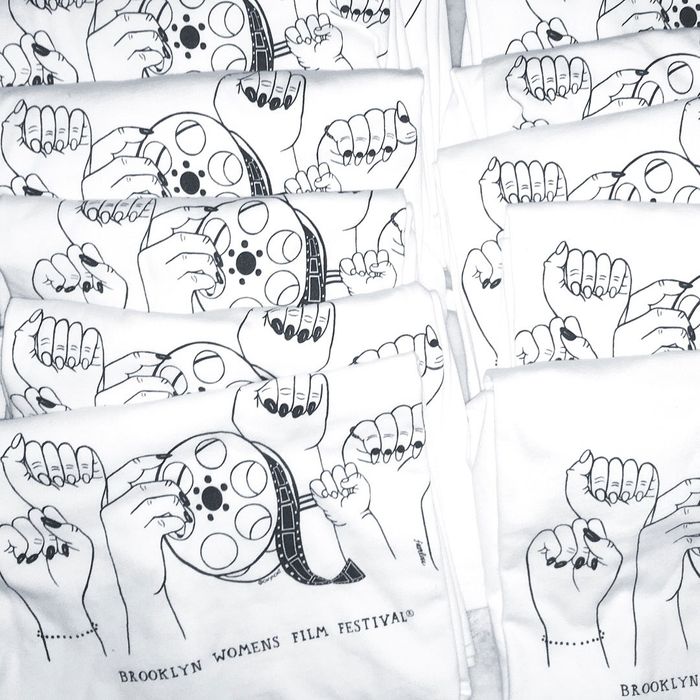 The Brooklyn Women's Film Festival T-shirts, designed by Caryn Cast.
Photo: Courtesy of Brooklyn Womens Film Festival
This past weekend, the underground bar at the Wythe Hotel in Williamsburg was dark and abuzz with low chatter, candlelit with a faint scent of sandalwood. It was the second annual Brooklyn Women's Film Festival, an event "run by women, about women, and for everyone," per the festival's mission statement. Guests brought Brooklyn Lagers into the hotel's brick-walled screening room for one of four programs screened over the span of the weekend, each consisting of around ten short films — all by female directors, and most featuring female writers and protagonists. Proceeds from ticket sales as well as the merch will go to the New York Women in Film and Television association.
"Part of our mission is smashing the Bechdel test," Katy-May Hudson, founder and director of the festival, said, speaking in a thick Australian accent. Hudson is an independent filmmaker, writer, and performer with the New York Neo-Futurists theater collective. She had a baby four months ago, in the midst of planning the festival. Hudson said she has seen dramatic growth since the launch of the #MeToo movement, receiving four times more submissions than last year.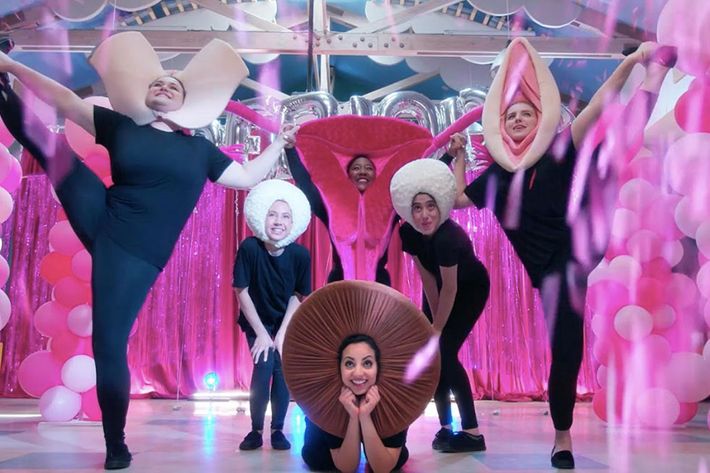 The shorts shown in one program came from five different countries and covered a broad range of the female experience. In 20 minutes or less, filmmakers explored topics like post-partum depression, trans femininity, and the trials of motherhood for migrant workers. Two films featured a woman on the brink of suicide; another depicted a mother's pain when a miscarriage coincides with her son's birthday. One kitschy musical documentary followed the Kiwi Coffin Club, a community of senior citizens across New Zealand who design their own affordable coffins, complete with Elvis headshots and leprechauns.
"I think it's important that filmmakers who are women can be seen telling stories about anything they want," Hudson added. "They can tell stories about men, they can tell stories about soldiers, they can tell stories that are violent, scary, loud, quiet. Why not?"
To find more info on the filmmakers featured in the Brooklyn Women's Festival, see the whole program here.