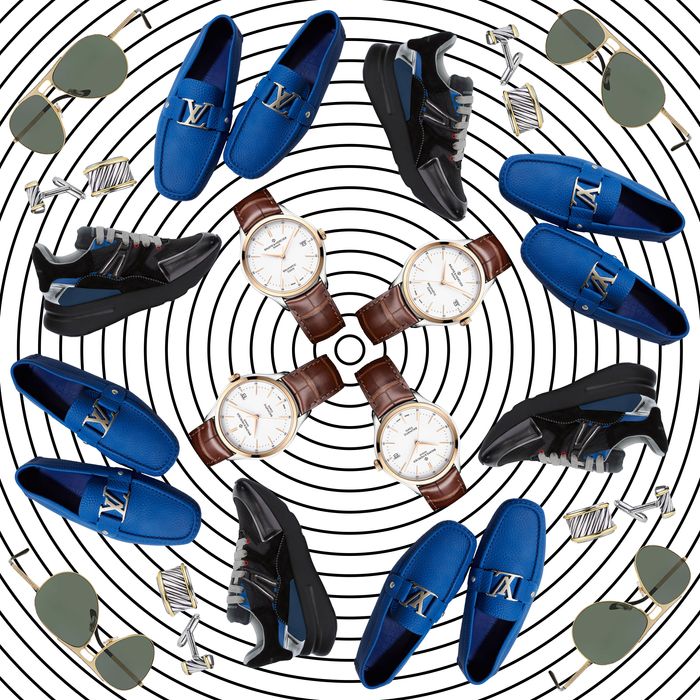 If you're looking to splurge on this year's Father's Day gift, there are no shortage of watches, sunglasses, and decanters to choose from. However, sifting through them all can get a bit exhausting. We've combed through all of the best luxury items to find 27 guaranteed-to-impress gifts that dad will love. Whether he needs a new pair of cuff links or an Hermès scarf, we've got something for him below.
He appreciates a nice silk tie with a classic print, but also wants to show just a hint of personality with the dog embroidery on the flip side.
You can't get sleeker than Versace aviators. These will either elevate his uniform, or match his watch or leather-jacket collection perfectly.
For the Dad Who Loves Design (and Whiskey)
This isn't your average decanter. The laboratory-inspired design feels a bit Mad Men, a bit Sherlock. Pair it with his favorite Scotch and you're child of the year.
For the Hard-to-Please Dad
The inserts and white stripe elevate a basic black crewneck.
For the Dad Who Doesn't Have a Tablet
Introduce him to the 21st century and get him one!
For the Dad Who Cares About Teeth
Using a nonelectric toothbrush in this day and age is like using dial-up in the age of Fios. This snazzy electric one has a sleek design with a comforting roundness to not look too intimidating. Plus, it moves at 40,000 vibrations a minute to deep-clean teeth.
He'll appreciate this woven wallet from Bottega Veneta with a cute dog appliqué.
For the Dad Dabbling in "Hype"
He's not ready for full-on dad sneakers, but appreciates shoes with good construction and design.
For the Dad Getting Into Skin Care
Well, join the club, dad. This moisturizing cream feels silky on the skin and not at all sticky.
For the Dad Who Loves Music
He can safely listen to Bruce Springsteen (or Kendrick Lamar, or Tchaikovsky) anywhere in the house.
Jazz up his golf style with a striped Gucci polo. He'll be the talk of the 18 holes.
For the Dad With Great Hair
For the Dad Who Really Appreciates Leather Goods
What's better than a Ferragamo belt? Five Ferragamo belts in one!
For the Dad Who's Always Partying
If he's constantly changing into a suit, get him a new favorite accessory.
For the Dad Who Loves a Pop of Color
Cobalt-blue shoes are guaranteed to stand out (so is the LV logo).
For the Dad Who Knows Who Tom Ford Is
It smells a bit of fancy surf and turf in the best way — sea salt and burned wood.
It's not just a Hawaiian shirt — it's a Dolce & Gabbana Hawaiian shirt depicting Portofino.
Photo: IMAGIE_SA
Just because his style is relaxed doesn't mean he can't have a nice timepiece.
These may be called runners, but they look a lot cooler strolling around on city streets.
For the Dad Who Values Looking Neat
Here's a beautiful tortoiseshell comb handmade in Switzerland. The wide notches are effective, but gently help detangle and style hair.
If your dad is constantly getting away for the weekend or going on "adventures," he'll need a stylish backpack.
A Burberry jacket is a classic among people who hike, fish, or take long walks through the woods.
For the Dad With a Watch Collection
This limited-edition Tag Heuer will make a great addition to anybody's collection.
Just because you're a dad doesn't mean you can't look stylishly put-together.
For the Frequent-Flyer Dad
If he's constantly barraged by airplane air-conditioning, invest in a nice cashmere sweater for him. In this shade of blue, he can take it anywhere and match it with anything.
For the Dad Who Loves Watching Films
A big-screen TV is the first step to creating a home theater.
For the Dad Who Deserves the Best
Photo: Rolex
For the dad who has everything, add in a(nother) Rolex watch.
If you buy something through our links, New York may earn an affiliate commission.