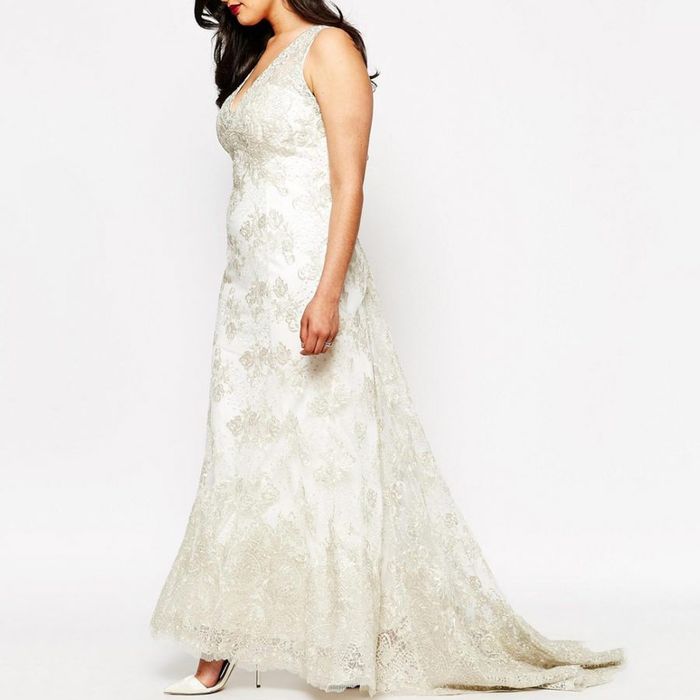 It's 2018, and yet plenty of bridal designers still don't include extended sizing in their collections. Even those who do cater to brides over a size 12 don't always offer a ton of variety. If you're a curve woman and you don't want the obvious fit-and-flare mermaid shape, finding your dream gown can be tricky. But we've found 29 beautiful wedding dresses worth considering — in every kind of silhouette and at every price range. From classic ball gowns to sleek and understated minimalist dresses, read on for the best options.
A Jaw-Droppingly Affordable Dress With Rave Reviews
Don't be fooled by the stock image: This goes up to a size 26. Is buying a wedding gown on Amazon a little bit risky? Sure, but think about what a good story it'll make.
Available in sizes 2–26.
Another Option for Less Than $100
The high neck makes this gown look a lot more expensive than it is. Add some pretty drop earrings, and you'll look like a million dollars.
Available in sizes 14–24.
Again, it would be nice if the stock image reflected the range of sizing, but this goes up to a 28 plus. And if you look at the photos that reviewers have posted on the site, it's clearly a winner on lots of different bodies.
Available in sizes 2–28.
This dress is super sweet and fun, but still on the modest side since there's no cleavage and it hits below the knee. Bonus: It has pockets! Imagine all the important things you could store in there on your wedding day.
Available in sizes 0–4x.
A classic shape for brides who wouldn't dream of wearing something long and pouf-y.
Available in sizes 0-4x.
The problem with vintage designer wedding dresses is that they usually come in such limited sizes. Thankfully, Modcloth made this A-line dress that looks just like the originals and goes up to a 4x.
Available in sizes 0–4x.
The Perfect City-Hall Dress
Simple and straight to the point, this is the perfect dress for a low-key wedding surrounded by only your closest loved ones.
Available in sizes 0–4x.
A Bohemian Dress That Doesn't Feel Costume-y
If you're into the bohemian vibe but don't want to overdo it, this dress has pretty fluttered sleeves and a retro high neck, but the simple shape keeps it modern.
Available in sizes 12–24.
A Dress That's Short and Sweet
This dress has a soft blush tone with a gold sheen and layers of tulle made for dancing the night away.
Available in sizes 2–26.
A Dress That Combines Two Trends in One
Bell sleeves and an off-the-shoulder neckline make this dress feel contemporary, but the shape isn't overly trendy.
Available in sizes 2–16.
This dress has delicate lace trim that overlays a satiny sweetheart bodice.
Available in sizes 0–4x.
The One With Intricate Details
This may look like a regular knee-length lace dress in the photo, but trust us: in person, the embroidered details are stunning.
Available in sizes 12–26.
It's refreshing to see an off-the-shoulder dress that's not cut straight across your chest but instead drapes off the arms, adding to the sense of drama.
Available in sizes 12–24.
Aside from the fact that melodramatic purple is trending right now, this particular shade of lavender feels just right against a white backdrop.
Available in sizes 2–26.
This dress looks like it came out of Disney movie in the best possible way.
Available in sizes 2-26.
A Really Flattering Dress
Yes, the shape will make you look great, but what's really cool about this dress is the cream shade — it's so much warmer than white.
Available in sizes 2–14.
The Best Dress If You're Looking for Sleeves
The sheer lace overlay keeps this modest but not boring.
Available in sizes 0x–5x.
The Dress That Just Flows
This beaded, illusion lace dress gives you a flow-y silhouette from the halter top on down.
Available in sizes 16–30.
We'd like to think of this dress as a blank canvas: you can add a belt or pair it with any jewelry and make it completely your own.
Available in sizes 16–30.
The Best Dress for a Beach Wedding
According to buyers of this dress at David's Bridal, this is best for beachside weddings and was incredibly light to wear in warm weather and walk in sand.
Available in sizes 16–26.
Another Great Option With Sleeves
This dress has great reviews: buyers love the combination of 3/4 sleeves and a hint of cleavage to keep things exciting.
Available in sizes 16–30.
The Dress With the Best Neckline
This full lace and crochet gown is perfect for summer, and how pretty is that neckline?
Available in sizes 00–18.
If you're into capes but don't want one that's too dramatic, this overlay is perfect.
Available in sizes 4–18.
This dress may seem simple, but the plunge neckline and long train make it that much more special.
Available in sizes 2–18.
The beading here is so sophisticated — nothing prom-dress about it.
Available in sizes 2–18.
The Best Barely There Dress
If you're looking for a dress that won't weigh you down, a dress with light chiffon layers like this one from Jenny Yoo is perfect. And the lace paneling is so pretty.
Available in sizes 0–18.
The lace overlay on this gown makes it look elegant, not stuffy. And the addition of rose appliqués and embellished waistband adds some modern flair.
Available in sizes 16–26.
If you buy something through our links, New York may earn an affiliate commission.