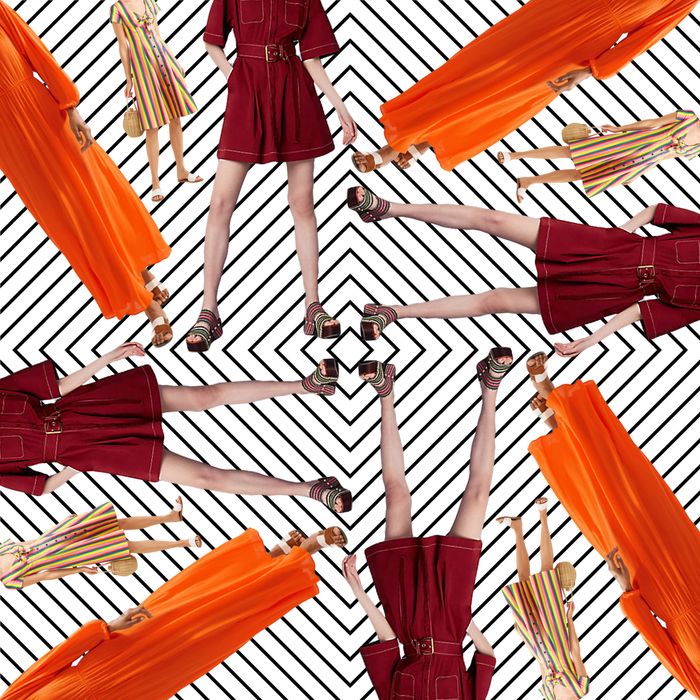 At a certain point, it gets to be so hot outside that all I want in my closet is easy-to-throw-on dresses that are light and flowy. It's by far the easiest way to look pulled together without putting in too much effort. But with all the summer holiday sales going on right now, there's almost too many options to choose from, so we rounded up the best styles to buy now before they're gone. From casual, shirtdresses, evening, maxi and everything in between, we've narrowed down 39 of the best dresses in every size and at every price range.
The perfect weekend dress to wear for running errands or to the beach.
This dress is a great modest option for work since the cleavage area is covered and hits right above the knee, but is still made from a light fabric.
The Best Trendy Button-Down Dress
The button-down dress style is super popular right now but it's hard to find in extended sizing since it can be extremely tight on the bust area. This one is made from a stretch linen and comes in a summer-friendly mint green.
The Best 'Clueless' Dress
This dress looks like it was an extra in the Clueless wardrobe, but pair it with dad sneakers and it'll look cool instead of cute.
The Best Classic Polka-Dot Dress
Yes — polka dots are still in. Try the trend in this slightly oversize midi dress.
The Best Bright Polka-Dot Dress
The orange-and-white print is perfect for summer — all you need is a good pair of mules to complete the look.
Even if you don't wear many mini dresses, you have to admit this skater style is fun, not too short and a great option for a weekend getaway look.
Just in case you've been looking for a sundress for your next vacation.
The Best Ruffle Wrap Dress
This dress has great reviews because of it's bright color and easy to wear wrap silhouette.
Too often leopard clothing is overtly sexy, so it's nice to see the print in a dress that mixes sheer on the top, with a wider, flowy hem at the bottom.
The dress you need for the days when it's too hot to think about what to wear.
Neon orange isn't for anyone, but in this kimono sleeve silhouette you have to admit it's stunning and perfect for Instagram.
The Best Mini Button-Down Dress
There are a lot of iterations of this dress, but at $60 it's the most affordable, and the addition of the bell sleeves is fun.
Gingham dresses are usually very preppy but the contrast gingham on this midi dress makes it a lot more sophisticated.
Jacquard dresses like this are great for summer since you can wear bold pattern without the weight of more fabric like heavy embroidery.
This mustard halter dress is a great option for date night — the neckline is slightly sexy, and since the length is asymmetric you can get away with any kind of shoes instead of feeling like you have to wear heels.
Wrap dresses are great because they're the equivalent of blank canvases as far as clothing goes. There is no wrong way to wear them or complete the look.
The Best Vintage Floral Dress
If you're looking for more of a ditsy, wallpaper-like floral, this ASOS dress is sweet.
I love how modern and contemporary the cut of this dress is. The high-neck, one sleeve and sash are super chic!
The Best Little Black Dress
This Everlane dress needs no explanation. You can wear it plain with just flats and no other accessories, but since it's so simple you could also pair it with a printed statement bag.
Unlike classic slip dresses that come in satin, this Everlane version comes in a light almost linen fabric so it feels more appropriate for daytime, but just as easy to wear.
For when you're looking for a bit of change in your eveningwear routine.
Made from a light chambray denim, this midi dress is practically begging to be worn on the weekends.
The Best Mini Gingham Dress
It's no surprise this dress has already sold out twice. The gingham isn't too bright, the silhouette is simple, and it's only $100.
If you already have a classic wrap dress, consider a mini one like this in a bright yellow.
The Best Remixed Shirtdress
Shirtdresses are another silhouette that's hard to find in curve sizing because of the bust. Make it one of your staples to wear with white sandals.
The Best Dark Floral Dress
This has a bright floral print but against the black background it's super chic.
The Best Fit & Flare Dress
If you've been needing a cute dress for brunch or weekend bbq's.
This dress has incredibly high reviews on Nordstrom because of it's vintage-inspired charm and lustrous satin fabric.
Buyers of this dress repeatedly called it "everything" and "my favorite because I get so many compliments," in case you needed some persuading.
The Best Wedding Guest Dress
It's floral, flowy, not too conservative and a little sexy with the slit, which means it's the perfect non-boring dress to wear to a wedding this summer.
The Best Classic Floral Dress
Made from a lightweight crepe, this soft pink-and-floral printed midi dress has a a bit of a '40s vintage feel, and would look just as pretty with sneakers as with heels.
The Best Elegant Floral Dress
This floral dress is better for evening, as it's one-shoulder silhouette and asymmetrical hem would look great with chandelier earrings and heels.
The asymmetric neckline and delicate lace ruffle are a nice contrast against the polka-dot print.
The Best One-Shoulder Dress
I actually own this dress so I can testify to the fact that it's stunning in person. I wore it with Birkenstocks and never felt better.
Embroidered balloon-sleeve dresses are basically made for summer, and this one from emerging designer Innika Choo adds a fun touch with its floral embroidery and matching belt that are made for tropical climates.
The Best Modern Shirtdress
In a deep burgundy and oversize silhouette, this shirtdress is a nice modern update to the trend that feels fresh for summer.
The most expensive on this list, but if you need a really good evening dress for a special event, you have to at least consider this maxi dress from DVF. It's made from 100 percent silk woven crepe de Chine, printed in two different patterns in multiple colorways, and cut on the bias for a beautiful shape.
If you buy something through our links, New York may earn an affiliate commission.