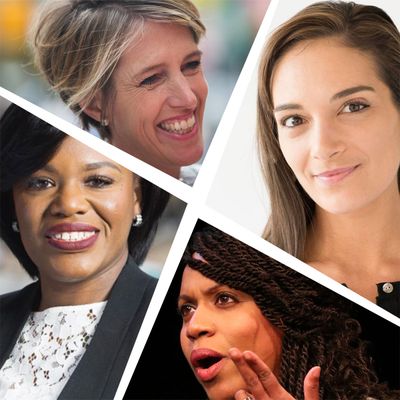 Clockwise from top left: Zephyr Teachout, Julia Salazar, Ayanna Pressley, Cori Bush.
Since the 2016 election, there's been much hand-wringing over what the future of the Democratic Party looks like. One recent victory may point to an answer: On Tuesday night, Alexandria Ocasio-Cortez secured a shocking upset in the primary for New York's 14th Congressional District. Ocasio-Cortez, a 28-year-old Bronx-born Democratic Socialist, is a political newcomer who unabashedly ran much further to the left than her opponent, ten-term incumbent Joe Crowley — and it worked.
In the wake of the excitement over Ocasio-Cortez's win, here are four other progressive women, all running in Democratic primaries, whose races you should be keeping a close eye on this fall.
Julia Salazar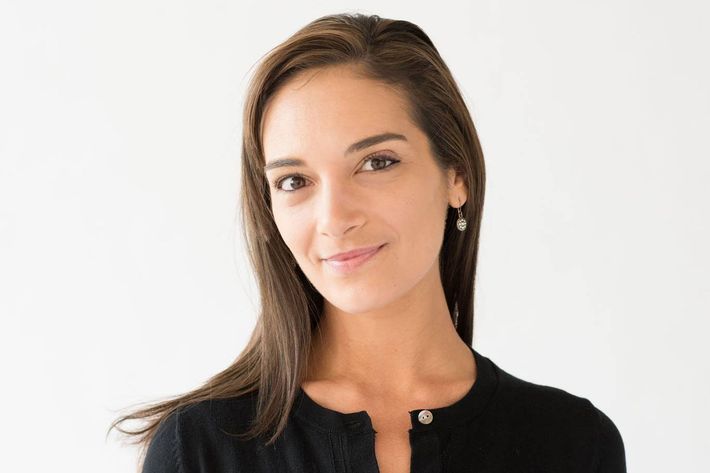 Running for: New York State Senate in District 18
Date of primary election: September 13, 2018
Salazar, only 27, is also a Democratic Socialist, and running to represent a district that includes North Brooklyn. Along with broader issues like "Medicare for all" and abolishing ICE, she's vowed to tackle New York City–specific crises like affordable housing and the crumbling subway system. She's running to replace 67-year-old Martin Malavé Dilan, who's held the position since 2002.*
She's also been seeing a surge of attention — and donations — from across the country since Ocasio-Cortez's win. "Before we were getting maybe 20 new donations a day. Today we're up to, just since midnight, 120," deputy campaign manager Michael Kinnucan told the Cut on Wednesday morning. "I can understand why, because Julia and Alexandria are very similar candidates in certain ways. They're both running against older, powerful male incumbents, and they're both running on a really radical message of taking money and corporate interests out of politics and running a society that works for everyone."
Visit Julia Salazar's campaign page here.
Ayanna Pressley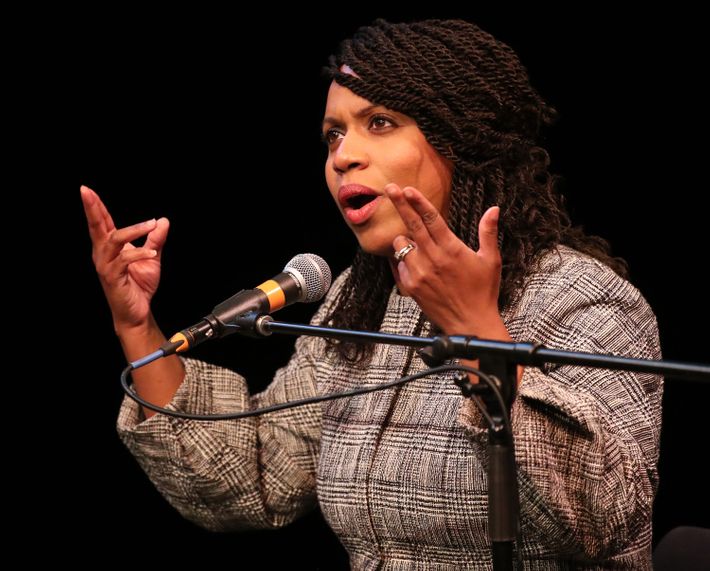 Running for: Congress in Massachusetts's 7th Congressional District
Date of primary election: September 4, 2018
Pressley isn't a newcomer — she's been on the Boston City Council for nearly a decade and was the first woman of color elected to it. Now, she's set her sights on Congress and is challenging ten-term incumbent Michael Capuano in this fall's primary. He is fairly progressive, certainly more so than Crowley, and so Pressley will face more of a challenge in differentiating herself from her opponent. During the course of this race, she's rejected corporate donations, has called for abolishing ICE, and has come out in favor of passing "Medicare for all." If she succeeds, she'd also be the first black congresswoman from Massachusetts. Ocasio-Cortez expressed support for Pressley after her win — and Cori Bush, the next woman on this list — by telling her followers to "vote her in next."
Visit Ayanna Pressley's campaign page here.
Cori Bush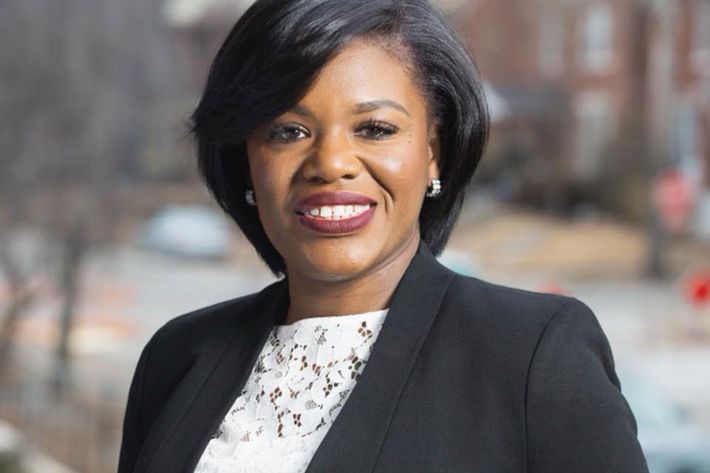 Running for: Congress in Missouri's First District
Date of primary election: August 7, 2018
Bush is an activist and organizer who took to the streets in Ferguson after Michael Brown was killed by police. She's also a single mom, an ordained pastor, and a nurse, who's looking to become a congresswoman next. Bush is for "Medicare for all" and a $15 minimum wage, as well as focused on extensive criminal justice reform. She'll be facing three challengers in the primary, including the incumbent of nearly two decades, Representative Lacy Clay.
She was the very first endorsement by progressive group Brand New Congress — which happens to be the same organization that first reached out to Ocasio-Cortez and asked her to run.
Visit Cori Bush's campaign page here.
Zephyr Teachout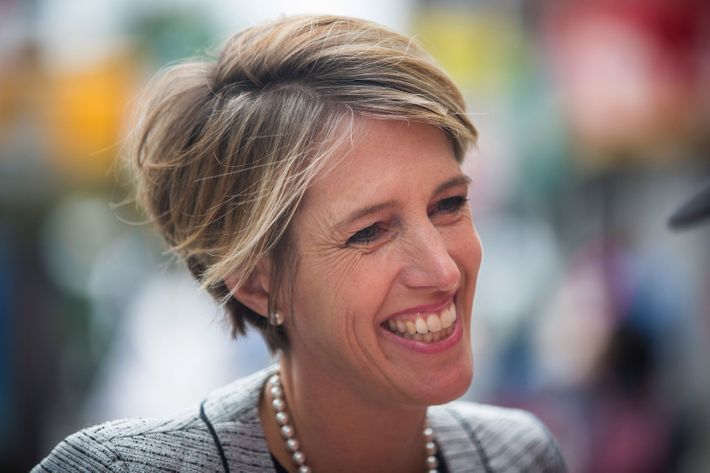 Running for: New York State Attorney General
Date of primary election: September 13, 2018
Teachout may be a familiar face to some — the Fordham Law professor challenged Andrew Cuomo for governor of New York in 2014, then ran for Congress in New York's 19th District in 2016. Now, she's attempting to become New York's next attorney general in a majorly unexpected race. Along with taking on the Trump administration, she's also promised to fight corruption on Wall Street and in real estate and vowed to use the position to enact criminal-justice reform à la Philly DA Larry Krasner. She's facing several solid Democratic opponents — but is perhaps the only one who's made an enemy of the famously vengeful governor. Oh, and she's campaigning while pregnant.
Visit Zephyr Teachout's campaign page here.
*The original version of this article incorrectly stated that Dilan had been in office since 2013. It has since been updated.