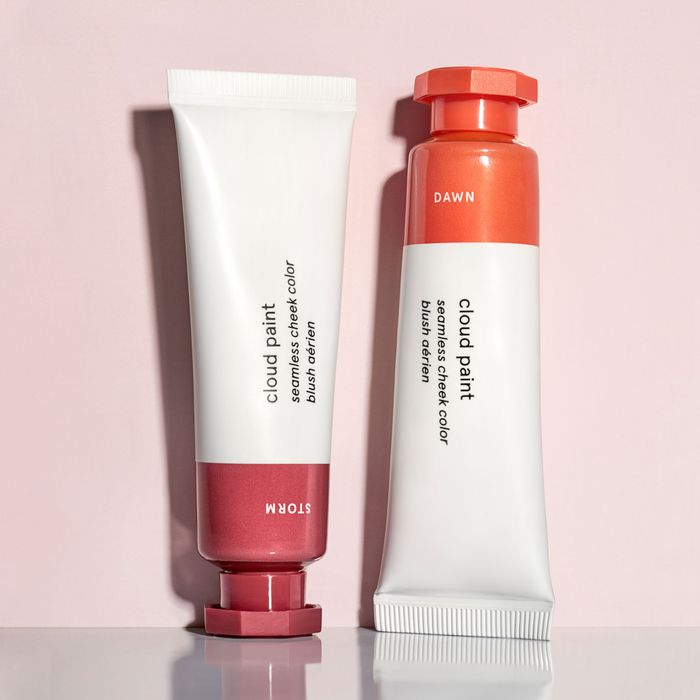 Last week, Glossier released two new shades of Cloud Paint blush. The new colors, Dawn and Storm, were designed to look especially flattering on darker skin tones. The former makes wearers look like they've recently put in time on a yacht; the latter makes them look wintry and red-cheeked, but in a cute way.
To find out how the color additions would look on real people, The Cut put the orange-y coral and brown-rose shades to the test. Here are the reviews.
Allison P. Davis, senior culture writer
I've been using Cloud Paint in Beam since it came out. I love it! I never want any kind of blush you can see, just products that give me a mysterious glow. The kind that makes people go, "You're so glowy! But why!" and I can just shrug and say "Water!" like I'm a famous beautiful person. Recently, I've been wanting a more dramatique look, so I was drawn to the new shade Dawn. It's described as a "sunny coral" (my previous joint was a "coral peach"), but sort of looks like the kind of flush people of Swedish descent get on their cheeks.
I have no desire to look like a Swedish person who just went running, but I do think a slight flush is mad sexy on any skin tone, especially my medium brown one. So! The first application was a disaster — too much and you look Bette Davis in Whatever Happened to Baby Jane. But when I finally nailed the amount (not a lot!), Dawn really does give the perfect "just-fucked" flush, like the one Beyoncé wants us to have after listening to "Summer" on repeat.
Shannon Barbour, beauty writer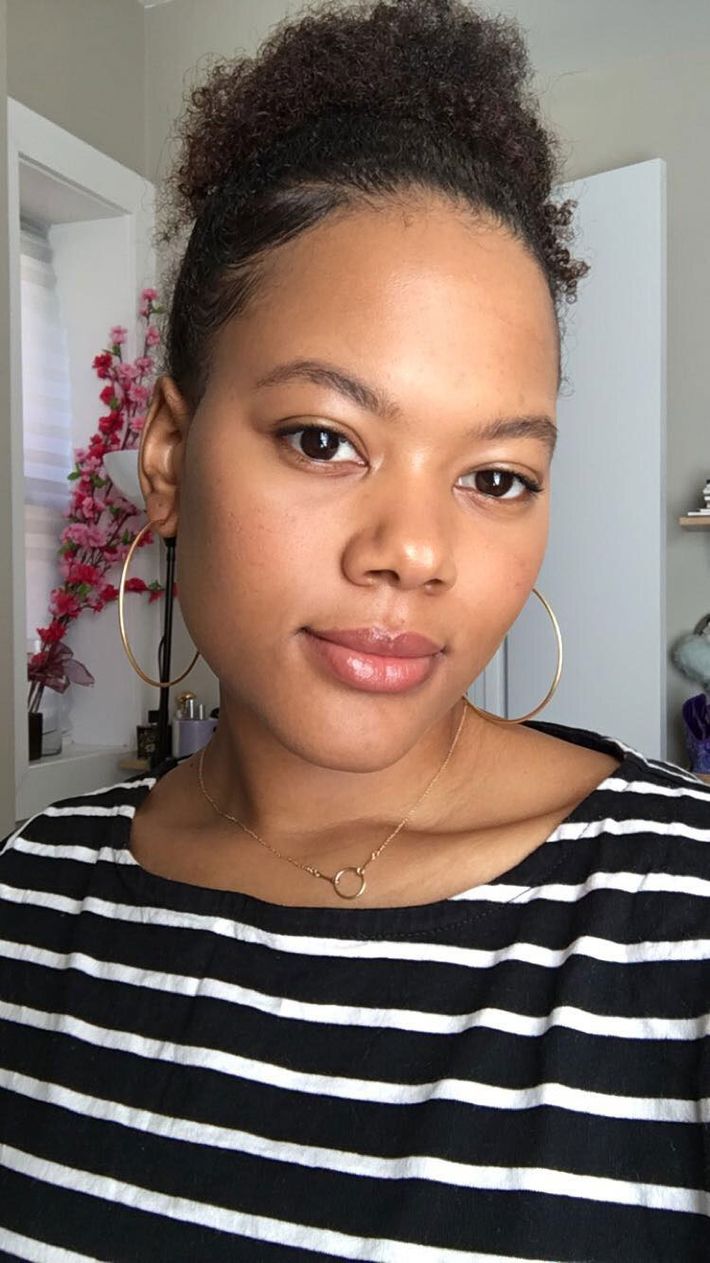 I never wear blush — I'm more of a highlighter kind of girl. As someone who doesn't blush naturally, it's a concept that just doesn't make much sense to me. And most blushes I've tried look unnatural, no matter if it's the "right shade."
I've swatched Glossier's other Cloud Paint shades before and was
unimpressed because they were too bright. As much as I blended,
they still looked like I just smeared lipstick on my cheeks. So I was interested to see if the new shades would change my mind.
I was pleasantly surprised by Storm, a deep red that's supposed to make cheeks look "bitten by frigid winter weather." It applied easily and could be built up as much as you want. I used only a tiny dot to add some warmth to my cheeks. It was sheer enough not to scare me off, and natural enough that I felt comfortable leaving the house in it. And it was actually the right shade for my skin tone! I even used some of it as a lip stain, and it was the perfect "my lips but better" shade.
Indya Brown, fashion assistant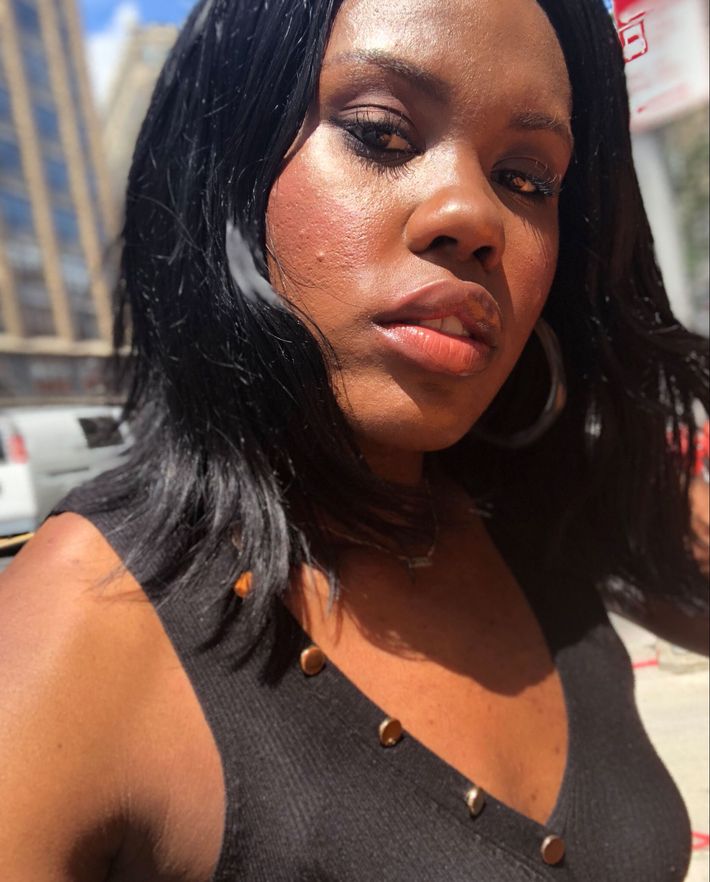 I love blush! I feel so dull and blah without it. Almost every makeup artist will tell you that with blush, less is more, but I like to be a little heavy-handed — probably more than what's socially acceptable, but I don't care.
Here's what I like about Cloud Paint's Storm color: A little goes a long way. Just a swipe and a finger pat works with this product. I also really like that it seems to amp up the natural red tones in my skin, so my face looks like it glows from within. I don't get ruddy Santa Claus face with this.
Now that it's too hot for me to wear my usual three layers of concealer and foundation, I'll probably use this all the time. I can just throw it into my purse along with some Kevin Aucoin Sensual Skin Enhancer and an eyebrow pencil. In the summer, what more do you need?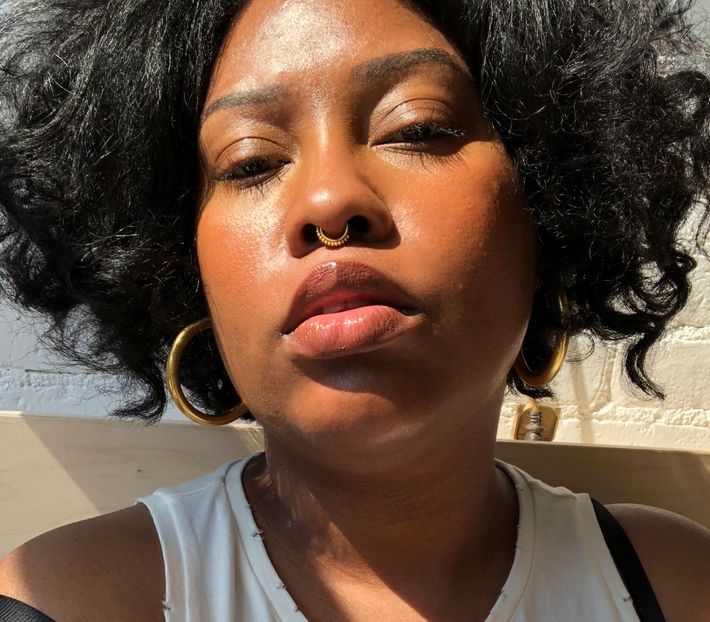 Of the two new Cloud Paint shades, I was most interested in Dawn, a bright, coral tone which was highlighted on a dark-skinned model. I went to the Glossier store one evening and grabbed it, swiping it across my bare cheeks and preening in the mirror. I have since fallen in love and tried to recruit all of my friends and even a couple of strangers into the Dawn Army.
I'm not new to Glossier Cloud Paints. I have and enjoy Haze, a deep raspberry shade that I wore all winter, but this is the first of their products to make a full stan out of me. I also have a deep love for orange blushes since I tried NARS's Taj Mahal, another impressively pigmented, saffron colored blush. And warmer tones like apricot, orange and coral are especially enchanting on brown skin.
Initially, I was put off by the shimmery glitter in Dawn when I swatched it on my hand (at 28 years old, I have a strict "no glitter" rule) but it's subtle enough that it mostly reads as "glowy" rather than "sparkly." I like to dot a bit on my face and diffuse it out onto the apples of my cheeks with my middle finger. It blends really easily, but also stays put. Since I bought it, I've worn it every day. It's silky, it's sexy, it's orange. What's not to love?