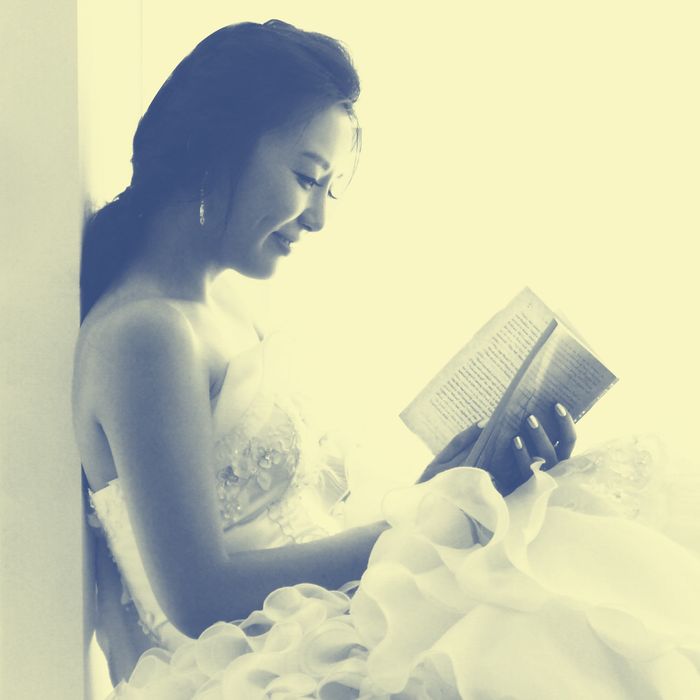 So you're getting married. First of all, congratulations! And second of all, I'm so sorry, because planning a wedding means spending most of your days waist-deep in other people's opinions. Something about knowing you're engaged seems to open the floodgates from close relatives and distant acquaintances alike to share their unfiltered, unsolicited thoughts — about cake flavors and the merits of a band or a DJ, yes, but also about what you should or shouldn't do to make sure your union sticks.
And sometimes that's sweet! But also, sometimes it's frustrating, or condescending, or just awkward (as is the case with, say, all elderly relatives with an inexplicable need to keep bringing up the wedding night). Either way, it can be confusing to separate the fluff and the nonsense from the generally useful, which is where these books come in — here are five, from experts on everything from sex to negotiations to relationship psychology, to start you and your partner off on the right foot.
For a better understanding of your spouse-to-be: Attached: The New Science of Adult Attachment and How It Can Help You Find — and Keep — Love by Amir Levine and Rachel Heller
Based on research in the 1950s examining babies' relationships to their mothers, Levine and Heller offer a lens through which to filter your partner's behavior: Are they avoidant (reluctant to get too close to other people), anxious (scared of being abandoned or hurt), or secure (confident, open, affectionate)? Our attachment style, the authors argue, influences almost every aspect of our relationships, from how we handle conflict to how we think about sex. Consider this a more scientific version of The 5 Love Languages, and use it to help decode why your partner acts the way they do, even — maybe especially — in situations where their choices seem strange or confusing.
Sample lines: "We want to be highly functional at work, at ease and inspired in our hobbies, and compassionate enough to care for our children and partners … If we are unsure whether the person closest to us, our romantic partner, truly believes in us and supports us and will be there for us in times of need, we'll find it much harder to maintain focus and engage in life."
For a better understanding of marriage as an institution: The All-or-Nothing Marriage: How the Best Marriages Work by Eli Finkel
Part history, part psychology research, part how-to guide, Finkel's book explores how the purpose of marriage has evolved over the past several centuries, from a path to wealth and protection to a source of love and companionship to what it is today: a vehicle to help people become their truest, most fulfilled selves. That's a lot of pressure to place on any one relationship, which is where the how-to comes in: In his words, Finkel "reverse-engineers" successful marriages and comes out on the other side with a collection of "love hacks," tips for navigating love in a time when our expectations of marriage are higher than they've ever been.
Sample lines: "The pursuit of self-expression simultaneously makes achieving marital success harder and the value of doing so greater. Consequently, the average marriage has been getting worse over time, even as the best marriages have been getting better."
For a healthy sex life: Mating in Captivity: Unlocking Erotic Intelligence by Esther Perel
Perel, a sex therapist perhaps best known for her ideas on monogamy (she's also the author of the more recent The State of Affairs, a book on infidelity), unpacks a paradox of married sex: the emotional intimacy needed to sustain a marriage is often antithetical to the sense of mystery that fuels lust. It sounds like a bummer, but Perel argues that it is possible to cultivate both closeness and desire if we understand the factors that influence both. Drawing on research along with professional and personal experience, she offers a blueprint for how to have a long-term relationship that always retains its sexual spark.
Sample lines: "Every day in my work I am confronted with the detailed realities that hide behind statistics. I see people who are such good friends that they cannot sustain being lovers. I see lovers who hold so tenaciously to the idea that sex must be spontaneous that they never have it at all."
For knowing how to fight: Negotiating the Nonnegotiable: How to Resolve Your Most Emotionally Charged Conflicts by Daniel Shapiro
Shapiro, a Harvard psychology professor and director of the university's International Negotiation Program, applies his expertise in conflict resolution to a question at the heart of some of life's stickiest fights: How do you come to an agreement when the issue you're arguing about is something that makes up the very core of your identity? And how do you move on without holding a grudge or betraying your values?
Sample lines: "You cannot solve emotions. Ridding yourself of anger or humiliation is a very different matter than solving a math problem. Emotions are idiosyncratic; no mathematical equation can tell you with certainty how the other side will react."
For a new perspective: How to Be Married: What I Learned From Real Women on Five Continents About Building a Happy Marriage by Jo Piazza
In the year after her wedding, Piazza traveled to 12 different countries, interviewing hundreds of people about their thoughts on what makes a good marriage. Some highlights: The Danes talked about the importance of hygge with your spouse; the French stressed the importance of lingerie and flirtation; in India, a gratitude ritual in a Hindu temple reminded Piazza of the importance of expressing gratitude day-to-day. The book is a memoir and a travelogue, but it's also a compendium of wisdom from around the world about how to make the most of life at home with the person you love.
Sample lines: "As a culture, we're less interested in the machinery of a marriage, the quotidian challenges, the joys, pitfalls, irritations, surprises, and intimacies. No one would click on the headline: 'Beyoncé Annoyed Jay Finished Watching Game of Thrones Without Her' or 'Kanye Wishes Kim Would Stop Texting at the Dinner Table' … If the wedding is the fairy-tale ending then what is the marriage? A sequel? What do we actually do after 'I do'?"