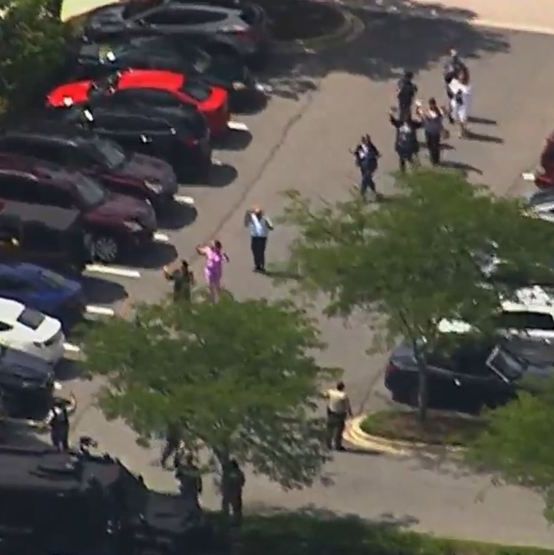 The scene in Annapolis.
Photo: ABC 7 News - WJLA
A gunman shot and killed five people, and gravely injured several others, in the newsroom of the Capital-Gazette newspaper in Annapolis, Maryland, on Thursday, according to local police. Phil Davis, one of the paper's crime reporters, tweeted from inside the newsroom, "Gunman shot through the glass door to the office and opened fire on multiple employees. Can't say much more and don't want to declare anyone dead, but it's bad."
In a subsequent interview with the Baltimore Sun, which owns the Annapolis paper, Davis likened the scene at this office to a "war zone."
"I'm a police reporter. I write about this stuff — not necessarily to this extent, but shootings and death — all the time," Davis told the Sun. "But as much as I'm going to try to articulate how traumatizing it is to be hiding under your desk, you don't know until you're there and you feel helpless."
Davis said that the shooter stopped firing while he and several colleagues were still hiding under their desks, and that he did not know why the shooter had stopped firing. Video taken at the scene captured dozens of people fleeing the newspaper's building, hands raised above their heads.
Annapolis police lieutenant Timothy Seipp told reporters that a suspect was in custody, but authorities were searching the area for other potential suspects.
Maryland governor Larry Hogan tweeted Thursday afternoon that he was "absolutely devastated to learn of this tragedy in Annapolis."
Lindsay Walters, a White House spokeswoman, offered the Trump administration's "thoughts and prayers" to "all that are affected."