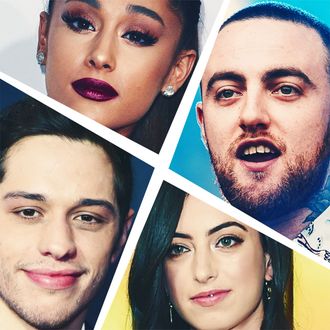 In May, we learned that Pete Davidson had broken up with his longtime girlfriend, Cazzie David, and that Ariana Grande had split from her longtime boyfriend, Mac Miller. Yesterday, after a whirlwind three weeks of courtship, we learned that Pete Davidson and Ariana Grande are getting engaged.
How you feel about the rapid-fire coupling of these two young Harry Potter fans likely depends on whom among this quartet you most relate to: If you've ever ended a relationship only to have your ex rapidly get serious with someone else, you're probably on Team Cazzie. (And, er, Team Mac, I guess.) But if you've ever gotten out of an unhappy relationship only to quickly fall head over heels with the love of your life, perhaps you're rooting for Pariana-Granddavidson to go the distance.
We spoke to nine women — seven who saw their exes get engaged extremely quickly, two who got engaged very quickly after leaving a relationship — to hear how they navigated this complicated romantic scenario.
Some names and identifying details have been changed to preserve anonymity.
After a very passionate few years with a guy I was positive I would marry, I rang in 2012 by getting dumped for not being Jewish enough — for his mother. Within days I noticed he had a few new followers on Instagram, within weeks he was posting photos with one of them, and 18 months later they got married! They got married! 
It was shocking to me. The timeline I was on to get over it all was not aided by the fact that while I was in the "maybe he'll see the light" stage, they were registering for a bar cart at CB2. Or they probably had already registered and now they were receiving the bar cart and setting it up in their house. (They bought a house!) I still don't think I was over it by the time they tied the knot — but by then I had at least stopped torturing myself by looking at his feed hoping for updates so I could feel bad for myself.
This was the first relationship where I was a happy tenant one day then evicted the next. I had to pack away a lot of the future I had imagined for us. I was also jealous he met someone he was 100 percent sure about before I did! I wanted to win, you know? The person who gets dumped should get to find happiness first. It's just, like, the laws of feminism.
My now ex-boyfriend of three years moved to North Dakota for adventure and an oil job, and one week before he was due to move back to Iowa (where we're from) he met a woman in town on business from Australia and started seeing her. I found out, we broke up, and they got engaged very shortly thereafter. I was completely crushed. I felt like I had been waiting for an engagement with him, waiting for my "adult" life to start. When we broke up and I found out they were engaged, I felt like something had been taken from me. Their relationship imploded on his first visit out to see her, when he heard a busker playing "Careless Whisper" on the saxophone on the Sydney Harbor and realized he still loved me. I foolishly took him back, but came to my senses nine months later and broke up with him. Since this experience, I've been more interested in stability and have lost a lot of patience for guys who act impulsively or talk about wanting to "find themselves."
My boyfriend and I dated for about two years and during that time he started a new job where he met a co-worker who is now his wife. He liked to hang out with her after work for drinks when I was busy because she was so much like me and her girlfriend was cool, too (he swore she was a lesbian, which I was fine with because there was nothing to be jealous about). Fast forward to our breakup, and a couple weeks later we run into each other and he introduces her as his girlfriend. Only a couple months later, while out with our friend group (we've all been friends for about 15 years), I found out they bought a house together. An actual house! I never wanted a house, as I am a ride-or-die city girl (who wants to mow a lawn or deal with flood insurance?) but they just dove into it.
About three years later, they got engaged and a couple months later they had the wedding — not the shotgun engagement wave Ari and Pete are riding, but going in on a mortgage with her so close to our breakup is basically the same. I'm actually happy they're happy (our relationship also wasn't great so I knew we wouldn't be married or be together forever); I'm just not thrilled about the timing. We're in the same friend group so it's like when Ross married Emily (but I assume he said the right name and I was not still in love with him) and Rachel had to see their stupid faces all the fucking time. Well!
One of my exes and I broke up in a truly horrific way. We had a fight. I got dropped off at the airport (we were long distance) and when I'd landed three hours later, he decided he wasn't going to speak to me ever again, and had blocked me across all social-media platforms. There was no hope for reconciliation or for me to get my stuff back. Two months later, thanks to some light (to compulsive) Instagram stalking, it came to pass he'd met, courted, moved in with, and proposed to a waitress who worked at his favorite ramen restaurant. They are still married, living happily in his hometown. I can no longer really enjoy ramen.
I broke up with my fiancé after five years of on-again-off-again, mostly long-distance relations. We had gone to high school together and started dating the summer after graduating. I went off to college and he went off to the National Guard and we were both so homesick that we just clung to our relationship. It was passionate, and it was the first serious relationship for us both. But we would have hated being married to each other. I finally realized I was not ready to settle down and he was wrong for me even if I was. I broke his heart and I hated that, but I couldn't stay.
That was May. That November he MARRIED someone he met after we split. I was shocked, mostly because it seemed like it couldn't last. I mean, who marries their rebound within six months after a five-year relationship and makes it work? He had begged me to marry him in a civil ceremony before he went overseas on a peacekeeping mission. I almost did, but something held me back — I probably knew it was going to end, but hadn't admitted it to myself yet. I realized he was just one of those guys who wanted to marry SOMEONE. That was 16 years ago and they're still married with an adopted daughter. Seem happy. We don't talk, but are on good terms. Go figure. It really reaffirmed my decision. And made me realize our relationship wasn't nearly as mature as I thought.
I had this boyfriend when I was 22 or 23 and he came out to live with me on the West Coast and it was all very exciting. I was bartending at the time, making absolutely no money, and he was in sales for some garbage pyramid-scheme company, also making no money. We started to look at apartments and the places he was looking at were so expensive. I got very uncomfortable and kind of didn't say anything on the drive back. When we finally got back home, and were making dinner, he asked me if I wanted a "serviette." I was like, You mean a napkin? And I just lost it and broke down. And he's like, Where do you see us in a year? I was like, Well, I see us being very poor, because you want to spend too much money on an apartment we cannot afford. And he goes: Where do you see us in two years? And I'm like, Listen man, I'm not going to marry you, that is not how I see the future, this is just a fun thing. In that moment, we decided to break up. He booked his flight back home in the next 48 hours.
Within the next six months, he was engaged to a woman that looked exactly like his mother. Very scary. I was definitely surprised but I was not upset. Clearly, he was working towards molding somebody into his mother. They're still married.
I dated a guy I knew from mutual high-school friends. He was like the athletic "poster boy" Archie type. He was funny, handsome, kind, and just really got me. I was so in love it was gross!! I had never been a jealous type with him — in fact, girls were constantly throwing themselves on his twinkly-eyed boy-bandwagon and I didn't so much as bat an eyelid. But every so often there were flashes of hesitation. He bore a striking resemblance to Zac Efron in his High School Musical days — 2009, this was very important!!! He would make a point to play this up in front of our mutual friends, miming the catchy tunes from the soundtrack. This is when it dawned on me that maybe he was a little too pleased with himself. To make an already very long story short, my delightfully confident boyfriend of four years turned out to be quite the deceiving devil. Upon his return from a trip abroad, I uncovered a slew of dubious emails detailing the long-term affair he was undertaking with a French exchange student.
After a very dramatic, drawn-out breakup, for whatever deranged reason I half-heartedly revived our relationship, only for it to be sadly interrupted for a SECOND time. My sort-of-back-again BF was in the process of picking up and moving to London for a music scholarship. He was apparently devastated about me not instantly buying a plane ticket to come with him — so sad in fact that he convinced his other girlfriend (we weren't "exclusive," apparently) to come with him. She had no qualms in picking up her entire life and traveling across the world to be with a guy she'd known all of — wait for it — two months. It couldn't possibly last, I said, scoffing in my head. One month later, while at a mutual friend's house, a Facebook message popped up on her monitor: "Rob & Bree's" save-the-date. You know that episode of Sex and the City where Charlotte reads Carrie Big's wedding announcement? This was the modern-day electronic version of that … but with a lot more rage!
And now, the women who did the Pete-and-Ariana-ing …
So I was in a relationship with this guy Alex for over six years, on and off. I really never thought I would love anyone like him again. It was deep. He knew me so well — I think he knew me better than myself, sometimes. But it was never easy. We had a completely different approach to life: He was your typical introvert and I thrive off being around people and socializing. Throughout our relationship, there was always a distinct fear of commitment from him. I would hold onto the little things he would say here and there, but there was never a true feeling of security in our future. He didn't know if he wanted kids, but if he ever did it would be with me. He didn't know if he believed in marriage, but he loved me, so if he ever did get married, he would marry me. We decided to move abroad together, and the issues we had buried for so long manifested in the worst ways. I left him a few months later, and even though we had been on and off so many times in the past, I knew it was real this time — and I never looked back.
Two months later I met Greg at a party. He had a social, fun ease about him. He liked to go out and he clearly had a huge friend group. He was so straight-up with me from day one. There was never a question about how he wanted to spend time with me, bring me out with his friends, spend quality time together, plan activities — honestly, everything I was always doing on my own (alone) in my last relationship. I finally had that cliché "partner in crime" where I was with someone who was just like me, and it was so fun and easy. After a few months of dating he told me he loved me, which I was completely thrown off by — it took my ex four years to say that, and it was so half-assed. A year to the day after I met Greg, he proposed. It probably seemed incredibly fast, but it is so much more real and loving than, say, if my ex had proposed after six years. People get very hung up on time. We just skipped the crap and the whole "I don't know" bit.
I was in a pretty serious relationship for three years. We lived together, had all mutual friends, were totally cute on Instagram, and everyone was shocked when we broke up. But we fought daily and I was pretty depressed.
I would confide in someone I had been worked with for four years. It was so great to spend time with him and laugh and get away from the heaviness of my relationship when he would come visit. We would laugh so hard it was like he tickled my brain in a place that other people couldn't find. And then, one night before my three-year anniversary, it hit me like a ton of bricks: I was in love with him. I had been for a long time and didn't realize. And my relationship was not going well; it was being held together by booze and business obligations. So I left my ex and moved across the country to be with my now-husband. We got engaged after dating for two months. A year after that I got pregnant and a year after that we got married. I have never been so happy — I never knew that it was possible to be so known. I carried a lot of guilt for the way I hurt my ex for a long time. But in the end I know I did the right thing. Everyone deserves something real, and my ex didn't have it with me.