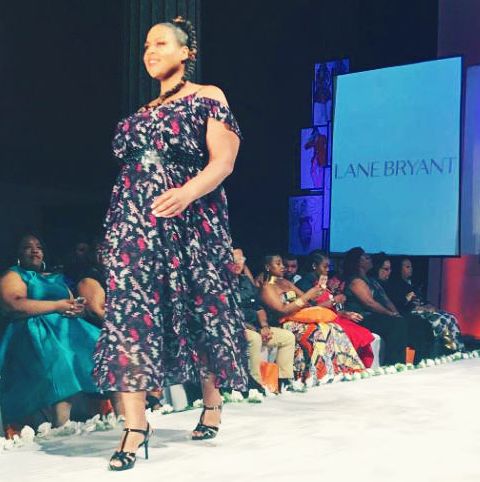 During this past Full Figured Fashion Week, I attended a brunch in midtown with some of the most important influencers in the plus-size industry, hosted by Lane Bryant. At first, it felt any other fashion brunch, full of stylish women chatting about clothes and sipping Champagne. But then I realized there were no other mainstream media outlets there. There were no fashion editors from major publications. And the conversation was much more emotional than any fashion brunch I've ever attended, because it wasn't just about the clothes, it was about the women.
At the event, Lane Bryant previewed styles they would be rolling out in the fall and talked about the retail problems they're trying to solve. Toward the end, guests were asked to voice their opinions, and one thing became crystal clear: What plus-size influencers want is more fashion. Real, elevated, chic fashion. The women in the room weren't asking for anything crazy — they wanted things like more colorful bras, more modern prints, more pastels — but it all added up to the sense that if you're plus-size, you need to beg retailers for clothes that make you feel like a part of society.
After the event, the Cut sat down with six plus-size influencers to talk about how Full Figured Fashion Week compares to New York Fashion Week, what real inclusivity looks like, and why fashion is still having a hard time connecting to the plus-size community.
Kelly Augustine


The difference between Full Figured Fashion Week and NYFW is really the level of the fashion; it's a lot more elevated there. But I'd like to go to a fashion show and not feel like an outsider, you know? I get invites to NYFW, but I feel like I don't belong. I'm one of a few who are above a size 12 or 14, or black.
In general, the plus-size industry is deeply rooted in shame, and it takes a long time to pull out of that. I know that plus is a huge part of ASOS's business and they're one of the more forward-thinking brands, but the number of pieces available in plus doesn't compare to straight sizes — and you rarely see a plus-size woman on the homepage. Right now, plus-size brands are trying to catch up because they've been so far behind for so long. But lately I haven't really been shopping period. I'm bored. And there are only so many places you can go.
I've stopped being upset that fashion editors don't attend Full Figured Fashion Week. If you're not making the attempt to include us, I don't have time. Diversity sounds real cute, but the mainstream media is not ready. If you're our size, whether it's 16 or 32, it doesn't matter how active you are or if you've lived your best life — your size defines you. For mainstream media, plus-size women are these lazy beings sucking up money at home eating bon-bons and potatoes. Whether or not we're healthy and happy is irrelevant. All the media cares about is what we look like.
The consumer is to blame and the brands are to blame. The brands don't offer a lot of things. But on the consumer side, I have watched toxic women posting things on forums like "Why would she wear something cut-out like that?" or "She shouldn't have her rolls out." And these brands are not dumb — they're reading our comments. You can't ask for more fashion but then bash the clothes and those who wear them. Go look at Torrid's Facebook page, because these are women that look like us saying the same things that mainstream media has told us for 40 years.
I attended NYFW for the first time last year. Other than the fact that Curvy Con is now the same time as New York Fashion Week, plus-size people have absolutely no place at NYFW. We are not represented on the runway, in the audience, or in the street style.
And even in plus-size fashion, there are still so many bodies that are not represented, like apple-shaped bodies. The models that have broken through are hourglass-shaped and have flat bellies and few rolls. Yes, fashion is supposed to be aspirational and all of that, but that is still a beautiful shape that deserves to be included.
Sandra Negron


I normally don't attend NYFW because it's just a little too much, but I did when there was a Torrid show because it's more relatable to me. I want to see people on the runway who look like me. I don't want to go to runway shows to see women who don't look like me, wearing clothes I can't wear!
I don't think fashion editors realize how powerful the plus-size community is. We buy clothes. We love fashion. We like to look just as fashionable as the next person.
I feel like a lot of times when we talk about diversity, brands act surprised. They act like, "Oh, this is something that you want?" And it's funny to me because we've been asking for it for years. It's a vicious cycle. Agencies aren't necessarily hiring a ton of models above a size 16, so then those models are not with prestigious agencies, so the brands don't hire them. But there are models who have great portfolios who that aren't just white, cisgender, and able-bodied. There's amazing trans models here in New York who are plus-size who are not getting work.
As a queer blogger as well, I feel like we never make the conversation intersectional. You're just checking off boxes. You're not treating us like people. It's important to talk about all aspects of our experience.
My site The Curvy Fashionista turns ten in December, and I've been involved in Full Figured Fashion week from the beginning. I think the biggest problem I see, regardless of the brands, is the PR. The PR companies don't realize that plus-size fashion has started from the ground up; it's been a grassroots movement. And we've created our own media. There is a need for plus media just like the need for Essence and Ebony, and right now in our community that's Plus Model Magazine and The Curvy Fashionista.
Continual representation is missing. Even when brands pick bloggers to work with, or cast campaigns, they're not picking people who have been championing plus-size fashion for their whole careers. This is a $20 billion industry, but that dollar amount comes from people. We are not a trend or a page view — this is our life.
These interviews have been edited and condensed.