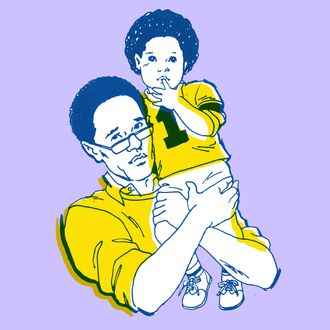 This Father's Day, we're looking at dads from a variety of vantage points, from Keith Gessen on what he learned as a new dad to Jen Gann on watching her husband's dad-transformation. We also wanted to hear from some boys about what fatherhood means to them: When you're navigating the transition between boyhood and manhood, what do you learn from a dad?
Here are nine boys, ages 9 to 19, talking about what fatherhood means, their relationships with their own dads, and whether they want to be dads themselves one day.
I have a weirdly close relationship with my dad; I tell him literally everything and we party together, chill out together. Hanging out with him is like hanging out with my best friend. He's cool with drinking and smoking weed, which has been dope, 'cause I've never had to hide anything from him. We've smoked weed together a few times and that was chill — it's no different than doing with one of my buddies. If anything, it's more comforting, 'cause he's my dad.
My parents split up right when I started to grow up a bit more so the biggest thing that I notice about my dad is how positive he remains regardless of the situation that he's in. That's definitely something that rubs off on me. If I ever end up having children, that's something I'd carry with me — being positive and realizing how fortunate we are no matter what's going on. I think maybe I would have have kids, but the world's pretty spooky sometimes. I don't know if I'd want to with how fucked-up shit is.
In my eyes my dad's perfect. I love all my friend's dads and all the other fathers I know, but there's nobody else like my dad. I couldn't see how I could do a better job than him.
My dad and I like to play checkers and chess and reading together. He got me into checkers and chess. I haven't beaten him once but it's fun anyway.
I think of my dad as not really a role model, just someone to follow. Like, not hang on to what he does and do it the exact same way — but maybe I could just take note of what he does and keep that stashed away somewhere where I can think about it when I really need it.
I'm not sure if I'll have kids — I'm still thinking about it. I've got a long way to decide. Maybe I would open my kids more to stuff they are not already interested in. My dad usually excites me in stuff I'm already interested in — I'd want to excite my kids in new topics. A good dad can not only make you excited to grow up, he can also make you excited to learn.
Dad's really important — he's been there since, well, forever. He's always there to support me and send me to school and play with me and stuff. He's just fun to be around. He's my really good friend as well; he's not just my dad. We do adrenaline sports together. He runs a gaming start-up — I think that would be a really fun job to get into when I grow up.
My dad's got quite a funny sense of humor, and if you've ever heard his laugh, it sounds a bit like the Count from Sesame Street. He can be quite embarrassing sometimes, like he'll video me doing something and post it on his Facebook. Of course I want to have a family one day. I'd do things pretty much the same as he did.
My dad has always been a hard worker and has instilled in me that hard work really beats anything else, and that's how you can be successful. He owns his own restaurant in Austin; he's grown it from not a very big restaurant to a pretty big restaurant. A lot of my other friends' dads just go to their offices and are a lot quieter and are into that 9–5 grind. My dad is more outgoing because he has to figure it out for himself; he doesn't have that steady salary so he has to go out every day and make his own way. I helped him a lot in the restaurant — he's kind of made me want to have my own business as well.
Sometimes he freaks out a little and doesn't keep a level head, so I would try to be more stable and level with my own kids, and not as up and down. But I would definitely say he shows me how to be a man. He's always taught me to be strong in situations, but also to have feelings and not hide them all. To be a man you don't have to hide your feelings; you can show your emotions.
The idea of being a dad to me is you're sort of a role model and figure in your childs' lives that they look up to. You're like a reference for them for the rest of their lives. My dad is the man I see most in my life. When I think of the qualities my dad has and I meet other people, I expect them to share those qualities — I judge them if they don't have them. My dad is a rabbi, so he talks to a lot of people about serious things; he's very understanding in conversations. When I'm talking to other men, I expect them to be like that.
My dad's a lawyer and I want to be a lawyer, too, which is something that has kind of evolved the older I've gotten. I want to help people with things and do stuff that is helpful to society. My dad is always teaching me things. Every time we're doing something around the house there's something I get out of it — like when we were working on the back stairs a couple of days ago and they needed to be fixed, we did some woodworking. I learned how to cook, how to grill. My dad got me into my favorite sport, which is baseball, and I'm planning on playing in high school. We both like the same music, classic rock. We both love Alice Cooper and have been to a couple of Alice Cooper concerts together.
I'd say dads should be 55–45, and be relaxed vs. being an authority figure. I would totally be the same as him. We basically already are the same. He tells the same 15 jokes all the time.
Fatherhood is a life-changing responsibility, and I think that's why many teenage boys are of the opinion that they "will never want kids." Most of them don't want to take responsibility for themselves, never mind another tiny life. To me, fatherhood, and my personal role in it, would be to help my child learn and prosper and guide them to be a better person than I was, am, and will ever be, and hopefully in turn they replicate this with their offspring.
My dad has led by example on how to be a good person. He's a high-school science teacher and has been at the same school for nearly 35 years — people always remember him, and it always seems like he's touched their lives in some way. Once we went to Egypt on holiday and a man fell in the pool, and my dad dived in and saved him from drowning. There's so many examples. He's such a good person, we have a nickname for him — "Good Citizen Ian."
Being a dad means protecting your family and making sure everything is okay and spending time with your family. A bad dad wouldn't care what was happening to his family: Like, if his son was doing bad things, he would just encourage it; he wouldn't even try to stop it. A good father would be like, We need to have a talk about this and that, and then he would tell him that it's wrong and he would figure out a way for the child to understand. An important thing to do as a father is to help everybody in the family. My dad helps my mom, he helps my grandma, he helps my grandpa, and he communicates with my uncles and aunts. I would want to be a dad because I would like to help the next generation.
My dad and I like to make jokes — if I ever wanna go somewhere he'll take me to one of his comedy shows. I like going to his comedy shows because the people there are sometimes funny. At home he doesn't express himself as much as he does at his shows. When he talks to people he acts like he's known them for years even if he just met them and he'll be laughing a lot. I think that I will be a little different as a dad. I'll still be funny and laugh and make jokes and stuff, but I'll handle things differently. I think he's too nice sometimes — like, he'll just say yes to everything at work when he doesn't have time.
My dad is someone who I can relate to the most. I've always been inspired by him. Fatherhood to me has always been someone who inspires. Unconsciously, as kids, you want to do what your dad wants to do. And my dad just so happened to work in film and now I want to work in film, and I've always thought the fact that I wanted to work in film was inspired by the fact that he worked in film. He worked on Harry Potter and I remember I'd only see him at the weekends because he'd leave at 5 in the mornings and get back at 10, so it was tougher when I was young, but when I hit around 8–9 years old and was staying up later I saw him more and our connection got better.
Because I'm a boy and my dad's also male, we have a more boisterous relationship than he has with my sisters. He encourages me to go outside and do activities, especially in this generation dominated by technology, he really made sure that I explored the outside environment.