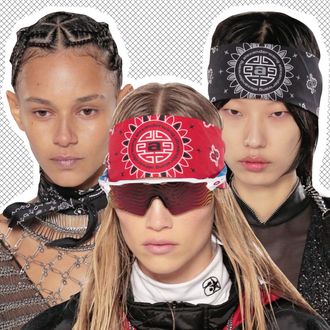 Models at Alexander Wang collection 1.
Photo: Randy Brooke/WireImage
For Alexander Wang collection 1 — the designer's new take on the spring fashion season — he presented a vision of Americana that incorporated references to his Taiwanese-American roots alongside classic references like motorcycles and rock and roll. The beauty looks felt equally modern and multicultural, using bandannas, braids, and striking face paint.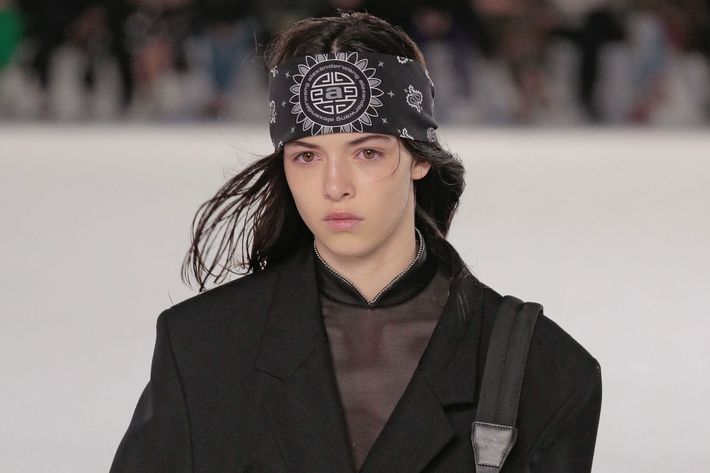 Guido Palau handled the hair, while and Diane Kendal executed the makeup. There were two distinct hairstyles: most models wore their hair straight with a slight sheen, as if they had just come back from the gym or had taken a dip in a pool. Guido categorized this look as "cool" and "downtown," with a nod to Guns N' Roses front man Axl Rose. Guido and his team used Dyson's professional hair dryer on its medium setting in order to straighten the hair without stripping it of too much texture, and sprayed Redken's Spray Shine Flash 02 throughout to maximize shine.
A select few models wore their hair styled in braids. Model Binx Walton had her name braided onto her head, another model wore cornrows that criss-crossed in the back, and a third had a star braided along her temple. Most of the styles were wrapped under bandannas, which ultimately made the models look like a band of very fashionable rock stars.
For the makeup, Kendal and her team stuck to a relatively simple motif. Save for a handful of models, the look was dewy and radiant and done with the help of NARS' Longwear Radiant Foundation and concealer.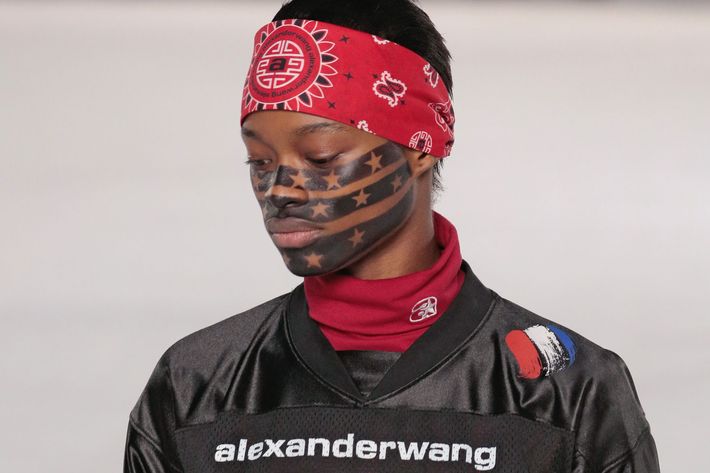 Kendal gave a couple of models a much more extreme look. Using tape and sticker stars that you might find at Office Max, Kendal created a "stars and stripes" look with NARS' Velvet Shadow Stick in Flibuste. The vivid imagery was meant to evoke the feeling of American culture, and as it was painted on Wang's diverse cast of models, it seemed to accomplish just that.