The scene was like any other at New York Fashion Week: A rooftop show with a view. Punishing weather. Grumblings about working off-hours. There were familiar faces in the crowd, too: Anna Wintour, Bella Hadid, Kaia Gerber. But Sunday marked a new beginning for Alexander Wang, who ditched the New York Fashion Week calendar for the first time ever this season, showing his collection on an oddly cold night in June as opposed to an alarmingly hot one in September.
"Our customer doesn't understand seasonality," Wang said backstage of collection 1, a label he's now using instead of "fall" or "spring." (Seasons are so last season.) Collection 1 will appear in stores in October each year, while collection 2 will show in December and hit stores in April. It sounds complicated, but this way Coachella-goers can get their spandex jorts right when they need them.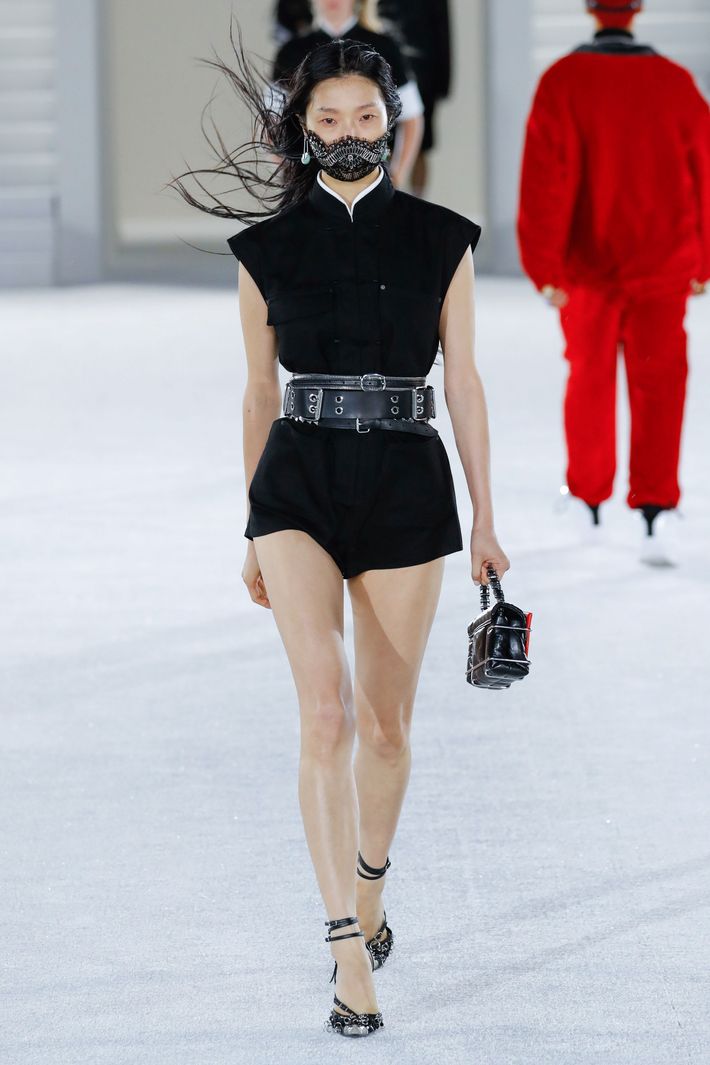 "With this change of cadence and show time, I wanted to have a new identity," Wang continued. "I wanted to put myself in a world that would think about moving forward, evolving, and the future."
Logistically, this means a new logo and website. (Alexander Wang is now written as one word to reflect the URL format most customers identify the brand with nowadays. Plus, it's lowercase.) As for the clothes, Wang looked back in an effort to move forward, returning to his Chinese roots with a theme he described as "immigrant Americana."
Recently, Wang drove from Los Angeles to Santa Barbara with his mom and dad — the first family trip they'd taken since his parents separated around 20 years ago. (His dad was at the show for the first time ever, sitting front row in a full logo sweatsuit.) "They had an incredible story of arriving [in America] and life before I was born that I had never asked them about before," Wang said, choking up a bit. Inspired by his parents, he combined Asian imagery with the American pop-culture references that he grew up with, like football, Harley Davidson motorcycles, and rock and roll music.
The resulting collection immediately generated memes of Axl Rose and Bret Michaels wearing bandanas. And it was certainly a bit ridiculous, as his collections often are (even the "clout packs" had clout packs). But upon closer inspection, Asian references were used throughout: leather jackets with frog clasps and Mandarin collars, rhinestone Chinese takeout bags, face masks covered in safety pins. There were also a significant number of Asian models in the cast, which is unusual — even for Wang.
"I never felt like I belonged so perfectly in that [world]," Wang said of traditional Americana. "I wanted to find a new way to express more inclusivity and to create a new narrative of what that might look like."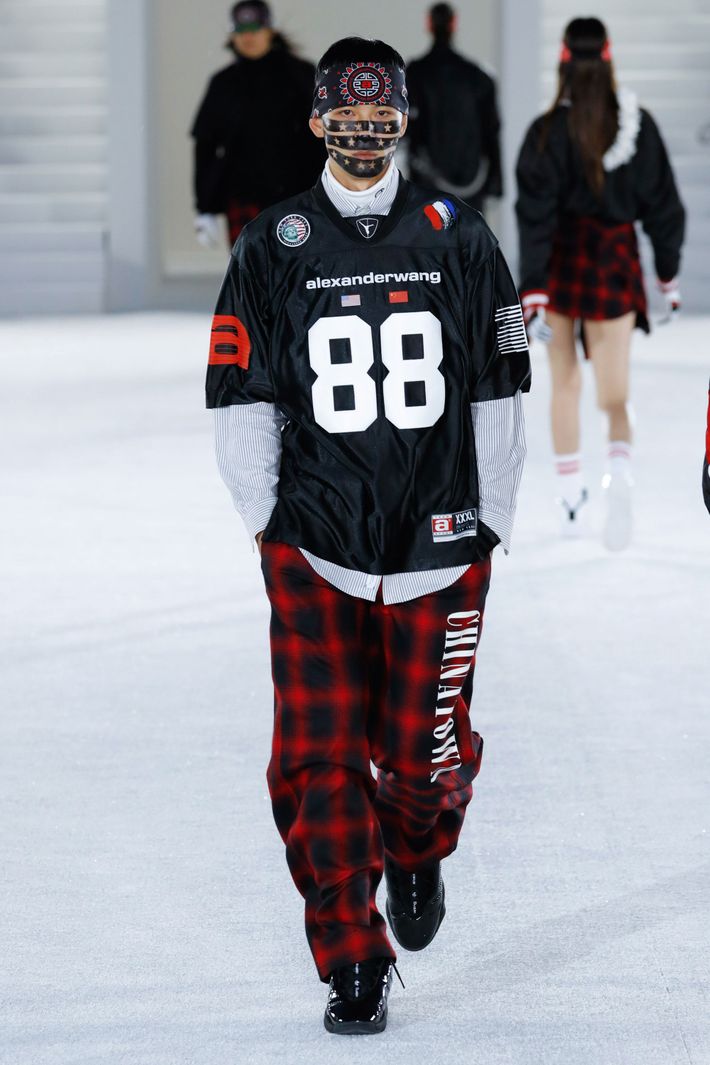 Mining Americana for references is hardly new. Neither is reinterpreting it through the eyes of immigrant and minority designers — especially not now. Over the past few seasons, designers like Raf Simons of Calvin Klein, Kerby-Jean Raymond of Pyer Moss, and the team at Vaquera have all taken the American flag, chopped it up, and pieced it back together again. But it was nice to see Wang inject some of himself into his brand, beyond the party-boy, urban streetwear image we've come to know. In fact, it might have been his most personal collection to date. Still, I wish there were fewer pieces I could imagine Kendall Jenner wearing in Calabasas, and more that went a little deeper.
Wang insisted that this collection was personal, not political, although he must have known what he was doing when he played Donald Glover's "This Is America" during the finale. He described the tone of the show as "optimistic" — a reference that seemed to be about the future of his brand specifically, rather than the country in general. Last fall, Wang relinquished his role as CEO. (He also appointed his aunt, Caroline Wang, as executive vice chairman of the board.) Collection 1 seems to be the first step in a full Alexander Wang reawakening.
The brand may be over a decade old, but Alexander Wang is only 34 years young. Unlike more established labels — like Marc Jacobs, whose business was scrutinized in the Times this weekend — he can easily hit the reset button and reintroduce himself. We know him as the life of the party, but it's important to know where to go when the party's over.