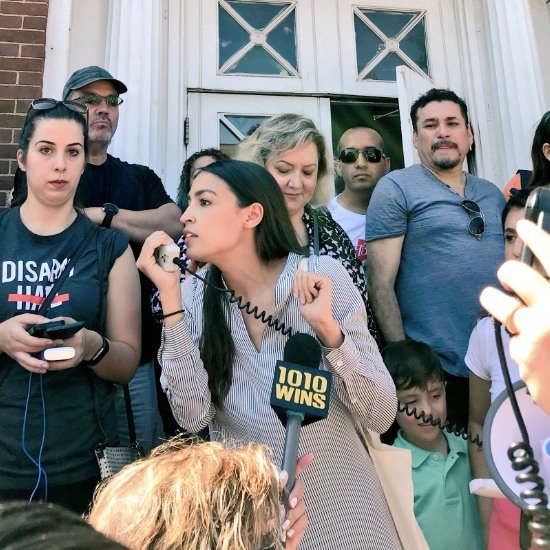 Alexandria Ocasio-Cortez at the rally in Queens.
Photo: @jenniferdeseo/Twitter
On Saturday, more than 700 demonstrations were held across the country — including the major Families Belong Together marches in New York and Washington, which both drew over 30,000 people, respectively — to protest the Trump administration's inhumane zero-tolerance immigration policy that resulted in over 2,000 children being ripped away from their families. At a rally in Queens, congressional candidate Alexandria Ocasio-Cortez spoke of the importance of fighting against injustice.
The 28-year-old Bronx-born Democratic Socialist, who recently scored a stunning primary victory over longtime incumbent Joe Crowley, addressed a crowd in her district. As seen in video posted on Twitter by reporter Allissa Wickham, Ocasio-Cortez spoke into a megaphone at the start of the march, as she urged everyone in attendance to keep fighting "displacement and fear."
"I am confident and hopeful that it will not last long and that it will not last forever, because of every single individual who's on this block today," Ocasio-Cortez told the crowd. "Each and every single one of you represents those who could not make it here today. … So when there is 500 people, we are basically 500,000."
At the end of the Queens march, Ocasio-Cortez took to the megaphone again:
Speaking of her Puerto Rican family, Ocasio-Cortez said, "The only reason that my family is not living in fear is because we are a colonized people of the United States. There is little to no difference between us, and that is why we have to stand in solidarity. We have to understand that injustice anywhere is a threat to justice everywhere."
This post has been updated.