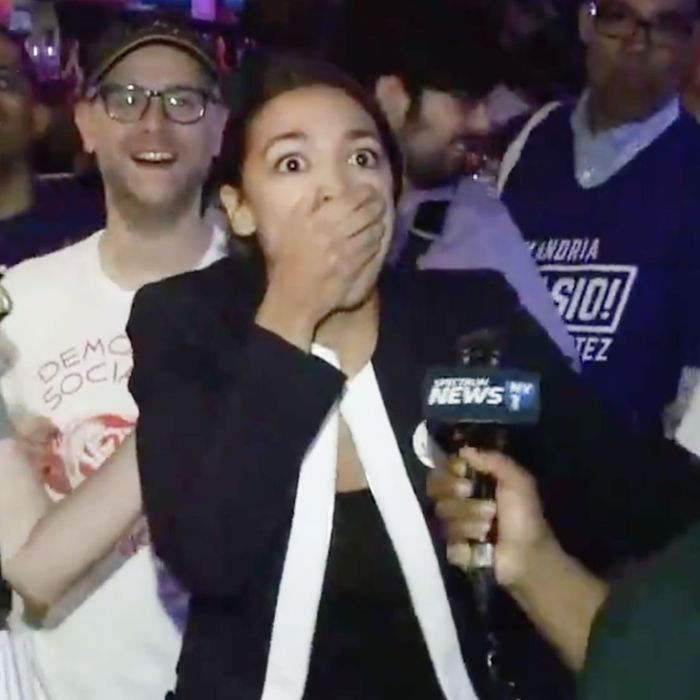 Alexandria Ocasio-Cortez (at right) and supporters.
Photo: Twitter/Spectrum News NY1
Last night, 28-year-old political newcomer Alexandria Ocasio-Cortez pulled off a shocking upset and beat longtime incumbent Joe Crowley in New York's 14th Congressional Cistrict's Democratic primary. And fully capturing the excitement and the sheer surprise of the victory is this video of Ocasio-Cortez at the exact moment she realized she won.
"I cannot believe these numbers right now," the Bronx-born Democratic Socialist told NY1. "But I do know that every single person here has worked their butt off to change the future of the Bronx and Queens. And this victory belongs to every single grassroots organizer, every working parent, every mom, every member of the LGBTQ community, every single person is responsible for this."
Ocasio-Cortez won 57.5 percent of the vote, with 440 out of 449 precincts reporting.
Crowley, meanwhile, pulled out his guitar and dedicated a rendition of Bruce Springsteen's "Born to Run" to his opponent following his defeat.
You can read the Cut's preelection interview with Ocasio-Cortez here.