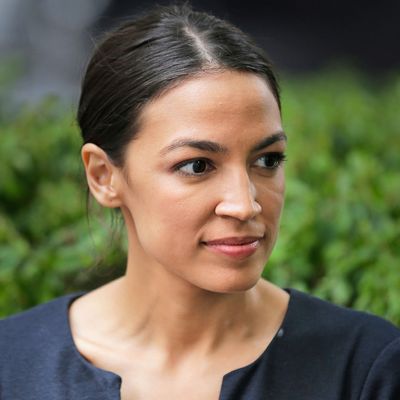 Alexandria Ocasio-Cortez.
Photo: Seth Wenig/AP/REX/Shutterstock
In addition to declaring that Trump "can't handle a girl from the Bronx" and promoting democratic socialism, congressional candidate Alexandria Ocasio-Cortez has been open about her favorite makeup products. She tweeted out the lip color she wore during a debate, and now we know which contour palette she prefers.
Marie Claire beauty director Jennifer Goldstein posted an Instagram of Ocasio-Cortez identifying that she was using Kat Von D's Shade + Light Face Contour palette in the back of a car. It's one of Sephora's best-reviewed contour palettes, with close to 800 five-star reviews praising its versatility and blendability. Her brand is also vegan and cruelty-free.
Von D recently came under fire after she posted an Instagram saying she does not plan to vaccinate the baby she is expecting (it received over 78,000 comments). She later clarified that she and husband are "not against vaccines. Just because we have hesitancies and valid concerns about injecting our baby with specific chemicals and toxins does not mean we are anti anything." Commenters on Goldstein's post of Ocasio-Cortez pointed this out, so the congressional hopeful may want to postpone an in-person meeting until after the November election. In the mean time, Ocasio-Cortez — give us the rest of your Top Shelf.
If you buy something through our links, New York may earn an affiliate commission.