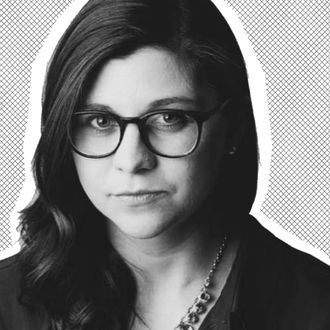 Ali Watkins.
Photo: LinkedIn
Yesterday, the New York Times reported that they would be investigating journalist Ali Watkins's work history amid an ongoing leak case that involves a former Senate Intelligence Committee aide, James A. Wolfe.
Watkins, 26, is a national-security reporter who's been working for the Times since December — and last week, it was revealed that the Justice Department had seized her communications records without her knowledge. (Watkins personally found out via a letter sent to her in February.) It's the first time we know of that the Trump administration has secretly surveilled a reporter.
Watkins's data was taken as part of a federal investigation into Wolfe, 57, who was previously in a relationship with the journalist. He was arrested last Thursday, while she has denied that he was ever a source.
What started as a story about the government obtaining a reporter's records has since developed into something far more complicated, raising questions about journalistic ethics and government overreach. Here's what to know about this situation.
Watkins and Wolfe were in a relationship for three years.
It ended in December 2017, and Watkins informed the Times about it after she was hired and before she started her job. Watkins had previously covered national security for Politico and BuzzFeed News, the former of which has confirmed they knew about the relationship. A Politico spokesperson told the Times that "Ms. Watkins did not disclose the personal nature of her relationship early on in her tenure at Politico, but she was managed accordingly once that disclosure was made."
Wolfe is facing charges of lying to federal investigators.
Wolfe retired from the Senate Intelligence Committee last month and is now accused of lying to FBI agents who asked him about whether he had leaked classified information to three other (anonymous) reporters. For instance, the Washington Post reports that his indictment includes various instances in which he received sensitive information and then made communication with Watkins on the same day:
U.S. intelligence agencies provided a classified document to the Senate Intelligence Committee. As director of security, Wolfe received the document. On that day, the indictment states, Wolfe exchanged 82 text messages with Watkins and that evening had a 28-minute phone call with her.
Of particular interest is Watkins's April 2017 BuzzFeed story about former Trump adviser Carter Page meeting with a Russian spy; Wolfe's indictment states that he and Watkins had "approximately 124 electronic communications" and a seven-minute phone call that day. Wolfe also reportedly lied to agents about having a relationship with Watkins until they showed him pictures of the two of them together.
The Daily Caller, a conservative outlet, has also revealed that Wolfe was charged with domestic violence back in 2004. The charges were dropped and his security clearance — which is reviewed every five years — was reissued in 2008.
Right-wing media, in general, has been all over this story.
While press groups have criticized the seizure of Watkins's records as a First Amendment violation, conservative outlets and Trump supporters have reacted much differently. They've simultaneously been outraged by Watkins's relationship and, it seems, delighted that they have something on the mainstream press that they can call out as unethical.
And unfortunately, some of Watkins's tweets have come back to haunt her.
In 2013, Watkins tweeted about Zoe Barnes, the fictional journalist played by Kate Mara on House of Cards who engages in a sexual relationship with her congressional source.
The Times has now turned their scrutiny toward Watkins.
Their review includes looking into "Ms. Watkins's involvement in the case, including the nature of her relationship with Mr. Wolfe, and what she disclosed about it to her prior employers."