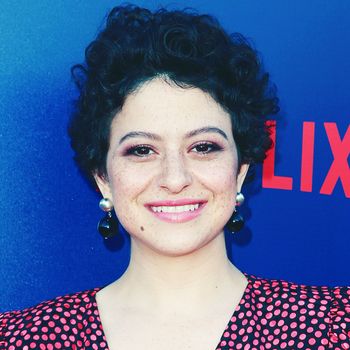 Shawkat.
Photo: Rich Fury/Getty Images
In a new interview with Broadly, Alia Shawkat spoke out about the Arrested Development cast's infamous New York Times interview last month, in which the men of the show tripped over themselves to defend Jeffrey Tambor as Jessica Walter cried.
In addition to addressing allegations that Tambor sexually harassed co-stars on the Transparent set, the men of Arrested — particularly Jason Bateman, but also David Cross and Tony Hale — appeared to take Tambor's side regarding an incident in which he verbally abused co-star Jessica Walter on their set, repeatedly defending and justifying Tambor's behavior instead of letting Walter speak.
Though Shawkat did not speak much, she came across as the lone voice of sanity in the interview, responding to Bateman's comment that actors' "processes" can breed "atypical behavior" by saying "that doesn't mean it's acceptable," and "things are changing, and people need to respect each other differently."
Yet speaking to Broadly, Shawkat admits that she wishes she had said more to defend Walter at the time. Shawkat explained that the cast had never discussed how they would engage in a conversation about the Tambor allegations, though she wishes they had. When the conversation with the Times began to turn heated, Shawkat says she began to feel "hot inside." Yet with all of her colleagues talking over one another, she found it difficult to get a word in.
"I looked at Jessica and I could see how it was sitting with her, and it wasn't good," Shawkat told Broadly. "She comes in and she tries to speak for a little while, and again they keep going."
After the interview, Shawkat reveals that she cried, overcome with emotion and embarrassment, worried that she hadn't done enough to defend Walter. "Women's voices need to be heard, and, ironically enough — I wasn't able to be heard. I was really scared that the interviewer didn't even hear me."
"I know I said a little, but what I wish I had said was, 'Stop talking. Stop. Jessica, go on,'" she continued.
After the interview, Shawkat says she made her feelings known to her male colleagues and that they apologized to her (Cross, Bateman, and Hale later apologized publicly as well). "I tried to explain to them that, in defending Jeffrey, we covered up something that was more important in the conversation — which was Jessica's feelings in the moment, and also any voice that I felt I had," she said. Shawkat says they responded sincerely and seemed genuinely concerned and surprised at her response, and the fact that they know her on a personal level may have helped to make it "sink in."
"It felt very healing," she adds.
The whole experience has changed Shawkat's outlook, she says, particularly when it comes to men's roles in being part of the #MeToo conversation. "I hope that the guys on the show and now all these men of all different ages start to communicate with the women in their lives, the women they work with, and just ask openly with no shame, 'What can I do to be better?'"
While women have been forced to speak about #MeToo on every red carpet and every interview since the Weinstein story broke, many men have avoided publicly considering how the movement affects them. "What's most important to me is that these men — whether they've been accused of anything or not — need to start looking at this movement and realizing it has a lot to do with them," she says.
With this debacle out of the way, Shawkat says she hopes she can focus on her goals — such as making projects that highlight queer stories and the stories of Arab-Americans — without always having to answer for her erstwhile co-workers' personal misdeeds. "It makes me angry," Shawkat said. "[Men implicated in #MeToo] need to be responsible for their own actions. Not me."