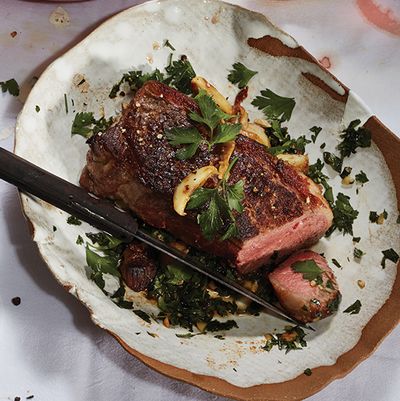 Breakup steak.
Photo: Janelle Jones. Food Styling: Victoria Granof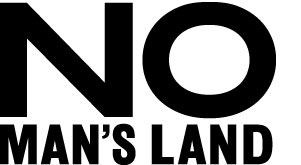 This week, women's social club The Wing launches the second issue of No Man's Land, its print magazine, with stories rolling out exclusively on
the Cut.
Cooking for yourself is often a two-for-one deal. While we're nourishing our bodies to stay alive, we're also relieving stress, channeling creativity, and entertaining ourselves. Food is a tool for translating our deepest wishes and clearest intentions into something tangible and, maybe more importantly, edible.
Taking a cue from the ever-popular "engagement chicken" — a recipe for chicken that, as the myth goes, drives a man to commit to marriage after consuming it — here are three recipes to help you realize your innermost desires. No man required.
Breakup Steak: Very Garlicky Steak for One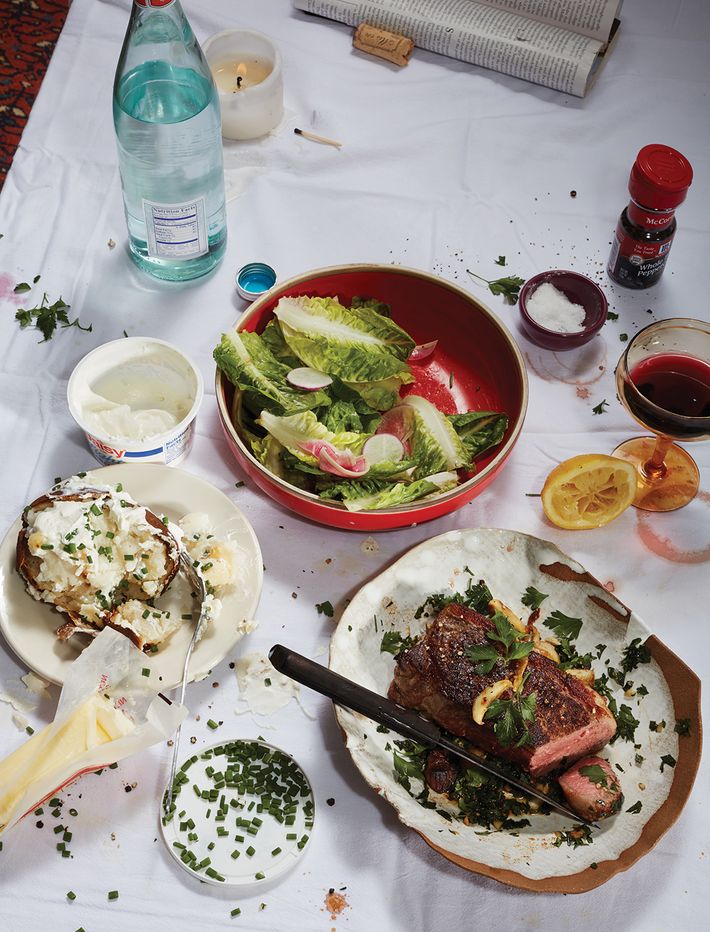 Ever want to cancel plans and make yourself a beautiful steak? Same. Cooking a large piece of meat is an excellent form of self-care for any omnivore, something to cook as a way to celebrate and find strength in your aloneness. Think of this as the anti-engagement chicken. It's leave-me-alone steak. Break-up steak. I-am-not-calling-you-back steak. It's quite garlicky, but since it's just you, who cares?
Garlicky Steak for One
Serves one. (Or two, if you're feeling generous.)
1 12–16 oz. boneless strip or rib eye steak, at least 1¼ inch thick
Kosher salt, freshly ground pepper
3 cloves garlic, smashed, divided
½ cup parsley, tender leaves and stems, coarsely chopped
Pinch crushed red chili flake (optional but recommended)
1 tablespoon vegetable oil
2 tablespoons unsalted butter
1/2 lemon, for squeezing
Baked potato with lots of sour cream and caviar, because you deserve it
A salad, if you want
Lots of wine
1. Season steak with salt and pepper and set it aside.
2. Very, very finely chop one of the smaller garlic cloves — if your cloves are large, just use a half — and mix with the parsley and chili flake, if using; season with salt and pepper.
3. Place parsley mixture onto a cutting board. (You're going to put your meat here to rest after it's done.)
4. Heat oil in a large cast iron skillet over medium–high heat.
5. Add steak and press into the skillet to make sure the whole thing is making even contact. Cook until it's deeply browned on one side, 3–4 minutes. Using tongs or a spatula flip the steak, gently pressing again and continue to cook until it's equally browned on the other side, another 3–4 minutes. Add butter and remaining garlic cloves to the skillet and let the butter foam and melt around the steak. Using a large spoon, baste the steak a few times with the browned butter and smashed garlic cloves, which by now should be nicely golden brown. Transfer steak along with any garlic to the cutting board, placing it right on top of that parsley mixture. Let it rest 3 or 4 minutes before slicing into 1/2"–3/4" thick pieces.
6. Once you slice it, let the juices of the steak mingle with the garlic and parsley mixture. This is your "sauce."
7. Eat the steak with a giant baked potato piled higher than you ever thought imaginable with sour cream — you want, like, a 1:1 ratio of baked potato to sour cream — and top it with lots of cracked pepper, chopped chives, and if you are really truly going next level, CAVIAR. Opulent? Sure. But you're also cooking an entire steak for yourself, and this is an EVENT. You're going to probably also want some nice leafy greens dressed with some lemon juice, olive oil and flaky salt and maybe a glass or two of wine. Ladies choice.
Rolls Ryce: Crispy Jeweled Rice With Carrots and Herbs
The best things in life are free, but for all other things, money really comes in handy. Originally made for weddings and elaborate celebrations, jeweled rice, or javaher polow, is a dish of buttery, crispy rice scattered with jewel-toned ingredients like carrots, toasted nuts, and dried fruit. Traditionally, it takes a long time to make; but time is money, and money's what we're conjuring, so here's a quicker, entirely inauthentic, wildly delicious version.
Crispy Jeweled Rice with Carrots and Herbs
Serves 4
If time is money, this is a very expensive dish.
1 ½ cups Jasmine rice
Kosher salt
3 tablespoons olive oil, divided
4 small (or 2 medium) carrots, scrubbed and thinly sliced into rounds
¾ teaspoon cumin seed
1 teaspoon orange zest
Freshly ground pepper
4 tablespoons unsalted butter
1 medium yellow onion, finely chopped
½ teaspoon ground turmeric
Small pinch ground cinnamon
¼ cup shelled pistachios, coarsely chopped
¼ cup sliced almonds, toasted
½ cup pomegranate seeds
½ cup mixed herbs, such as mint, dill and parsley
1 cup full fat greek yogurt (optional)
2 tablespoons fresh lemon juice (optional)
1. Rinse rice in a large bowl until the water starts to run clear, this will take a minute or two.
2. Cook rinsed rice in a large pot of salted boiling water until it's just started to soften, but it's not yet cooked or tender, 5–7 minutes. (Taste a grain or two at about 5 minutes. It will still be definitely undercooked, but not so hard you break a tooth). Drain and rinse under cold water.
3. Spread rice onto a rimmed baking sheet so that the grains are not crowded on top of each other, or else they will stick, and set aside.
4. Heat 2 tablespoons of olive oil in a large skillet over medium heat. Add carrots, cumin seed and season with salt and pepper. Cook until the carrots are just tender, but not so tender they start to fall apart, 3–4 minutes. Add orange juice and zest and remove from heat. Transfer carrots to a small bowl and set aside.
5. Wipe out skillet and heat butter and remaining olive oil over medium heat. Add onion, turmeric, cinnamon, and season with salt and pepper. Cook, stirring frequently, until onions are softened and translucent, 4–5 minutes. Add cooked rice, season with salt and toss to coat every grain (or at least most of the grains) evenly in the spiced butter mixture.
6. Using a spatula, press rice firmly and evenly into one even layer in the skillet. Place a lid on top. It doesn't have to fit perfectly, you just want something to cover the entire surface of the skillet so that the rice can continue to cook.
7. Reduce heat to medium-low and continue to cook, rotating the skillet occasionally to encourage even browning, until the rice is golden brown on the bottom. After about 5 minutes, start checking occasionally. Depending on the type of burner you have, it will likely brown faster in the center than the edges.
8. Once the rice is evenly browned and crisped, remove from heat. If you want a richer rice experience, combine yogurt with lemon juice and season with salt and pepper. Smear it onto the bottom of a large serving platter and top with rice. (If you're skipping the yogurt, just transfer rice to a large serving platter).
9. Scatter rice with carrots, pistachios, almonds, pomegranate and herbs.
Frosted Fantasy: Pink Velvet Cake With Sour Cream Frosting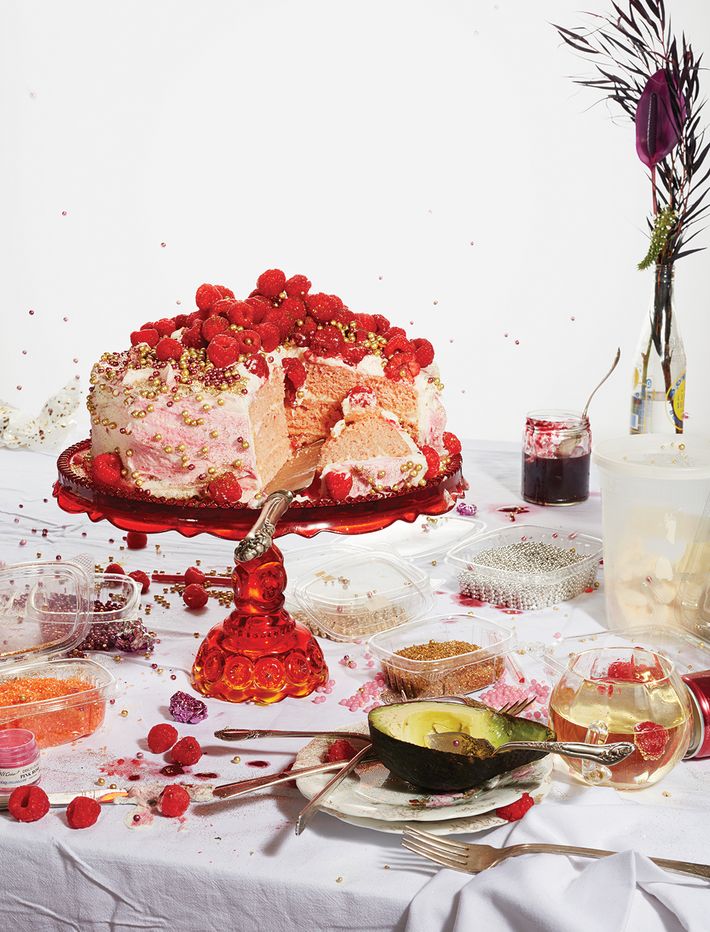 This cake subscribes to the idea that you can bake your hopes and dreams into a cake, eat them, and have everything come true. Très fantastique, non? So, dream big! Bake every floor-through apartment, fantasy job, or gorgeous new lover into each layer, smear lovingly with raspberry jam and sour cream frosting, and decorate with absurd wild abandon. Look, these are your dreams. They should be decorated as such, no holding back.
Pink Velvet Cake with Raspberries and Sour Cream Frosting
Makes one 9-inch cake
For the cake:
Non-stick spray
¾ cup (1½ sticks) unsalted butter
3 ⅓ cups all-purpose flour
1 cup sugar
¾ cup light brown sugar
3 teaspoons baking powder
¾ teaspoon baking soda
1 ½ teaspoon kosher salt
2 ½ cup buttermilk
4 large eggs
1 ½ teaspoons vanilla extract
8–10 drops red food coloring, plus more
For the frosting and assembly:
8 oz. cream cheese, room temperature
1 cup (2 sticks) unsalted butter, room temperature
1 1 lb. box of powdered sugar
1 teaspoon vanilla extract
Pinch kosher salt
8 oz. sour cream, room temperature
3/4 cup raspberry jam
Raspberries, edible flowers, sprinkles or glitter, for decorating
1. For the cake: Preheat oven to 350°.
2. Spray 3 9-inch cake pans with non-stick spray.
3. In a small saucepan, melt the butter. Cook, swirling the pot every so often until the butter is foamy and starting to brown on the bottom, about 5 minutes.
(It should smell like hazelnuts and marshmallows and everything good in the world.) Use a whisk to scrape up the bottom bits, then remove from heat and set aside to cool slightly.
4. Whisk flour, sugar, brown sugar, baking powder, baking soda and salt in a large bowl, making sure to get rid of any lumps of brown sugar.
5. Whisk buttermilk, eggs and vanilla extract in a medium bowl until no visible bits of egg remain. Add buttermilk mixture to flour mixture and whisk just to blend (a few streaks of flour are fine). Using a spatula, fold in brown butter and red food coloring and fold just to blend. Do not over mix. This cake is particularly sensitive to getting tough. Add in a few more drops of red food coloring, if you feel like it needs it.
6. Pour batter into prepared pans and bake until the edges are barely golden brown and the top springs back when pressed slightly, 20–25 minutes.
7. Remove cake from oven and let cool completely before frosting.
1. For the frosting and assembly: Using an electric mixer, beat butter, cream cheese, powdered sugar, vanilla and salt together on high until it's very light and fluffy, it should almost triple in volume. Scrape down the sides of the bowl and add sour cream, beating just to blend. (Don't overdo it here, the frosting could become grainy if over mixed.)
2. Place one layer of cake on a large plate, bottom side up. Spread a thin layer of raspberry jam (about 1/4 cup or so) onto the cake. Follow with an even layer of the frosting (about 1/2 cup). Place another cake round on top, bottom side up and repeat.
3. Place the last layer of cake on and using an off-set spatula — a butter knife will work if you're desperate — and frost the entire cake. Don't worry about covering up all the imperfections, you'll take care of those later. You just want a nice, even layer of frosting all around.
4. Once you've done that, chill the cake for about an hour. Leave any leftover frosting out at room temperature.
5. Once the cake is chilled, remove it and give it another coat of frosting, this time occasionally swirling in little bits of raspberry jam to get a swirly, tie-dye look. There is no right or wrong way to do this — whatever you end up with will be wonderful.
6. Return the cake to the refrigerator and chill at least another hour or so.
Before serving, decorate with whatever you please, including but not limited to: edible flowers, fresh raspberries, whipped cream, sprinkles, and edible glitter. Cake can be baked two days ahead, wrapped rightly, stored at room temp; or frosted two days ahead, and refrigerated.
Photographs by Janelle Jones. Food styling by Victoria Granof.