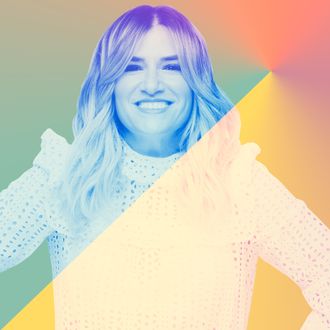 Alli Webb, the founder of Drybar, was not blessed with a head of perfect hair. ("I'd look at Cindy Crawford or Christie Brinkley and think, how is their hair so perfect? I spent many, many hours in my bathroom trying to figure that out.") Starting in high school, she smartly situated herself close to the hair world when she got a job as a receptionist at the local salon. She earned her stripes at the John Peters salon, but she had dreams of working for another John.
"The only salon I really wanted to work in was John Sahag," recalls Webb. "I'll never forget that job interview.  I strutted in wearing my black leather pants determined. Just moments after walking in, I locked eyes with John himself and I just knew I was going to get the job."
Webb left the salon after a few years to take a job in music publicity. Five years after moving to L.A., she grew restless and posted an ad offering home visits for blow-dries in a local mommy website. Soon the demand overrode her calendar capabilities so she opened a bona fide salon.
That first Drybar location in Brentwood has spawned 101 more, with over 3,000 employees and more than 25 products and styling tools. Webb chalks Drybar's success up to its affordable prices and its quick in-and-out ease. No other services, like cut or color, are offered and the menu has, for the most part, remained the same these past eight years.
"Women will always want to have pretty hair, and the confidence that comes from having it," she says. "I compare it to all the workout trends. People will always exercise, but sometimes they change how they do it. We've got ten different styles, so there's plenty of variety."
Webb spoke with the Cut about her obsession with a sexy Frederic Malle scent, the return of curls, and her success at finding the perfect, most comfortable boy short underwear in existence.
Bath or shower? Bath. I take one every day. I love to "wash" away the day. I like Susanne Kaufmann St. John's Wort Calming Bath, Little Market Soaking Salts, and Pursoma Resurrection Bath. If I'm particularly sore from a workout, I'll add magnesium flakes to my bath — it does wonders for my achy muscles. I also have a zillion candles in the bathroom, so I'm always lighting them for their soothing smells.
Body lotion of choice: Sagely CBD lavender lotion.
Facial cleanser of choice: Tatcha Cleansing Oil.
Scent of choice: Frederic Malle Musc Ravageur by Maurice Roucel.
Mascara of choice: Too Faced Better Than Sex.
What fashion look do you struggle with achieving? That skinny jeans and T-shirt look that supermodels pull off so effortlessly but I can't. I'm five-foot-two. When I try that, it doesn't work.
Casual shoe of choice: Golden Goose.
Preferred daily underwear brand: Hanky Panky makes these all-lace high waisted thongs. They're the most flattering underwear. I also love the high-waisted No Show Briefs from Victoria's Secret. I was on the hunt for a comfortable boy short and I tried so many before I found these. They're the best! I wear them under skirts and to sleep.
What fashion look do you not get? Tiny sunglasses.
Work icon: Jenna Lyons.
Favorite podcast: How I Built It and anything about mystery.
What word or phrase drives you crazy? I'm sorry you feel that way.
Last great book you read? It's Messy by Amanda De Cadenet.
Who would star as you in the film adaptation of your life story? A cross between Emma Stone and Drew Barrymore.
How do you kill the beginnings of a cold? Counter Attack. It's magic.
What do you do or take when you can't sleep? Melatonin.
Favorite smell? My kids.
Least favorite smell? Throw-up.
What do you think Pantone's color of 2018 should have been? Bright yellow.
Last great film you saw: Blockers. I laughed and cried the whole time. Brilliant!
Describe your most starstruck moment: I was about 20 years old and living in NYC. I was working at the Nicole Miller boutique in Soho and I saw Brad Pitt walk by. I left the shop and followed him for like five blocks until he walked into a furniture store. I never approached him. I wasn't exactly sure I knew what my plan was as I was doing it, clearly.
What celeb would be your friend if only you two met? Jennifer Aniston.
Who appears to have the best life on Instagram? Jacey Duprie.
Favorite meal and where: Salmon sashimi and the salmon hand rolls at Sugar Fish. You can't order the hand rolls for delivery. The key to them is that the seaweed is really crunchy, so you have to go there to get them, but totally worth it.
Comfort food: French fries.
What product in your domain is misunderstood and should be a best seller? The Chaser. It's the best product that gives hair shine and a little texture. It's great as a blowout cream.
What do you foresee as the top beauty trends in 2018? Curls. Women are embracing their natural waves or curls a bit more these days. For example, my hair dries naturally with a frizzy wave. Sometimes I'll let it air dry that way or rough dry it and then use our 3-Day-Bender iron to randomly smooth out some of the wavy parts of my hair.
If you won the Power Ball tomorrow, what are the first five things you would do? (after, of course, donating the majority of it to your top charities …): Buy a plane.