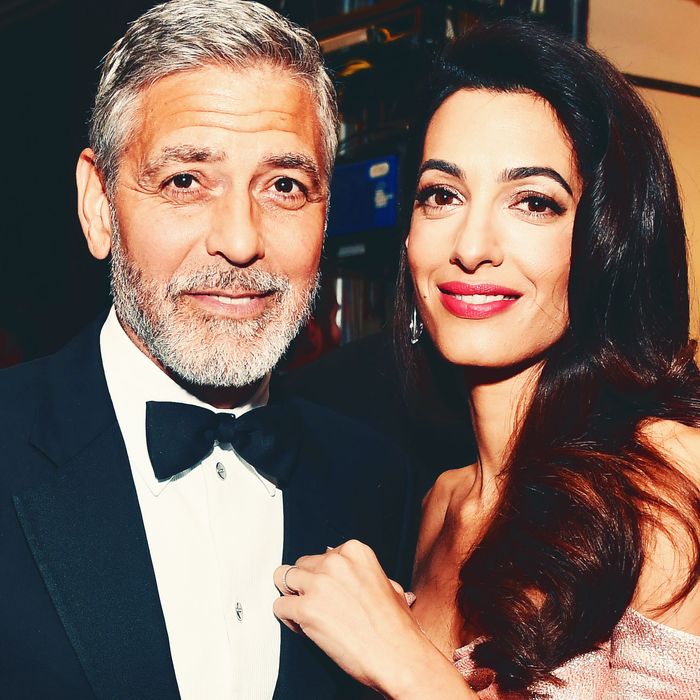 George and Amal Clooney.
Photo: Frazer Harrison/Getty Images for Turner
On Thursday night, the world burst into a collective "awwwww" as Amal Clooney gave an incredibly touching speech at the AFI Lifetime Achievement Award ceremony honoring her husband, George. The international human-rights attorney not only gave us some new insight into the early days of their relationship, but she also joked about assuming that she'd end up a "spinster" before meeting him.
"It's somehow easier for me to address a court on behalf of a detainee than to speak publicly, as I'm doing for the first time tonight for my husband," Amal said as she took the stage, per USA Today.
George teared up as Amal — the mother of his wonderfully normal-named 1-year-old twins, Ella and Alexander — continued:
"I met George when I was 35 and starting to become quite resigned to the idea that I was going to be a spinster. Then we met, started hiding out in my London flat and very soon it felt like no matter what happened I would never want to be with anyone else. I couldn't sleep when we were apart, and I'm told I would display a particular grin and head tilt when reading his text messages or the letters that he would hide in my bag."
Amal went on to say that "five years later, none of that has changed." She added, "He is the person who has my complete admiration, and also the person whose smile makes me melt every time. My love, what I have found with you is the great love that I always hoped existed."
Excuse us while we sob.