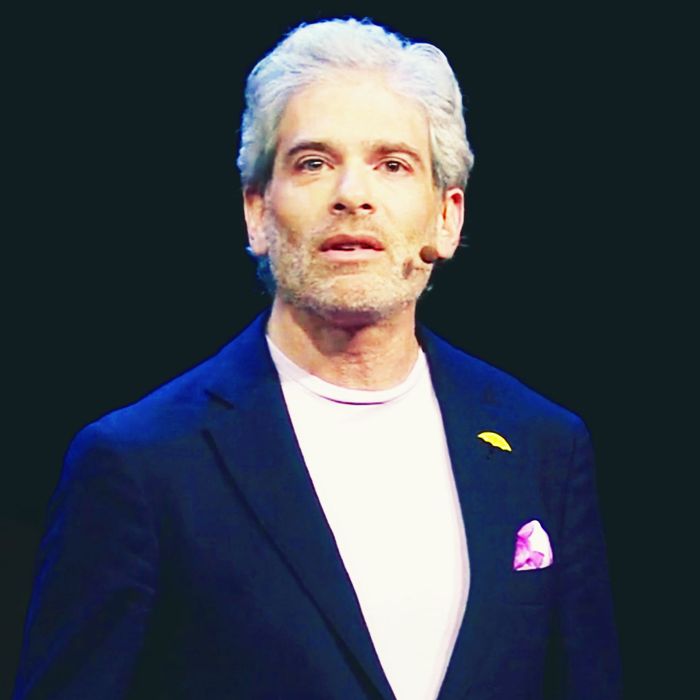 Jason Rosenthal.
Photo: Ted Talk
It's Friday. You did it! You made it through a long week, that comes at the end of a long month, that comes at the end of an unbearably long year. So why not release some of that weepy, ugly-cry energy you've been jealously hoarding until you can watch Coco for the seventh time? You've earned it.
Today's cry comes from Jason Rosenthal. Last year, his wife of 26 years, author Amy Krouse Rosenthal, who was terminally ill with ovarian cancer at the time, wrote a dating profile for him in the form of a funny, wrenching Modern Love essay for the New York Times. "I want more time with Jason … But that is not going to happen. I only have a few days left being a person on this planet," she wrote. "The most genuine … gift I can hope for is that the right person reads this, finds Jason, and another love story begins." Ten days later, she died. Now, just over a year later, Jason has written his own Modern Love essay about life after Amy, and much like his late wife's, it's in turn funny, raw, and devastating.
He writes that many women took Amy up on her offer to date him, and that, "in a six-page handwritten letter, one woman marketed her automotive knowledge, apparently in an effort to woo me: 'I do know how to check the radiator in the vehicle to see if it may need a tad of water before the engine blows up.'"
His wife's essay also served as a reminder to make the most of his life, Jason says, and he offers advice to families who might be facing similar situations.
If I can convey a message I have learned from this bestowal, it would be this: Talk with your mate, your children and other loved ones about what you want for them when you are gone. By doing this, you give them liberty to live a full life and eventually find meaning again. There will be so much pain, and they will think of you daily. But they will carry on and make a new future, knowing you gave them permission and even encouragement to do so.
Last year, Amy concluded her viral essay with a large blank space to give her husband and whomever he ended up with "the fresh start you deserve."
Jason does the same, writing, "My wife gave me a gift at the end of her column when she left me that empty space, one I would like to offer you. A blank space to fill. The freedom and permission to write your own story. Here is your empty space. What will you do with your own fresh start?"
Damn. Read the full essay here, and watch Jason Rosenthal's TED Talk about grief and loss here.