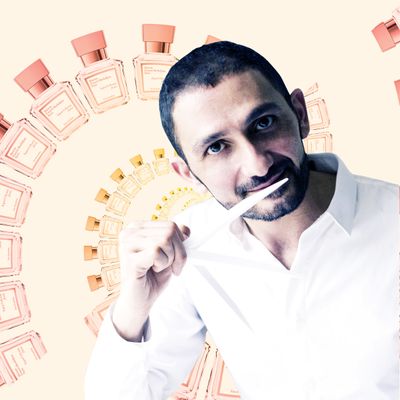 Call it the Proust effect: Memories are often triggered by smells. Scientific studies confirm that out of all the senses, smell offers the best recall. In Scent Memories, the Cut asks influential people about the scents they associate with different times in their lives.
Next up is master perfumer Francis Kurkdjian. Before he developed his eponymous line, Kurkdjian roused the fragrance world with his "Le Male" scent for Jean Paul Gaultier in 1995. He was only 26 when the scent became an international bestseller. A decade later, Kurkdjian co-founded Maison Francis Kurkdjian. The house's latest is Aqua Celestia Forte — a bright, invigorating green scent. Below, Kurkdjian spoke with the Cut about the scents of his grandmother's jam, raw tobacco, and fresh baguettes.
My first scent memory: I have many memories, but which one is the first? I have no idea. I have memories of my parents' car and the dashboard. I remember the smell of the sponge they used to clean the dashboard. The smell of the jam my grandmother used to cook — it was rose, plum, and quince. I love that smell and I use the recipe, still.
The smell I associate with love: The neck of the person I love. I love when the perfume is melting onto the skin. It's warmth, and the faded memory of a perfume, and I love that smell on the neck.
Happiness smells like: Champagne.
Regret smells like: The smell of tobacco. I used to smoke cigarettes and I miss the smell of raw tobacco.
Heartbreak or loss smells like: It smells like the heartbreaker!
Sunday morning smells like: Toasted baguettes, but I should say that I hate Sundays. When I die, I hope to die on a Saturday night. Or super early Sunday morning.
Monday morning smells like: The same: toasted baguettes!
If you could have one smell on your hands forever, what would it be and why? Forever is a bit overwhelming. I think I'd like my hands to smell like the person I love. If it's forever, it has to be meaningful!
Friendship smells like: Champagne and a good homemade meal. I love to cook. If my friends are around, I'm cooking. I like to make apple compote and chocolate souffle.
I smell like: Today? I smell like my leather jacket. I don't wear perfume casually; I only wear what I am working on.
If you buy something through our links, New York may earn an affiliate commission.