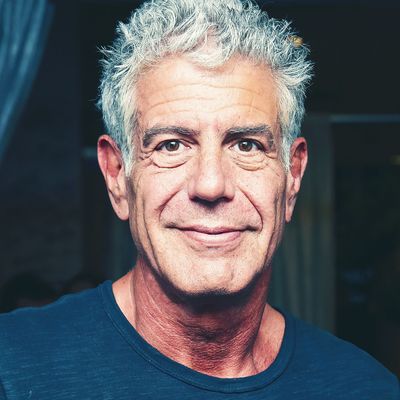 Photo: Mike Pont/WireImage
In the wake of Anthony Bourdain's tragic death at age 61, there are many things the chef and journalist will be remembered for — from his immense contributions to the food world to his empathetic and insightful travel reporting on Parts Unknown. In the past year, however, Bourdain also took on another important mantle that deserves to be part of his lasting legacy: that of #MeToo activist.
Since the Harvey Weinstein allegations broke, Bourdain has been one of the most vocal male allies of the #MeToo movement — simultaneously magnifying and championing women's voices while engaging in the difficult work of reckoning with his own past behavior.
Amid the revelations of abuse and harassment in the restaurant industry, Bourdain was unwavering in his support for victims. Like many people in the past year, Bourdain watched as people close to him were accused of horrible deeds, but he never allowed his personal relationships to overshadow his principles. As he wrote in a Medium essay responding to allegations against fellow chef Mario Batali (a longtime friend) and restaurateur Ken Friedman, Bourdain did not want to "waste anybody's time with expressions of shock, surprise, or personal upset," but rather to stand firmly with their accusers.
"In these current circumstances, one must pick a side. I stand unhesitatingly and unwaveringly with the women," he wrote. "Not out of virtue, or integrity, or high moral outrage — as much as I'd like to say so — but because late in life, I met one extraordinary woman with a particularly awful story to tell, who introduced me to other extraordinary women with equally awful stories."
He went on:
"Right now, nothing else matters but women's stories of what it's like in the industry I have loved and celebrated for nearly 30 years — and our willingness, as human beings, citizens, men and women alike, to hear them out, fully, and in a way that other women can feel secure enough, and have faith enough that they, too, can tell their stories. We are clearly at a long overdue moment in history where everyone, good hearted or not, will HAVE to look at themselves, the part they played in the past, the things they've seen, ignored, accepted as normal, or simply missed — and consider what side of history they want to be on in the future."
Bourdain has said that his reckoning was largely spurred by witnessing firsthand the experiences of his girlfriend, Asia Argento, one of Harvey Weinstein's accusers. Just this week, he told IndieWire how proud he was of Argento's Cannes speech calling out Harvey Weinstein's enablers. "It was absolutely fearless to walk right into the lion's den and say what she said, the way she said it," he said. "It was an incredibly powerful moment, I thought. I am honored to know someone who has the strength and fearlessness to do something like that."
In addition to his staunch support of Argento and other Weinstein accusers, Bourdain repeatedly called out men who were critical of #MeToo, from Alec Baldwin to James Corden. He also publicly wrestled with the question of his own past, and scrutinized his own history to see how it may have contributed to "meathead" restaurant culture. As he said in a powerful Slate interview with Isaac Chotiner: "I had to ask myself, particularly given some things that I'm hearing, and the people I'm hearing them about: Why was I not the sort of person, or why was I not seen as the sort of person, that these women could feel comfortable confiding in? I see this as a personal failing."
Bourdain was forthright in acknowleding his own complicity in upholding a certain macho bad-boy chef archetype; as he told Chotiner in the Slate Q&A, he has spent a lot of time reevaluating his popular memoir Kitchen Confidential, and questioning the extent to which his writing glamorized a toxic system. "Because I was a guy in a guy's world who had celebrated a system — I was very proud of the fact that I had endured that, that I found myself in this very old, very, frankly, phallocentric, very oppressive system and I was proud of myself for surviving it," he said, candidly. "And I celebrated that rather enthusiastically, I mean, I became a leading figure in a very old, very oppressive system so I could hardly blame anyone for looking at me as somebody who's not going to be particularly sympathetic."
Since the news broke this morning, tweets have been rolling in celebrating all aspects of Bourdain's life and legacy, including his feminist activism:
His empathy, insight, and courage should stand as a beacon to other men grappling with their own place in the #MeToo movement. For this, and so many other things, he will be missed.