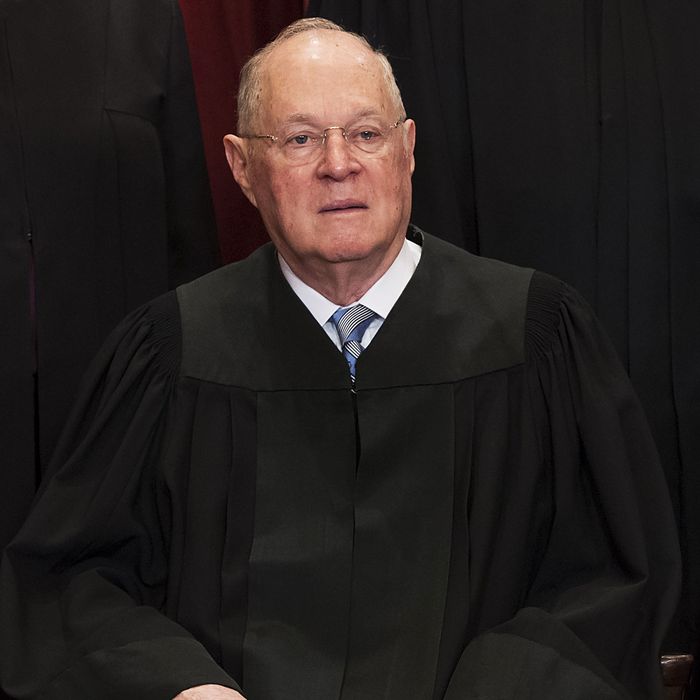 The long-awaited retirement of the Court's swing justice is a really big deal.
Photo: Saul Loeb/AFP/Getty Images
When the Supreme Court adjourned for the current term today without any retirement announcements from the bench, those anticipating the possible departure of Anthony Kennedy (or less likely, Clarence Thomas) relaxed, figuring the current Court would stay in place for at least another term. But no: Kennedy announced his retirement by a press release:
"It has been the greatest honor and privilege to serve our nation in the federal judiciary for 43 years, 30 of those years on the Supreme Court," Kennedy said in a statement. He said that he wanted to spend more time with his family and that his decision would be effective July 31.
To say, as Politico does, that Kennedy's retirement is "unleashing an epic political battle to replace him that could allow President Donald Trump to shift the court to the right for a generation to come" is almost an understatement. It is the moment that conservative activists — particularly those devoted to the overturning of Roe v. Wade and the very idea of constitutional reproductive rights — have awaited eagerly for a long, long time. And the fight over the confirmation of a successor could soon eclipse all other issues in Washington and, if it is delayed beyond November, could turn the battle for control of the Senate into holy war.
There are a lot of details yet to be worked out about the timing of White House and Senate actions on a Kennedy replacement. But it's a really big deal. Fasten your seat belts for a wild ride.