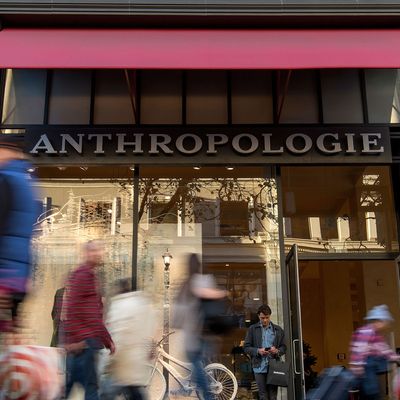 Photo: David Paul Morris/Bloomberg via Getty Images
Anthropologie is adding wellness to its lifestyle collections. After opening the first Wellness by Anthropologie shop in Palo Alto, California, in January, the brand is expanding the concept to other shops starting later this month.
Inside the shops, there will be over 500 curated ethical and "conscious" items, including aromatherapy and essential oils, yoga mats, teas and elixirs, snack bags, supplements, and, of course, crystals. There are crystal face rollers, crystal water bottles, crystal combs, crystal toothbrushes, and more crystal products you never knew you needed. You can also expect to find exclusives from brands like Revelry and Wicks & Stones, as well as products from third-party companies like Bondi Wash and Elle MacPherson's WelleCo. All in all, the new shop is the perfect way to fill your home with more things — because wellness is the new luxury.
On June 25, Wellness by Anthropologie shops will open in 12 Anthropologie stores across the country, including one in New York City at the Rockefeller Center, with more planned for the fall. You can check the locations on Anthropologie's website, and if there are no Wellness shops near you, the products will be available online. For those in Manhattan, Anthropologie will celebrate the expansion by hosting a meditation workshop with MNDFL, a meditation studio, at the Rockefeller store on June 27 at 6 p.m., which you can RSVP for here.