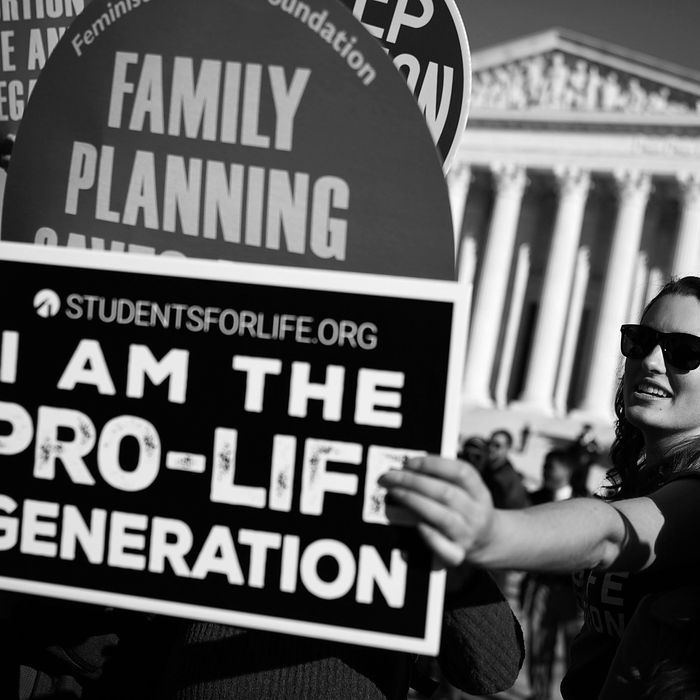 Photo: Alex Wong/Getty Images
Justice Anthony Kennedy's recently announced decision to step down from the Supreme Court has raised major concerns for progressives, particularly pro-choice advocates; in his time on the bench, Kennedy served as the swing vote in two major abortion-rights cases. With President Trump's promise to appoint justices who would overturn Roe v. Wade, many see Kennedy's retirement as a dire threat to reproductive rights.
And anti-abortion groups are already celebrating. Moments after Justice Kennedy announced his plans to step down, Catherine Glenn Foster, president and CEO of the leading pro-life advocacy group Americans United for Life (AUL), issued a statement calling Kennedy "a 25-year defender of abortion on the Supreme Court and the key vote to perpetuate Roe v. Wade" and praising Trump's list of potential SCOTUS nominees for containing "candidates with impeccable [anti-abortion] credentials."
The anti-abortion group Students for Life was astonishingly quick to release a video celebrating Kennedy's retirement. "If there were ever a time to believe that we will abolish abortion in our lifetime, it is right now," one woman says encouragingly to the camera. "With his retirement, a pro-life majority on the Supreme Court is in our reach."
"Justice Kennedy's retirement from the Supreme Court marks a pivotal moment for the fight to ensure every unborn child is welcomed and protected under the law," said Marjorie Dannenfelser, president of the anti-abortion nonprofit Susan B. Anthony List.
The groups are already pleased with Trump's first nominee, Justice Neil Gorsuch, who recently sided with religiously affiliated "crisis pregnancy centers" that exist solely to convince women to carry their pregnancies to term, in a ruling that struck a blow to abortion rights.
Because Kennedy's departure will likely result in an anti-choice majority in the Supreme Court, it presents a dangerous level of opportunity for the anti-abortion movement. "With Trump nominating the next Supreme Court Justice, our constitutional right to access legal abortion is in dire, immediate danger," NARAL Pro-Choice America said in a tweet, "along with the fundamental rights of all Americans."