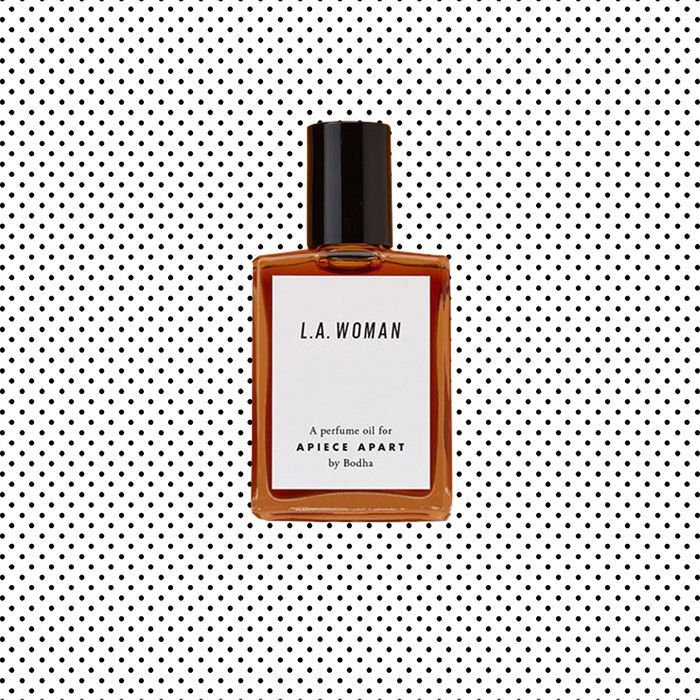 Everyone has a general idea of what life in Los Angeles looks like — the Hollywood sign, long hikes, matcha lattes at Urth Caffé. But what does life in L.A. smell like? Palm trees? Blonde hair dye? That might be the case in Santa Monica, but Apiece Apart created a fragrance that embodies the multitudes of women in L.A.
Called, simply, L.A. Woman, the fragrance is the Brooklyn-based clothing label's second with therapeutic perfume company Bodha Modern Wellness. It's meant to fit every mood and occasion, much like the brand's clothing, and to reflect the city with notes of jasmine, fresh oranges, and smoke. The citrus and florals probably smell like Amanda Chantal Bacon's backyard. And the smoky element is inspired by the city's infatuation with spirituality — think incense, not the smog that often lingers above the skyline.
Instead of a spray bottle, the fragrance comes in the form of an oil that's meant to be dabbed behind ears, over the heart, onto wrists and any and all pulse points for a scent that seems to come from within the wearer.
The perfume is available now from Apiece Apart and is just light enough for oppressively hot New York summers that leave you dreaming of Los Angeles.
If you buy something through our links, New York may earn an affiliate commission.