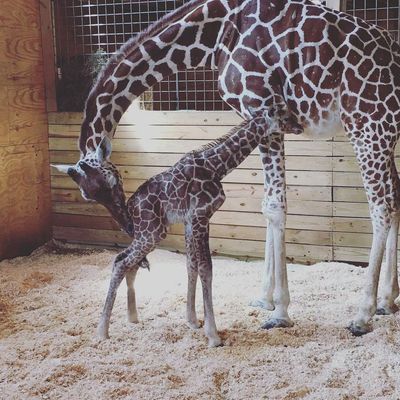 April and Tajiri.
Photo: Twitter
Back in April 2017, April the giraffe gave birth to her son, Tajiri, while hundreds of thousands of people watched online. The birth was big news because giraffes are cool, and because April's owners at the Animal Adventure Park in Harpursville, New York, decided to livestream it, and very few people have seen a 6-foot-tall baby plop out of a 15-foot mom. Now, it seems April may be pregnant again, with her fifth calf, which is great don't get me wrong, but what about her other goals and interests?
April had a whole life before her kids, after all. She had her own hopes, dreams, fears, and anxieties about the kind of giraffe she wanted to be. Maybe calfs were part of the plan, maybe they weren't, we don't know. Maybe she wanted to go to grad school, or do the Peace Corps, or hike the Appalachian trail, but all of that got put on the back burner when she got pregnant.
"I love my kids more than anything in the world," she might say to a few of her Animal Adventure friends one night, her long, elegant neck bent over her third glass of Pinot Grigio. "But I can't help but feel like the world sees me as nothing more than a tall, walking womb. I get knocked up, and suddenly my name is all over the news, but where were the headlines when I took that adult language class, or the time I built that birdhouse? It's just … frustrating sometimes."
Zookeepers are divided as to whether the giraffe is expecting or not.
"We've done a lot of watching, a lot of looking, and we all have our opinions," said one employee. But really, aren't people everywhere watching women's bodies and forming unwelcome opinions about them?
Anyway, congratulations to April whether she's pregnant or not. We hear you and see you for the whole beautiful, flawed, complex giraffe you are.