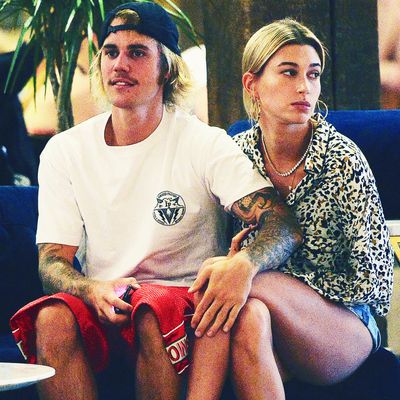 The happy couple.
Photo: Jawad Elatab/SplashNews.com
Like a pair of horny teens given free reign of a basement family room, tiny dancer Justin Bieber, 24, and Baldwin family-member Hailey Baldwin, 21, were spotted frenchin' all over the public parks of New York City this weekend.
Videos and photos posted on Sunday show the two blondes going at it against a railing in Brooklyn's Domino Park, overlooking the East River (romantic!) and then later on a bench in Rockefeller Park (okay!).
According to TMZ, their extremely public displays of affection cap off "more than a week of non-stop contact between the former exes." Indeed, Bieber and Baldwin (or #jailey according to Instagram video below) were spotted together in Miami last weekend, partying at clubs where he "had his arm around her many times" and going to church which, as we know, is a favorite Bieber make-out spot.
"They both have two things in common; they love to party and they love their church organization," one source told E! News.
Before they became such enthusiastic patrons of the New York City Parks Department, Bieber and Baldwin supposedly had a brief fling at the end of 2015/beginning of 2016. Baldwin said at the time that they were not an "exclusive couple," as he was about to be on tour, and later told the Times UK that they went through a "long period" where they weren't friends and that there was "a lot of weirdness that went on."
During that "weirdness," Bieber briefly reconnected with former flame and fellow Hillsong devotee Selena Gomez, and was also spotted cozying up to blonde models Baskin Champion, Bronte Blampied, and Benevolence Blomqvist. And yes, I did make that last name up, but you believed me for a second, didn't you?
Baldwin, meanwhile, sparked romance rumors when she brought Shawn Mendes to the Met Gala earlier this year, but while she told reporters Mendes was "super-lovely and a very, very nice young gentleman," she assured them, "I am single."
Anyway, Justin and Hailey found their way back to each other so they can pray and party together, and that's what matters. I can't wait to see what park they'll make out in next.