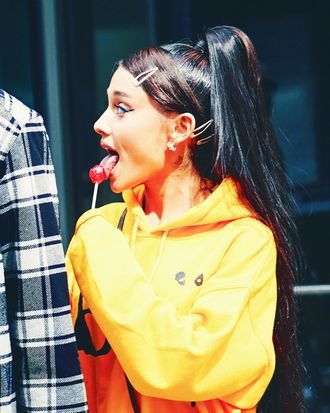 Ariana Grande.
Photo: Gotham/GC Images
This weekend Ariana Grande was captured licking a lollipop and looking longingly at her new boyfriend/fiancé, Pete Davidson. Naturally, the internet loved it. But even better than her expression and the lollipops are her hair accessories — three (3) metal clips. Just like the ones you used in middle school.
"Hair accessory," like "tube top" and "velour tracksuit," is a phrase that has been reviled since midnight on January 1, 2010. But they're all making a comeback, and Grande has been championing the snap clip. Within the span of five days, she has worn four metal snap clips in her giant high ponytail. The second time she wore the trend, it was with a pair of cat ears.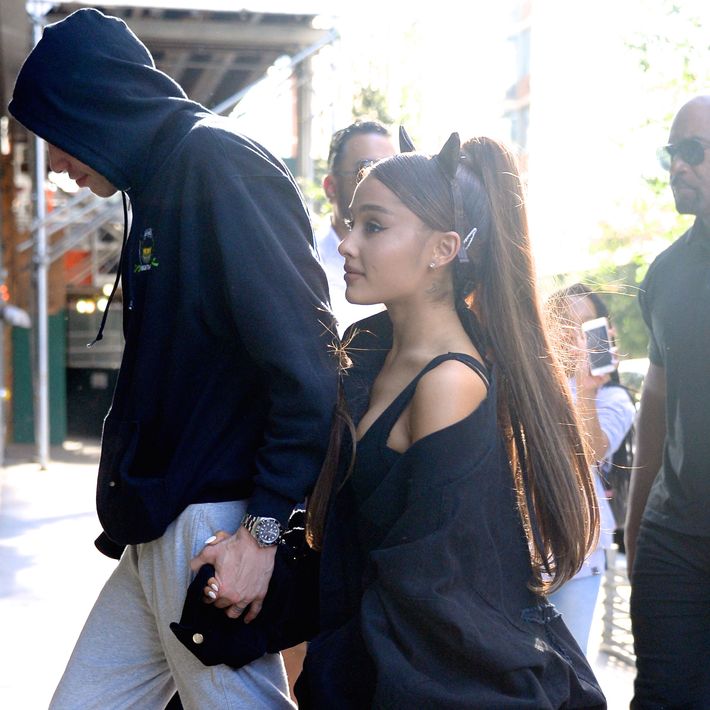 She's not alone in reviving the humble hair clip. Victoria's Secret model Elsa Hosk has worn black clips (a Clueless take on the trend) while Solange Knowles wore a crown of glittery silver clips for her SNL debut. As far as hair clips go, it's a more sophisticated option compared to butterfly clips, a la Lizzie McGuire. Plus, it's a cheap way to get in on an Ariana-approved trend.