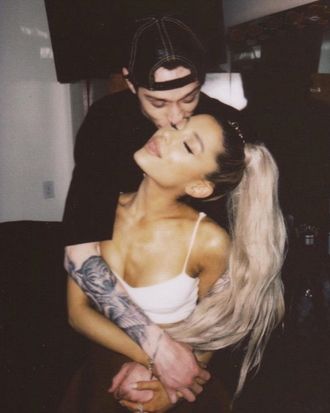 Ariana Grande and Pete Davidson.
Photo: arianagrande/instagram
Aside from the whole Wait, are they actually engaged? part, we have some questions about Ariana Grande and Pete Davidson's relationship. The newest deeply confusing report comes from TMZ, which claims that the SNL comedian dropped nearly $100,000 on a massive engagement ring for his girlfriend of one month, and that he picked it up weeks ago. Does anyone know what's going on?
According to TMZ, Davidson commissioned NYC jeweler Mr. Flawless, whose real name is Greg Yuna, to set a VVS1 clarity diamond in platinum — a custom-made rock that reportedly cost Davidson $93,000.
What's perhaps more surprising than the exorbitant price, though, is where this ring fits in the 24-day timeline of Davidson and Grande's relationship. According to TMZ, it took Mr. Flawless nearly two weeks to finish this ring, and Davidson picked up his purchase last month. So, in May — the month that Grande split with Mac Miller and Davidson split with Cazzie David, and also the month that Grande and Davidson reportedly started dating.
Per the Daily Mail, Grande was seen wearing the supposed engagement ring as early as June 2, nearly two weeks before reports broke that the couple was engaged. So we have some questions:
1. Where did a 24-year-old SNL comedian get nearly $100,000?
2. When did Davidson actually propose to Grande?
3. Whose idea was it to pick out a pear-shaped diamond??
4. What is going on???
The Cut has reached out to Mr. Flawless to confirm whether he created the engagement ring for Davidson.