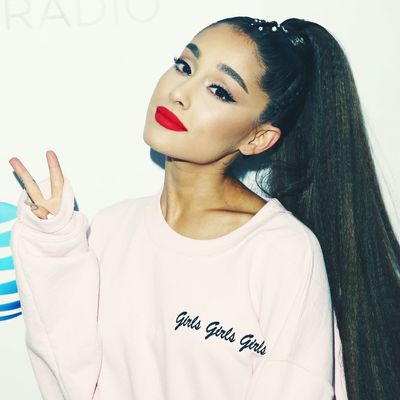 Ariana Grande.
Photo: Jesse Grant/Getty Images for iHeartMedia
Yesterday, it was reported that Ariana Grande might have gotten engaged to her boyfriend, SNL cast member Pete Davidson, after one month of dating. Now, she has quasi-confirmed yesterday's Us Weekly report by responding to fans' tweets about the announcement.
First, she tweeted "i love u sm hi & thank u i love u bye," after the news broke yesterday. Many took that tweet to be her confirmation and responded as such. And then, Grande took to thanking her fans for support and joining in the wedding talk.
She also tweeted to singer Camila Cabello, whom she has referred to as her wife, "we need to talk."
Grande was also seen wearing, on her ring finger, a large diamond ring, in an Instagram post her brother Frankie posted yesterday celebrating his mother's birthday. The ring prompted speculation, but it's also possible that the fashionable Grande just chose to wear a large diamond on her left hand for sartorial purposes.
For the next high-profile, super-quick celebrity engagement, can we all just agree that a simple statement written on the Notes app is the best way to go?