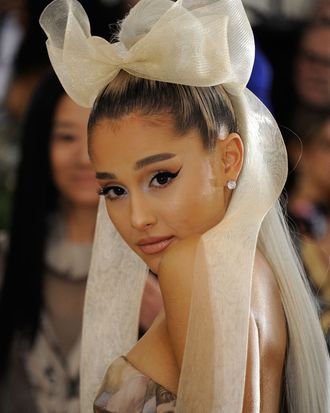 Ariana Grande.
Photo: Rabbani and Solimene Photography/Getty Images
Ariana Grande is on a mission to make June her month. She's already announced a new album called Sweeter, dropped some songs with Nicki Minaj and Troye Sivan, appeared on the cover of British Vogue, and gotten engaged to Saturday Night Live's Pete Davidson — and now she's releasing a new fragrance.
Last week, Grande put up teaser posts on Twitter and Instagram showing off a new perfume with a pale-blue bottle that's shaped like a cloud. Along with the photo, Grande wrote, "New perfume coming soon" with a cloud emoji.
What's with all the clouds? Well, it's a symbol connected to her relationship with Davidson. Basically, Grande and Davidson are on cloud nine about each other. Arianators — Grande fans — noticed that she once left dozens of the cloud emoji on an Instagram comment in which he talked about how happy she made him. Davidson also has a cloud iPhone case, and Grande has been photographed with a cloud case as well.
This isn't Grande's first perfume. In fact, she's already released four: a unisex one named after her brother, Frankie Grande; a floral and marshmallow scent called Moonlight; a citrusy one called Sweet Like Candy; and a floral one called Ari by Ariana Grande. Grande didn't share what her mysterious cloud perfume will smell like or be called. But if you were a betting person, you could guess that it will smell like fresh rain and be inspired by the couple people are calling either Grandson or Pariana.