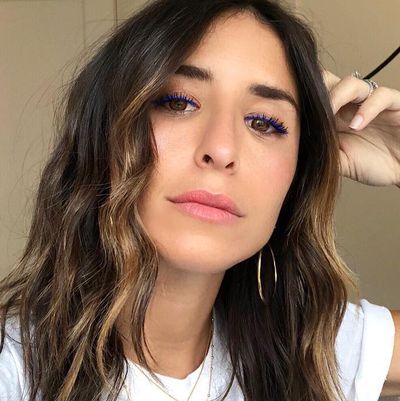 Photo: michaelapodo/Instagram
Do you ever see someone on Instagram and think "Why is your skin so good?" We do, so we started asking. Welcome to Why Is Your Skin So Good, a series.
Michaela Podolsky is a self-taught skin expert and beauty influencer who educates her Instagram and YouTube followers on everything from everyday skin care to next-level beauty tricks. A former makeup artist at Bobbi Brown Cosmetics, she has experience working on editorial shoots, ad campaigns, and New York Fashion Week and Bridal Week.
"Besides products, maintaining a healthy diet and staying very hydrated is the best route to glowing skin," Podolsky told me. "Give things a chance. I think so many people want an instant fix and we have to remember that sometimes the best products take time to work into the skin."
Here she gives us her five-step routine.
The Cleanser
"This is the first thing I use. I love this for the daytime. It just wakes you up and it feels really fresh … and it makes your skin clean."
The Serum
"I can't live without this. I've been using it every day for the past two years. Everyone talks about how bad it smells but I love it. I use one pump, warm it up in my hands, and apply it to my face in an upward motion. I feel like it keeps everything lifted. It might not be true but I do it anyway."
The Moisturizer
"I rarely find a moisturizer that has SPF that I love, but this one has been amazing. It's not too thick; it doesn't feel heavy under makeup. I typically go for a gel cream during the day, but I've been using this instead. My skin is oily so I don't apply more than a thin layer. Always get your neck — first sign of aging."
The Eye Cream
"This helps to brighten the under-eye a little bit so you won't need as much concealer as you would if you didn't use this. I always get in the inner corner because there's a lot of darkness in there and people tend to forget that. Always make sure your hand is clean before dipping it into the jar!"
The Mist
"I finish with this. I love the smell in the morning. It just makes you feel like you're ready for the day!"
If you buy something through our links, New York may earn an affiliate commission.