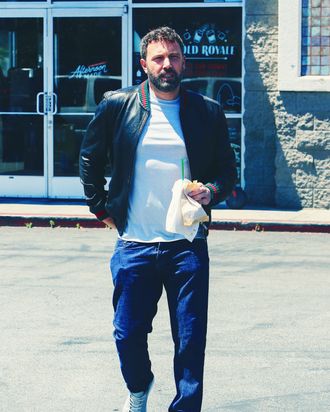 Ben Affleck scratching his tat.
Photo: Juliano-gl/X17online.com
It was mere months ago that we learned Ben Affleck's long-fabled giant back tattoo — you know, the mid-divorce phoenix-rising-from-the-ashes one that he claimed was for a movie but his ex-wife Jennifer Garner said "I refuse to be the ashes, so it seemed real" — was, in fact, well, real. The extremely large tattoo was on full display during a March beach outing. Affleck then confirmed the ink on Twitter when he posted "thick skin bolstered by garish tattoos" in response to New Yorker writer Naomi Fry's instantly classic essay about his "great sadness." And now, he apparently can't stop scratching the thing.
On Wednesday, the Daily Mail published an article with the perfect headline of "Ben Affleck can't stop scratching his enormous phoenix back tattoo on Santa Monica coffee run." And boy, is it true! In two pictures from his aforementioned (iced) coffee run (also published above and below), Affleck is seen scratching his tattoo/back. In the pic below, we even see part of that overly huge back tat!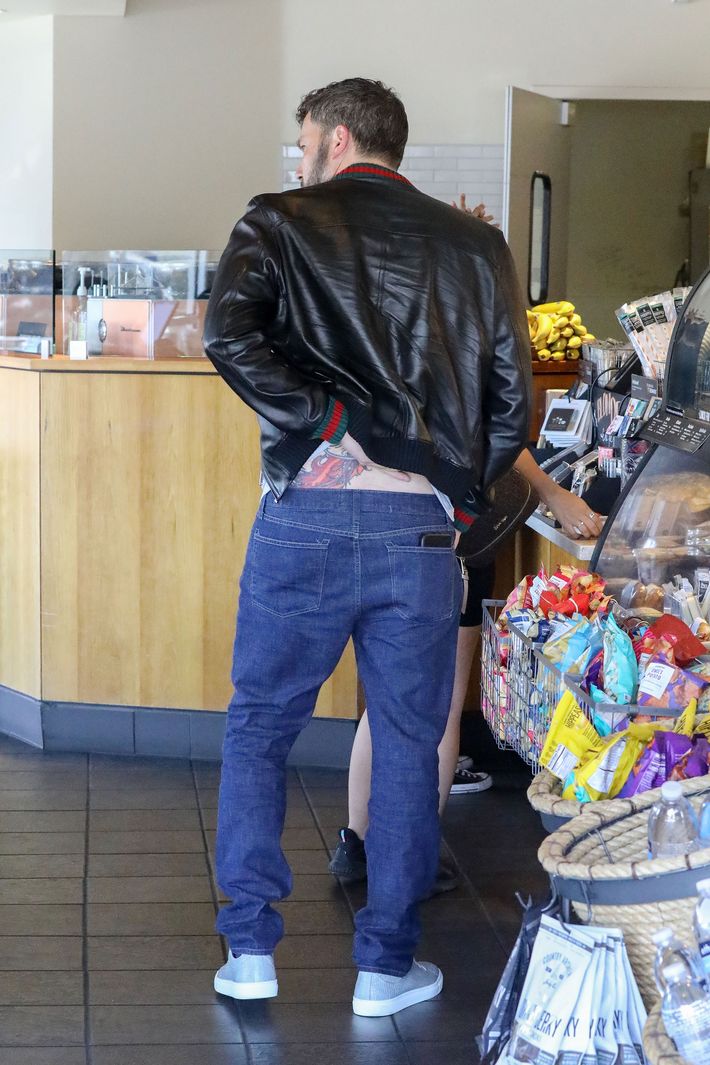 So why was Affleck scratching his tattoo and/or back? Well, I'm no tattoo and/or back expert, but I'd venture so far as to say that he probably felt itchy — from general life itchiness, maybe allergies, or possibly a tattoo-related itching condition, I don't know. The only thing I can say with certainty is that he likely spilled iced coffee on his shirt while scratching away.