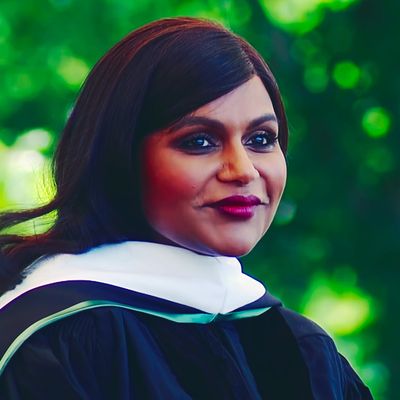 Mindy Kaling giving the Dartmouth commencement address.
Not only are we in the midst of the Summer of Scam, but another and almost-equally important season is upon us: graduation time. And so, as happens most years, celebrities from all over are descending upon college and high-school campuses to deliver inspiring commencement speeches to inspire the class of 2018 to work hard, do great things, and aspire to be their best selves (whatever that may entail) as they enter the next chapters of their lives.
Here, the best celebrity graduation addresses of 2018 … well, so far. We will update this post as more speeches occur.
Jimmy Fallon at Marjory Stoneman Douglas High School in Parkland, Florida
Earlier this month, Tonight Show host Jimmy Fallon delivered a powerful commencement speech at Marjory Stoneman Douglas High School in Parkland, Florida. Fallon, a New York native, has no real ties to the school — he's not an alumus or from the region — but still, the comedian flew down to speak with graduates following their inspiring work in the wake of the horrific February 14 massacre, during which 17 people were killed.
During the powerful speech, Fallon spoke of the impact the students' gun-control and school-safety activism has had on the world. Here it is, in part:
Most commencement speakers, they'll get up here and talk in the future tense. 'You will succeed. You will make us proud. And you will change the world. Most commencement speakers say, 'You are the future.' But I'm not gonna say that, because you're not the future. You're the present. You are succeeding. You are making us proud. You are changing the world, so keep changing the world and keep making us proud.
Read the full speech here.
Mindy Kaling at Dartmouth College
Mindy Kaling is many things: Writer, actress, director, producer, star of Ocean's 8, new mom, and, as it turns out, an alumna of Dartmouth College. This month, she returned to her Ivy League alma mater to deliver a rousing commencement address to the class of 2018 that included Dr. Seuss references (he also went to that school, go figure), Donald Trump burns (of course), and some remarks about being a single mother.
Kaling said, in part, during her speech:
I will tell you a personal story. After my daughter was born in December, I remember bringing her home and being in my house with her for the first time and thinking, "Huh. According to movies and TV, this is traditionally the time when my mother and spouse are supposed to be here, sharing this experience with me." And I looked around, and I had neither. And for a moment, it was kind of scary. Like, 'Can I do this by myself?'"




But then, that feeling went away, because the reality is, I'm not doing it by myself. I'm surrounded by family and friends who love and support me. And the joy I feel from being with my daughter Katherine eclipses anything from any crazy checklist.




So I just want to tell you guys, don't be scared if you don't do things in the right order, or if you don't do some things at all. I didn't think I'd have a child before I got married, but hey, it turned out that way, and I wouldn't change a thing. I didn't think I'd have dessert before breakfast today, but hey, it turned out that way and I wouldn't change a thing.
Oprah Winfrey at the University of Southern California
There's no one else in the world that most of us would rather receive life advice from than Oprah Winfrey. And that's just what happened to the graduates of USC's Annenberg School for Communication and Journalism in Los Angeles in May. Oprah spoke about hysteria, media, and the importance of truth.
During the moving speech, Oprah said in part:
I want to get the bad news out first. Everything around us, including and in particular, the internet and social media, are now being used to erode trust in our institutions, interfere in our elections and wreak havoc on our infrastructure. … There really is a solution. Because you will become the new editorial gatekeepers to strike out deceit. You all are the ones who will keep those people in check. You can answer false narratives by setting the record straight.
Read more here.
Amal Clooney at Vanderbilt University
Internationally acclaimed human-rights attorney (and wife of Oscar-winning actor George) Amal Clooney appeared at Vanderbilt University in May as part of its commencement activities. While she didn't deliver the commencement address at the university's graduation ceremony, the Oxford and New York University alumna did speak at the school's Senior Day ceremony shortly beforehand, during which she also received Vanderbilt's Nichols-Chancellor's Medal and gave an inspiring speech about the importance of courage.
During the speech, Clooney told graduates:
Courage is needed more than ever. At a time when women all over the world face physical abuse, restrictions over their ability to work, own property, travel, and even have custody over their children, we need courage. At a time when the LGBT on every continent struggles for equal rights, freedom from imprisonment and even death, we need courage. At a time when more journalists are imprisoned around the world than any time in the last three decades, and even here at home the media is under attack from the White House, we need courage.
Read more here.
Hillary Clinton at Yale University.
Former Secretary of State Hillary Clinton, who attended Yale University Law School, gave a rousing speech at the school's College Class Day event in May — only 17 years after she gave the Class Day speech back in 2001. Her speech encouraged students and graduates to live with "radical empathy" and to try to bridge the political divide in the country. The former presidential candidate also spoke of the importance of resilience.
She said, in part:
Everyone gets knocked down. What matters is whether you get back up and keep going. You will make mistakes in life, you will even fail. It happens to all of us, no matter how qualified or capable we are. Take it from me.
Chadwick Boseman at Howard University
Black Panther himself, Chadwick Boseman, gave the commencement address at his alma mater Howard University's 2018 graduation. And, of course, he also gave the iconic Wakanda Forever salute in the process — only, he appropriately said "Howard Forever" instead. During his speech, Boseman encouraged graduates to fight for equal rights and justice. He also touched on protests over the school's recent financial-aid scandal, saying that he also fought for similar issues when he was a student as well.
Boseman told the graduates, in part:
Purpose is the essential element of you. It is the reason you are on the planet at this particular time in history. Your very existence is wrapped up in the things you are here to fulfill. Whatever you choose for a career path, remember the struggles along the way are only meant to shape you for your purpose.
Queen Latifah at Rutgers University–Newark
Newark, New Jersey, native Queen Latifah delivered a powerful address at the Rutgers University–Newark, graduation this year. She told the graduates to remember where they came from, since their homes undeniably shape who they are and who they've become. She also spoke of just how frightening it can be to go out on your own for the first time — and also how rewarding it can be to tackle that fear.
The rapper and actress said, in part:
I was taller than the other girls, bigger than the other girls, different than the other girls. By the time I was 13, I had body. All of it. It was all there. (Still is. I'm damn proud of it. Look at it.) Anyway, I was looking for a role model to emulate, but nobody looked quite like me. And then I found myself standing on a lonely stage in our school production of The Wiz … […] I was [the big], tall Dorothy. But someone must've thought I had an OK voice, because I got to sing the finale, 'Home'. I was petrified.




I looked out into the audience and just tried to focus on my mother's smiling face in that crowd. And I sang, 'When I think of home, I think of a place where there's love overflowing'. And suddenly, I wasn't Dana. I wasn't Dorothy. I wasn't big Dorothy. And for the very first time I can remember, I was more than comfortable in my own skin. I was confident. I knew I had found myself. Bringing someone else to life on the stage in a way that came from deep inside, home wasn't just a song. It was a foundation that taught me I didn't need a role model. I didn't need to try to be like someone else. I just needed to be me.
Read her full speech here.