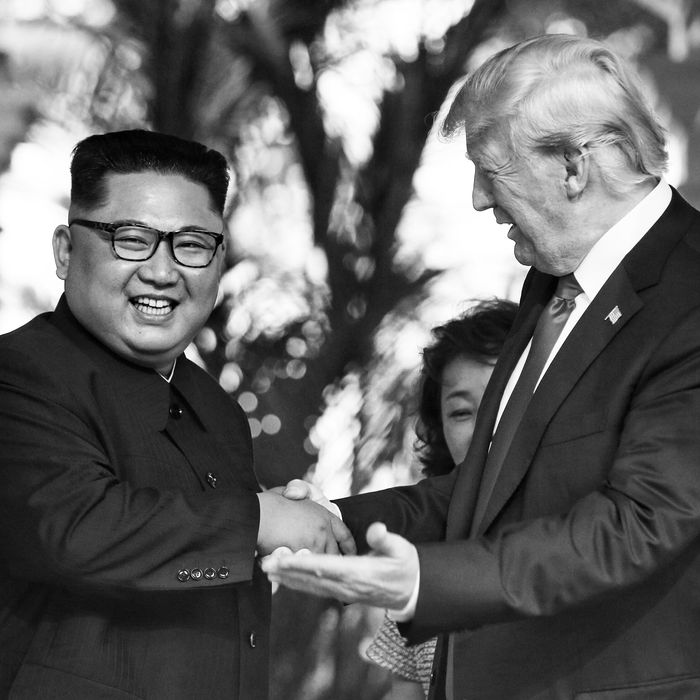 Kim Jong-un and Donald Trump.
Photo: Kevin Lim/THE STRAITS TIMES/Getty Images
Shortly after his temper tantrum at the G7 Summit, President Donald Trump flew to Singapore this week for a highly anticipated meeting with North Korea dictator Kim Jong-un, during which they discussed military practices, denuclearization and … apparently, their limos.
Trump previously said he didn't need to "prepare very much" for the meeting, since "it's about attitude" instead of, we guess, the countries's nuclear arsenals. Here's what Trump had to say about the complex geopolitical issues discussed at the meeting.
Trump asked reporters if he looked "handsome and thin" in pictures.
During a working lunch at the summit, Trump asked reporters if they were getting "nice" pictures of him and Jong-un: "Getting a good picture everybody so we look nice and handsome and thin?"
The real-estate aspect of the nuclear meeting.
After the meeting, Trump had a lot of thoughts … on how great it would be to develop condos or hotels in North Korea. Per the New York Times:
"As an example, they have great beaches. You see that whenever they're exploding their cannons into the ocean. I said, 'Boy, look at that view. Wouldn't that make a great condo?' You could have the best hotels in the world right there. Think of it from a real estate perspective. You have South Korea, you have China and they own the land in the middle. How bad is that, right? It's great."
On how much the residents of North Korea's authoritarian regime love their dictator.
Trump seemed to be very impressed by how much the repressed North Korean people "love" the dictator who rules their lives. In an interview with ABC's George Stephanopoulos, Trump said:
"His country does love him. His people, you see the fervor. They have a great fervor. They're gonna put it together, and I think they're going to end up with a very strong country, and a country which has people — that they're so hard working, so industrious. I think if you look at South Korea, someday, maybe in the not too distant future, it will be something that."
When pressed by Stephanopoulos about the fact that Jong-un is a "brutal dictator" who Trump previously accused of "starving" his people, Trump doubled down on his remarks and went on to say that he "trusts" the North Korean leader.
Trump seems to be impressed with all that Kim Jong-un accomplished at such a young age.
What prison camps? Trump went on to praise the North Korea leader:
"Anybody that takes over a situation like he did at 26 years of age and is able to run it and run it tough. I don't say he was nice or say anything about it. He ran it, few people at that age — you could take one out of 10,000 could not do it."
The president also commented on Jong-un's "great" personality."
"Great personality and very smart. Good combination," Trump said of the North Korea leader. He added, "I learned he's a very talented man. I also learned that he loves his country very much."