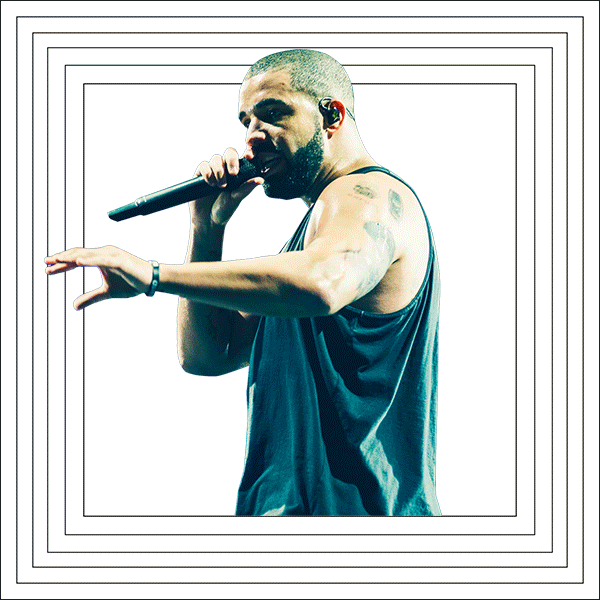 I Love This Song! is a Friday guide to the week's new (or newish) albums, mixtapes, playlists, singles, loosies, collaborations, and/or diss tracks.
Drake hit us with a 25-song-long album last night, and while discussing the length of albums is as banal as talking about the weather: Ye's was so short! Drake's is so long! Tierra Whack only needed 15 minutes to best them all! — 25 songs is a lot. My God, Drake. What are you doing to us?
Still, many persisted and stayed up to listen to the 90-minute project debut, which dropped at midnight. Others, well, they lived their lives - did a face mask, went to bed, probably woke up to read about the album - and now they know a few things: Drake is no longer hiding a child. He brought back Michael Jackson for a feature. Jay-Z popped up. Drake is in his feels. But here's one thing they don't know: Is the album any good?
On Scorpion, Drake's good songs can be categorized into two buckets: bops — songs that make you wanna dance, know your worth, make bad decisions (usually Drake at his most Caribbean) and LiveJournals: thoughts from the most emo recesses of Drake's brain.
This album is long on feels, short on bops, and gets boring. It's sort of good, but is a lot to parse through. So for those of use who do not have time, stamina, or psychic space for all 90 minutes of Drake's feelings today, here's a condensed list of what's good on the album (and a few good new songs if you've got Drake fatigue):
Let's do the emotional work and start with LiveJournals:
"Emotionless": Okay, well, the song title is a lie. Drake is emotion-full, but the Mariah sample makes it.
"Sandra's Rose": It's about his mom! The only thing he loves.
"March 14th": Drake does a lot. Like he always does a lot, but this is one of his most revealing songs of all time. He comes to terms with being sort of a trash man, throws barbs at Sophie Brussaux, the mother of his child, tells the whole story of becoming a father and how he feels about it.
Bops: "Nice for What" is really the only true one — so I use the term loosely. These are more songs that aren't just solely about Drake working through his shit. I wanna nominate "Finesse" for the way Drake sings "finesse," and "Final Fantasy," for a reference to a "head scarf for after our relations," but unlike Drake, I believe in editing:
"Mob Ties": Some people are definitely gonna gather in a rap circle and sing along to this in each other's faces tonight.
"That's How You Feel": Drake at his moody best: making jokes about women's behavior on Instagram.
"After Dark": Come for the Ty Dolla $ign, stay for the Ty Dolla $ign.
"In My Feelings": Good beat, repetitive lyrics.
And some bonus songs for those who just don't want Drake at all :
"Gonna Love Me": Teyana Taylor: Taylor's album was the last official drop of the G.O.O.D music Fridays run. I don't think it's getting nearly enough attention, especially this song that sounds like how a good, worn-in relationship feels.
"Kool-Aid": Diana Gordon: Gordon's album doesn't drop until August, but I recommend acquainting yourself with her wholly original sound now, and being ahead of the trend:
"Push Thru": Jozzy: Jozzy is another new artist I'm extremely excited about. She calls Missy Elliott her mentor. This single is a funny, low-key hookup song, a perfect antidote to all Drake's bald thirst.