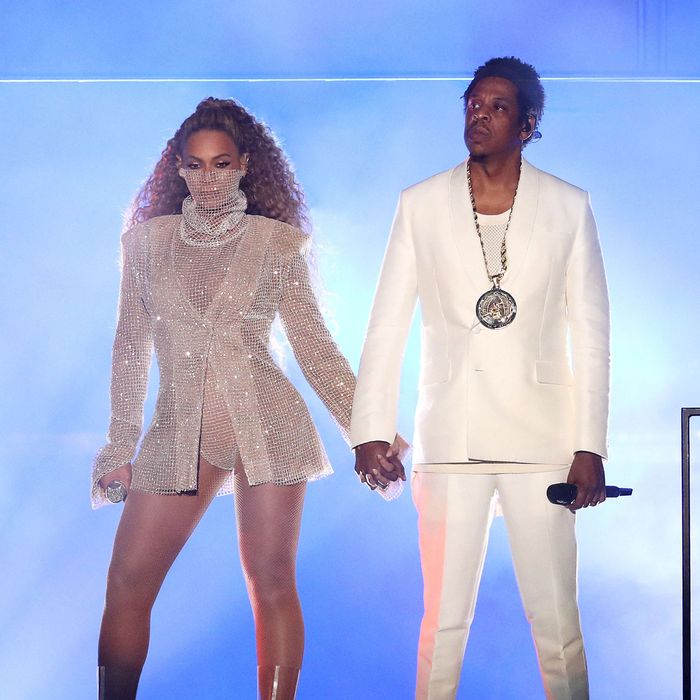 Beyoncé and Jay-Z.
Photo: PictureGroup/REX/Shutterstock
Beyoncé, who has always been generous, showed off pictures of a pair of adorable twin babies at the kickoff of her joint tour with her husband on Wednesday. Fans were quick to assume they were her youngest children, Sir and Rumi Carter, and the photos made their way onto social media; excited concert attendees uploaded snapshots, as did the revered Bey Legion Account, a fan account on Twitter.
But, as a representative told BuzzFeed on Wednesday evening, the babies were not Bey's. A follow-up email asking for more information was reportedly not returned.
The tour, On the Run II, kicked off in Cardiff, Wales, with Beyoncé's cheating husband and frequent collaborator, Jay-Z tagging along. During the show, photos of Bey and Jay cradling twin infants were accompanied by graphics that displayed a number of messages: "Love never changes," read one. "Love is universal," said another.
Beyoncé first announced her pregnancy via Instagram, where she posted a picture of herself, posed in front of a lush, floral background with her belly on full display in a pose that recalled the Madonna. After the twins' birth, she posted photos of herself cradling them, with a similar theme. She made history a few months back when she became the first black woman to headline the Coachella Music Festival, renamed Beychella in her honor. (Her husband was there as well.)
Now we all must anxiously await the actual next photos of Sir and Rumi sleeping: the loveliest, most peaceful Geminis the world has ever known.
This post has been updated to show that the babies were not in fact Sir and Rumi.