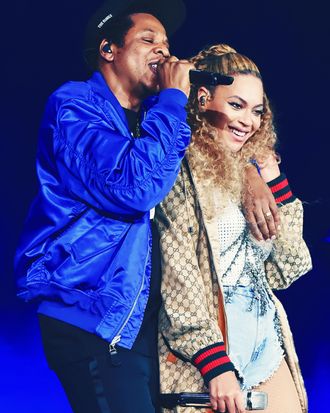 Jay-Z and Beyoncé.
Photo: Kevin Mazur/Getty Images For Parkwood Entert
The whole world collectively canceled their plans last night when Beyoncé and Jay-Z, in typical Bey fashion, surprise-dropped their long-rumored joint album, Everything Is Love.
The couple — or should we say, The Carters — announced the collaboration during their Saturday night On The Run II concert in London, after which the nine-track album showed up on Tidal. Bey and Jay also released a visual for their song Apeshit, a Ricky Saiz–directed video that was shot in the damn Louvre.
In honor of the Carters's latest visual collab, the Cut compiled a complete history of Beyoncé and Jay-Z's relationship, as told through their music videos. Bring on the nostalgia.
2002: "'03 Bonnie & Clyde"
This is the music video that starts dating rumors. In the visual, the couple — though their relationship is under wraps at this point — plays modern-day versions of the infamous 1920s bank robbers. In a 2008 interview with Seventeen, Beyoncé retroactively confirms the relationship rumors, saying, "I was 18 when we first met, 19 when we first started dating." So, Bey and Jay's first encounter would have been in late 1999 or early 2000.
2003: "Crazy In Love"
Though they still have not yet confirmed their relationship at this point, Beyoncé releases her first solo album, Dangerously in Love, along with her first solo single, "Crazy in Love," featuring Jay-Z. We know at this point that the couple has been together for at least three years.
2006: "Déjà Vu"
This is the first Beyoncé music video featuring Jay-Z to premiere from her album, B'Day. Speaking to MTV in 2006, Beyoncé said, "Jay of course is on it, he blessed the song, I'm happy with it."
2007: "Upgrade U"
Bey and Jay have crazy chemistry in this song, which they release the year before they marry. While Jay-Z raps throughout, he doesn't appear in the video until the very end, as Bey raps his first few lines. When he does eventually make it into the screen, Beyoncé dances around Jay as he stays seated throughout his whole verse.
2013: "Drunk In Love"
First, Bey was "Crazy In Love." Now, she's "Drunk In Love." This is the first video the couple releases after marrying in 2008, and their sexual chemistry is palpable as they sway into each other on a Florida beach at night. At the 2014 MTV Video Music Awards, the music video wins Best Collaboration and is nominated for Video of the Year.
In the Los Angeles Times, Mikael Wood writes, "'Drunk in Love" trades terrifically raunchy come-ons with Jay Z; it's like an NC-17 sequel to their 2003 smash 'Crazy in Love.'"
2014: "Part II (On the Run)"
Twelve years after shooting "'03 Bonnie & Clyde," Bey and Jay release what is often viewed as the song's sequel. "Part II (On the Run)" is a sultry ballad that describes a couple's (yes, theirs) relationship. At one point during the song, Beyoncé sings, "Who wants that perfect love story anyway anyway / Cliché cliché cliché."
2017: "Family Feud"
Ava DuVernay directed this short film, which is Bey and Jay's only collaboration on 4:44, Jay-Z's 2017 studio album that critics couldn't review without referencing Beyoncé's 2016 album, Lemonade. In the Godfather-esque visual, Jay-Z confesses his sins of infidelity to his wife inside of a church, in response to Beyoncé's cheating accusations on Lemonade.
In Rolling Stone, Brittany Spanos writes that instead of releasing a musical response immediately after Beyoncé dropped Lemonade, Jay-Z "crafted 4:44, which among other things, is a stunning, raw and mature apology that's as much an ode to partnership and family as it is an example of how vulnerability can make for truly excellent art."
2018: "Apeshit"
To quote Beyoncé in this track, "I can't believe we made it." This six-minute-long visual features an all-star cast — Offset and Quavo from Migos, as well as Pharrell, who also produced the song with Bey and Hov — and seems to be inspired by photographer Deana Lawson. For this video, the couple takes over the Louvre in May 2018, where they and their dancers place their bodies in front of iconic oeuvres: the Mona Lisa, The Coronation of Napoleon, and Venus de Milo, among others.