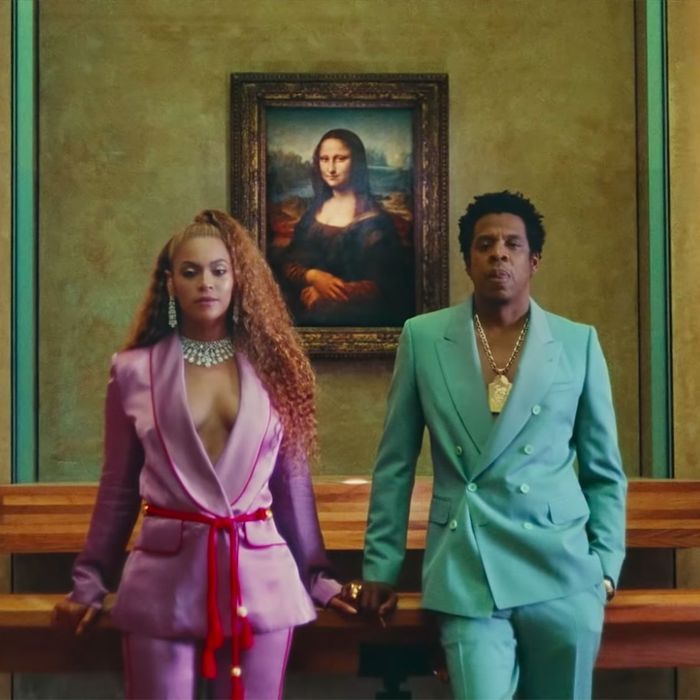 If you were anywhere with cell-phone reception on Saturday night, then chances are you were going apeshit over the news that Beyoncé and Jay-Z had just dropped a joint album, Everything Is Love. "Apeshit" also happens to be the name of the single for which the husband-and-wife team dropped a music video that night, filmed in the Louvre museum in Paris.
In the video, directed by Ricky Saiz, Beyoncé and Jay-Z each perform multiple outfit changes. (We counted eight scenes total.) With the help of their respective personal stylists, Zerina Akers and June Ambrose, they assembled looks that carry on a conversation with the art on the walls, from ancient sphinxes to the Mona Lisa. Like the album, the fashions are also a flex, with lots of logos, luxurious suits, and recognizable designs.
Below, we break down each of their outfits and who designed them.
Versace, Baby
Jay-Z wears a dark Dries Van Noten suit and Gucci loafers, while Beyoncé wears Baroque-inspired Versace prints from head to toe.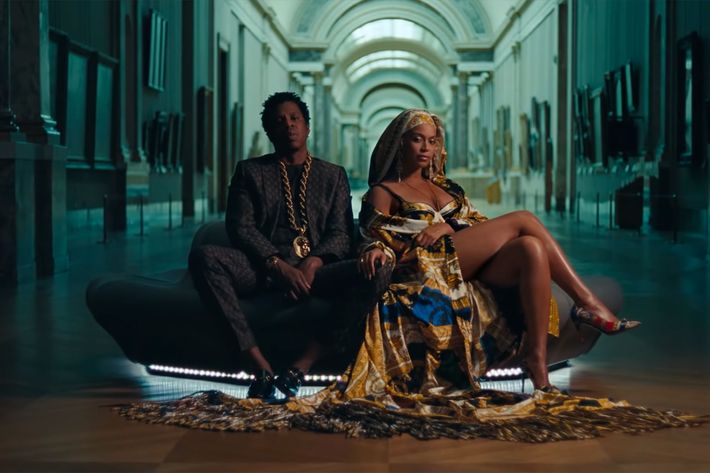 Modern Sphinxes
Both wear overcoats on their shoulders while standing in front of the Great Sphinx of Tanis, but Beyoncé's MCM x Misa Hylton look is full leather. She also wears knee-high boots that spiral around her legs by Y/Project, a Parisian brand led by designer Glenn Martens. Jay-Z wears Alexander McQueen.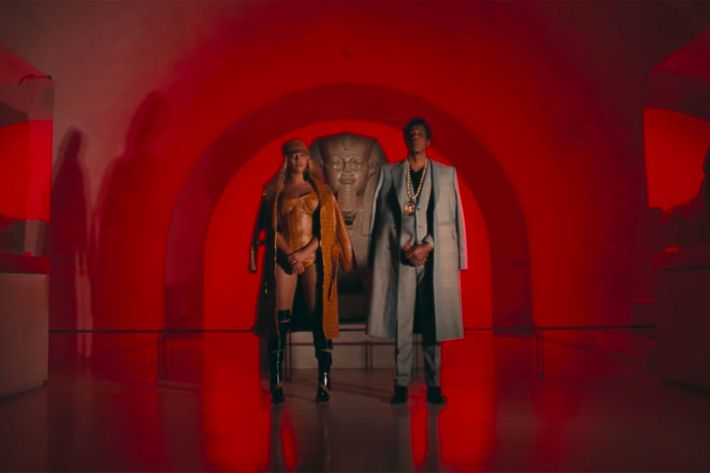 Winged Victory
Beyoncé wears a white Stephane Rolland couture dress with a pleated Alexis Mabille cape on top, both of which are a reflection of the Winged Victory of Samothrace sculpture behind her. Jay-Z wears Givenchy.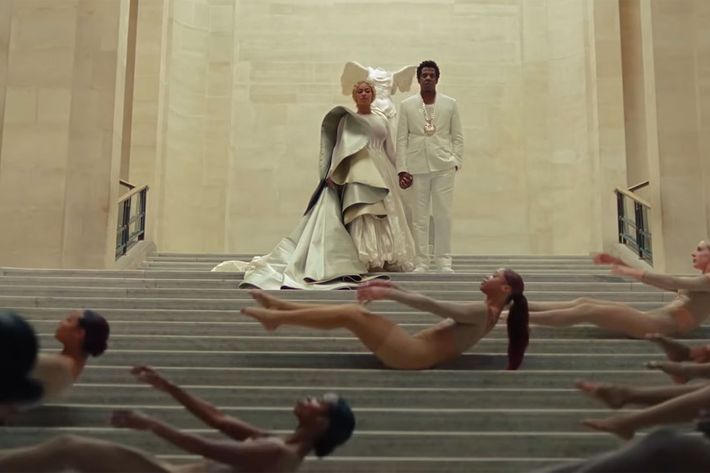 Good for Dancing
Beyoncé dances in front of Jacques-Louis David's The Coronation of Napoleon wearing a bra and leggings by Burberry.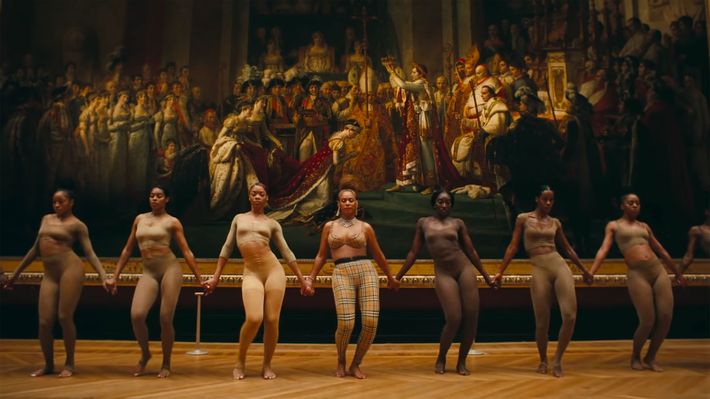 Moody Venus
It's hard to tell in this lighting, but Jay-Z's John Galliano suit is a light shade of pink.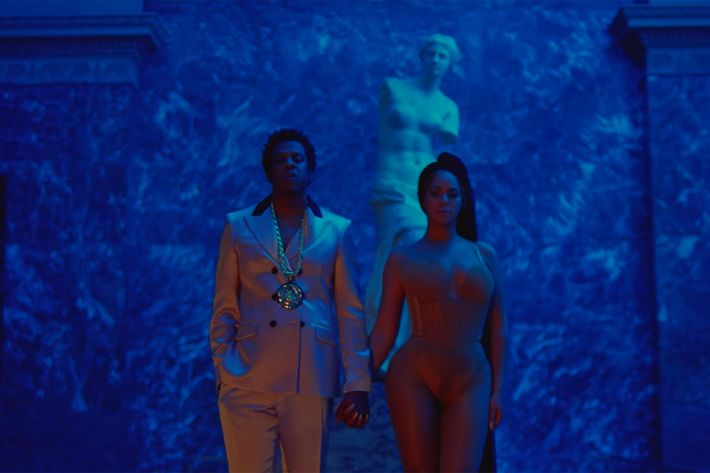 Not Your Mother's Pearls
Beyoncé wears a pearl bodysuit by Balmain with a matching pearl scarf. Designer Olivier Rousteing also did her Coachella costumes.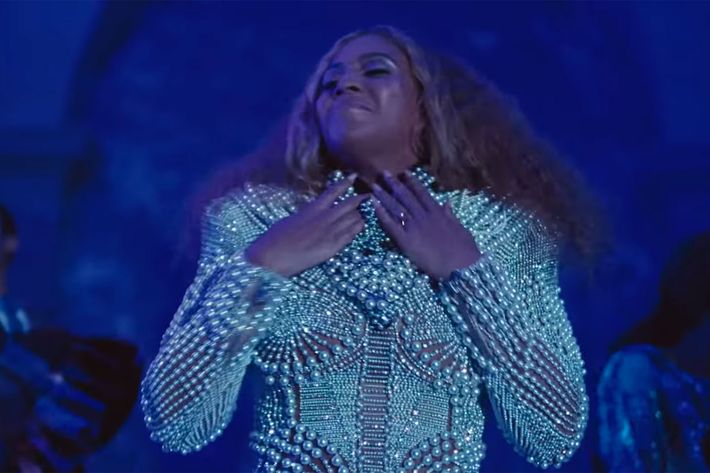 Night Suit
If you squint your eyes, the pattern on Jay-Z's Gucci suit seems to be in sync with the facade of the Louvre behind him.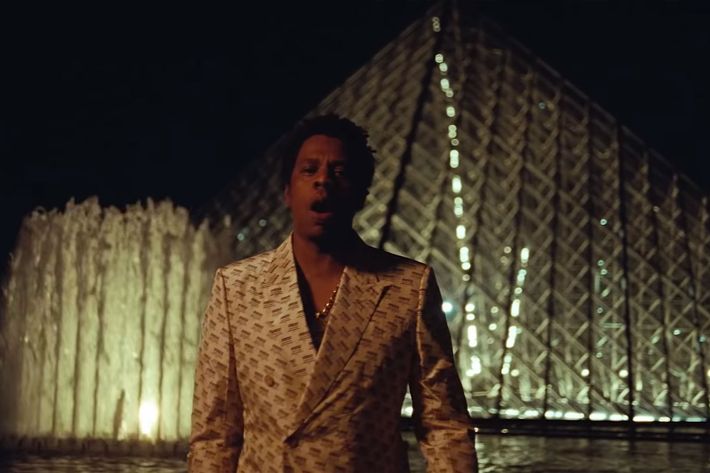 Mirror Images
In the beginning and end of the video, Beyoncé and Jay-Z both wear pastel-colored suits in front of the Mona Lisa. Like the subject behind her, Beyoncé's Peter Pilotto suit has a deep neckline. Her belt also folds like Mona Lisa's hands. Meanwhile, Jay-Z's green Dries Van Noten suit matches the painting's case and some of its background hues.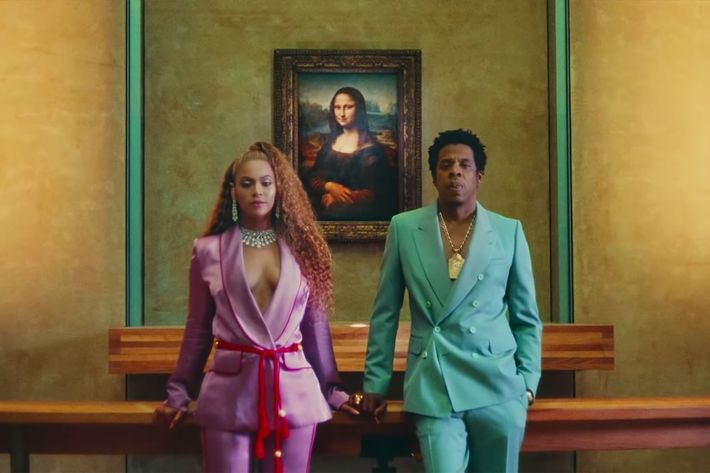 See all of Beyoncé's best looks, below.