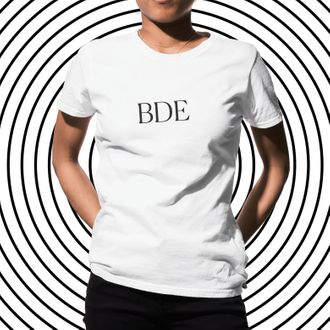 As promised, new and timely slogans that we're thinking about a lot will be added to the Cut Shop each week. Here's our latest addition!
How do you know if you or someone else has "Big Dick Energy?" Wearing a "BDE" T-shirt is a pretty good place to start.
If you aren't familiar with the phrase "Big Dick Energy," first of all: Do you have internet access? Yes? Okay, drop everything and read this research-driven, scientific explanation of it by our weathered Dong Watch correspondent, Allison "Penis" Davis. If you don't have internet, maybe phone a friend? It's a great conversation starter, clearly.
Yes, Big Dick Energy, "a healthy, satisfied, low-key way you feel yourself" has divided us. Who has it? Who doesn't? We can confirm that at least one friendship has been tested by the question of Drake's BDE. But it's also brought us all so much closer together! The whole point of BDE is being able to see people for who they are, not what they have down there.
In the same way that asking if you have BDE might indicate that in fact, you do not, wearing a "BDE" T-shirt arguably has the same effect. But hey, don't let that damper your big tee energy.
See all the Cut Shop T-shirts, here.
Update: After communicating with Kyrell Grant, who is credited with the original use of "Big Dick Energy" on Twitter, the Cut has decided to remove this shirt from its online shop and direct all prior proceeds to them.