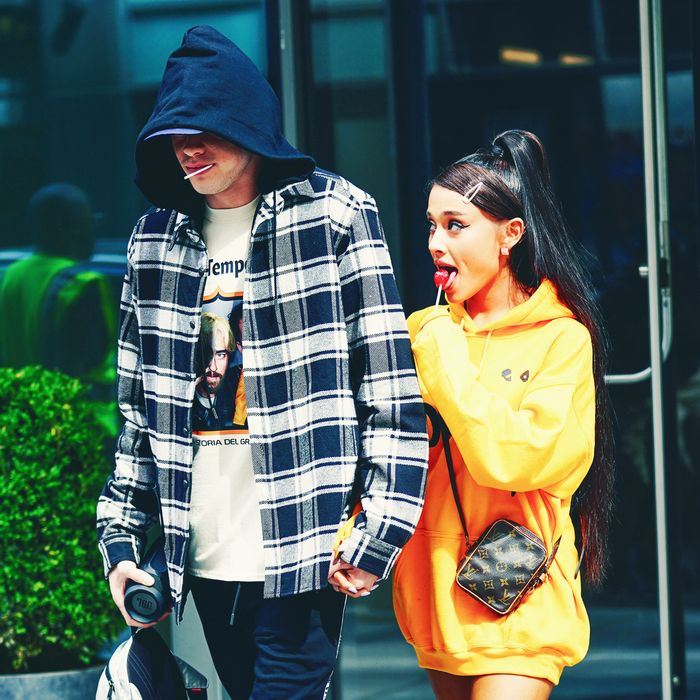 Ariana Grande with Pete Davidson, just oozing BDE.
Photo: SplashNews.com
It was only a matter of time before the entire Twitterverse weighed in on the, er, biggest debate on the internet. Pete Davidson's dark circles and irresponsible devotion to Ariana Grande have earned him the coveted title of Champion of Big Dick Energy, commonly known as BDE. But who else exudes "a quiet confidence and ease with oneself that comes from knowing you have an enormous penis and you know what to do with it"?
Of course, you don't have to have a penis to have BDE, or even a human body. The Twitterverse has dolled out nominations for the esteemed BDE award to animated characters, perfumes, and even subway lines. Here are some of our favorite picks.
Mr. Rogers
Nothing exudes that BDE like a good sweater vest.
Stephen Colbert
The man has the confidence to pull off a gray beard — and he's familiar with the term "hot peen."
Every Lesbian
Including Kristen Stewart, Roberta Colindrez, and Carol.
Some Kardashian Men
Maybe why Sofia Richie took Scott back?
This Statue
A man who squats …
Stuart Little
Proof that it's not about size.
Big Bird
Or maybe it is.
These Perfumes
Update your inventory accordingly.
Damon Albarn
He can predict the future!!
The 7th Avenue Subway Stop
A literal take.
Ruth Bader Ginsburg
The Notorious.