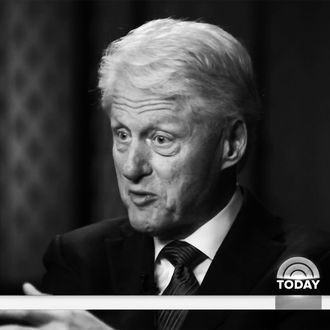 Two women who have accused Bill Clinton of sexual assault slammed the former president's Monday interview with the Today show, in which he insisted that he "did the right thing" during the Monica Lewinsky scandal.
Following the infuriating segment earlier today, two people found themselves especially incensed: Kathleen Willey, a former White House aide who says Clinton sexually assaulted her in 1993, and Juanita Broaddrick, a former nursing-home administrator who claims Clinton raped her in 1978. At one point during the interview, when his sexual affair with the former White House intern came up, Clinton claimed that while he "felt terrible" at the time, he stands by his response to the scandal.
"I did the right thing," Clinton said, adding that he does not owe Lewinsky a personal apology because he publicly apologized "on more than one occasion."
In an interview with the New York Daily News, Willey and Broaddrick promptly criticized the former president's remarks.
"He owes all of us an apology," Willey said. "Somewhere deep in his psyche, if he has one, when he puts his head down on his pillow there is this sense that he's hurt and destroyed a lot of women."
Broaddrick echoed Willey's sentiments, adding, "It's disgusting that he could play the victim card. All of us are just absolutely disgusted that he could come on TV and say that he didn't owe anyone a personal apology."
In the months since accused sexual predator Harvey Weinstein's downfall, the public has revisited the stories of men accused of sexual assault before the current #MeToo era — Clinton being one of them. It became clear during the former president's Today interview, though, that he does not see himself as one of the accused.
"This man cannot say he supports MeToo," Broaddrick told the Daily News. "He probably is the reason there is a MeToo movement."